Local beer makers to clink glasses with the public at Edmonton Oktoberfest
Sam Podgurny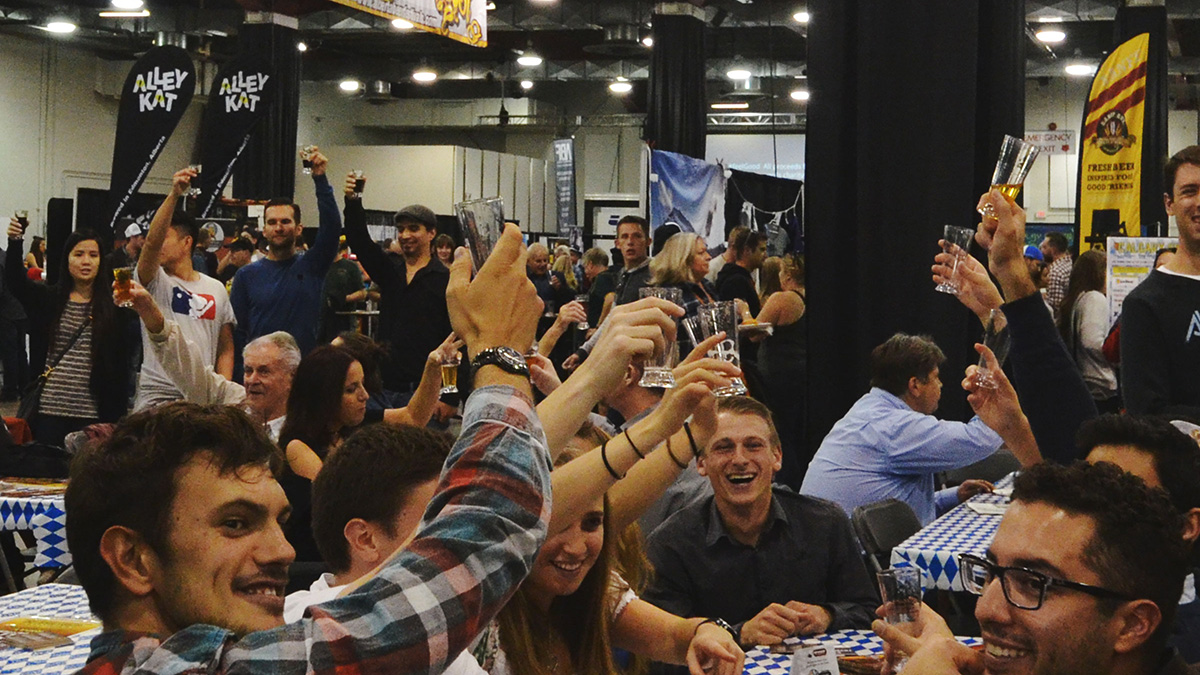 What: 2016 Edmonton Oktoberfest
When: Friday, September 30th: 4pm to 10pm & Saturday, Oktober 1st: 2pm to 9pm
Where: Edmonton Expo Centre at Northlands
Tickets: $30 weekend pass; $19 online in advance; $25 at the door
Available at www.albertabeerfestivals.com, all Brewsters locations and Sherbrooke Liquor in Edmonton.
Grab your finest lederhosen and dressiest dirndl, and prepare to 'cheers' to Alberta barley and locally crafted brews, because Edmonton Oktoberfest is just around the corner.
"It's really a local celebration," says Mark Kondrat, Director of Operations for Alberta Beer Festivals (ABF) and one of the organizers of Edmonton Oktoberfest. "We want to respect the German tradition and heritage of the festival, but also capture its spirit for Edmonton and Alberta."
September marks the start of Oktoberfest festivities around the world, a time for people to come together and celebrate local culture, community, and — of course — beer. On September 30th and October 1st, ABF is bringing the party to Edmonton with the third annual Edmonton Oktoberfest. The beer sampling event, which is hosted in partnership with the Alberta Small Brewers Association and the support of charities Kids Up Front and Edmonton's Food Bank, will be the send-off to Alberta Beer Week, which began last week at the Calgary version of the fest. Visitors to the Edmonton Expo Centre will find a wide selection of craft beers from around the city, province, country, and world to sample, along with local foods, authentic Oktoberfest music, dancers, and games. Guest are also encouraged to dress the part in German garbs of lederhosen and dirndl.
"(This festival) is about bringing the local beer community together for a fun event with the public," says Kondrat. "We do other festivals which focus on education, but for this one we said, 'let's not overthink it, let's showcase some seasonal beers and have some fun.'"
Compared to ABF's other festivals, such as the spring-time Craft Beer Festival, Oktoberfest is more accessible and easier for guests "to wrap their heads around," according to Kondrat.
"I find the spring shows are awesome, but you need to be there both days to really get a grasp of all the different beers," he says. "Because this one is smaller, it feels homier and is much easier to navigate as a consumer."
Kondrat's experience with Alberta's beer scene goes back to his time as a U of A business student in the early 2000s. As a student, he had the opportunity to work with Molson and was "very involved with local breweries." He tells the story of how the craft beer industry has boomed since those early years.
"The first festival I did was the Calgary International Beer Festival, and the reason it was 'international' was because we needed to look outside Canada to get a critical mass of breweries," he says. "Then about eight years later, we noticed more breweries popping up around Alberta and BC, so we could focus a lot more on local. Now, there's 40-some breweries in Alberta and in the next few years that will grow to almost 60. The focus has shifted from international to local in strokes."
Despite the growth within the industry, Kondrat believes the public has yet to fully realize the international worth of Alberta's local beer products.
"Something I think people are really going to start paying attention to in the next few years is the fact that Alberta barley is one of the best in the world," he says. "Breweries from around the world buy Alberta malted barley. It's our connection to agriculture that makes Alberta the perfect place for beer."
With breweries hailing from as far north as Lac La Biche, south as Lethbridge, and west as Edson, Kondrat says experiencing the breweries closest to home — and meeting the people who own and work for them — is what makes the festival truly special.
"(The festival) takes pride not only in the beer itself, but the people behind the beer as well," he says. "The owners are going to be there to pour your beer and tell their stories. To me, that's the highlight of the show, you get to meet the people behind the brewery and every time you hear their story, you get even more excited about their beer."