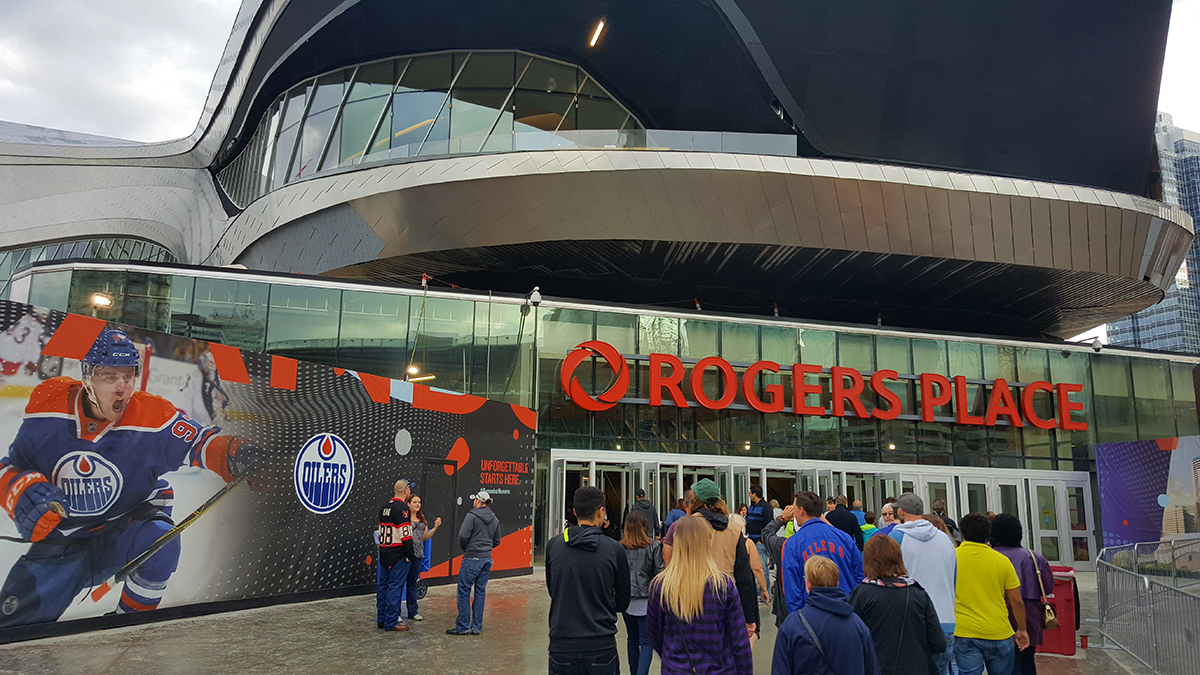 For the last two years, Edmontonians have patiently watched as construction workers swarmed the downtown core — pouring concrete, welding metal, and fitting glass almost 24/7 in an effort to complete the city's crown jewel of architecture and entertainment.
On September 10­­th, the wait ended and Rogers Place — the new home of the Edmonton Oilers and cornerstone of the developing ICE District — opened its doors for its first public showing. Fans could now decide firsthand whether or not the project, which prompted heated debates, mayoral campaign promises, and team relocation bluffs, would be worth the hype.
My open house experience began far from Rogers Place, on a bus packed with people in Oilers orange and blue. After twenty reasonable minutes, I arrived on 103 Street and Jasper Avenue, where greeters were stationed in "Welcome to Edmonton Downtown" t-shirts. While walking north down the block, I considered whether the currently pleasant trek would be survivable in -35 degree Celsius wind-chill — the MacEwan LRT stop (which is attached via pedway to Rogers Place) would likely be the better transportation choice given that scenario. Either way, driving anywhere but to a park-and-ride lot or ETS stop would be your true death wish.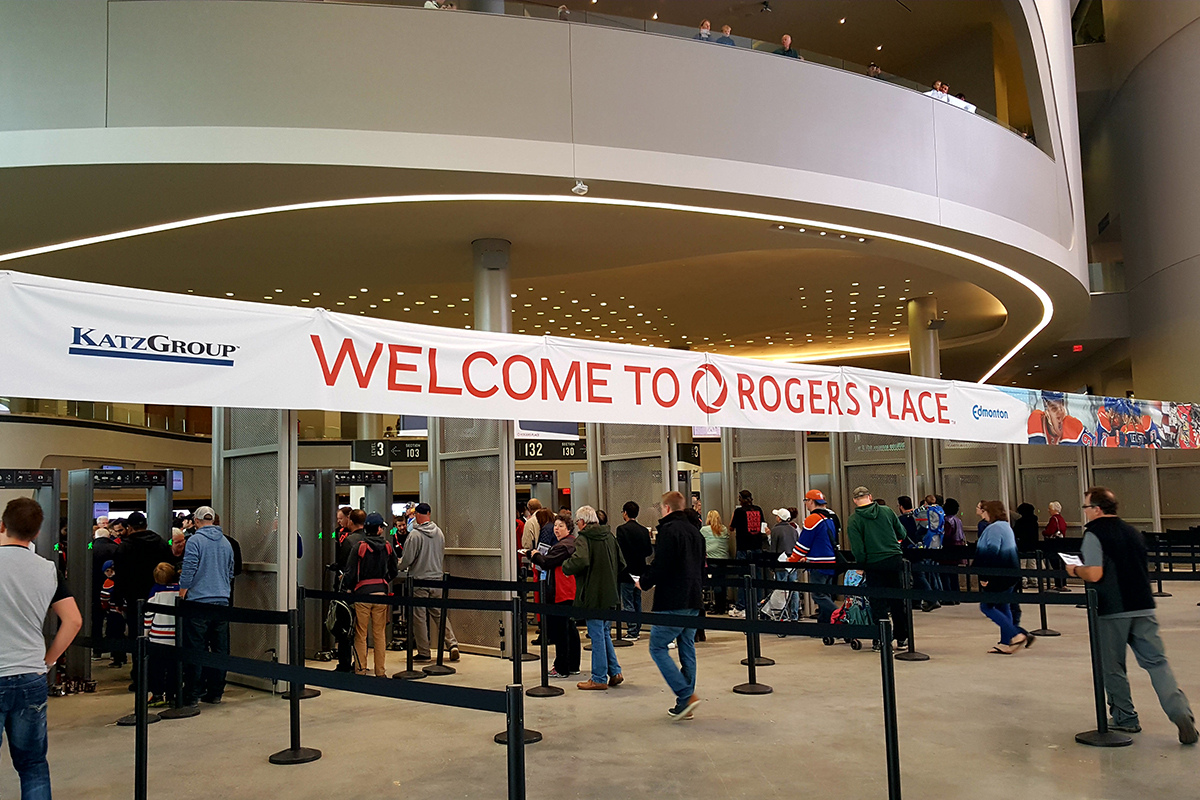 The mass of people surrounding me snaked through the barricades and headed into what RogersPlace.com refers to as the "Pedestrian Portal," a walkway leading directly to the Ford Hall entrance. Faux-rora borealis lighting illuminated "ICE District" propaganda in the tunnel which, when I exited, brought me face to face with the great wall of silver paneling, windows, and Rogers signage that was the arena's exterior. Just outside the doors hung a banner of none other than our saviour, #97 — really the place should be called, "The House of McDavid."
My first steps into "Chez Connor" brought me up an escalator and into the expanse of Ford Hall. The space runs atop 104 Avenue and acts as a public gathering point before and after events as well as a connector from Rogers Place to the ICE District Plaza. It was like being in an airport — there were also metal detectors and security bins lining the main entrance. The one bright spot in the otherwise plain interior is the Tsa tsa ke k'e (Iron Foot Place) mosaic which was created by Indigenous artist, Alex Janvier. It will be interesting to re-experience this communal spot during the excitement of game day.
The arena itself is made up of the Main Concourse, Mezzanine Level, Scotiabank Suite Level, PCL Loge Level, and Upper Concourse. Taking an introductory lap, I felt as though I'd left the airport and arrived at the hotel. The architecture, design and guest accommodations were unfussy and functional but with a touch of luxury (a concept no one previously seemed compelled to pursue with Edmonton's other sporting facilities). From the smallest details, such as spill guards on tables, to the broader layout, which seems to have beer and food venues placed within a minute or less walking distance in any direction, it's clear that great thought was given to enhancing the experience of event-goers. For a more ritzy time, there are also a number of tables, boxes, suites, club, and lounge options available to guests, but on a student's budget, access to these will likely have to wait.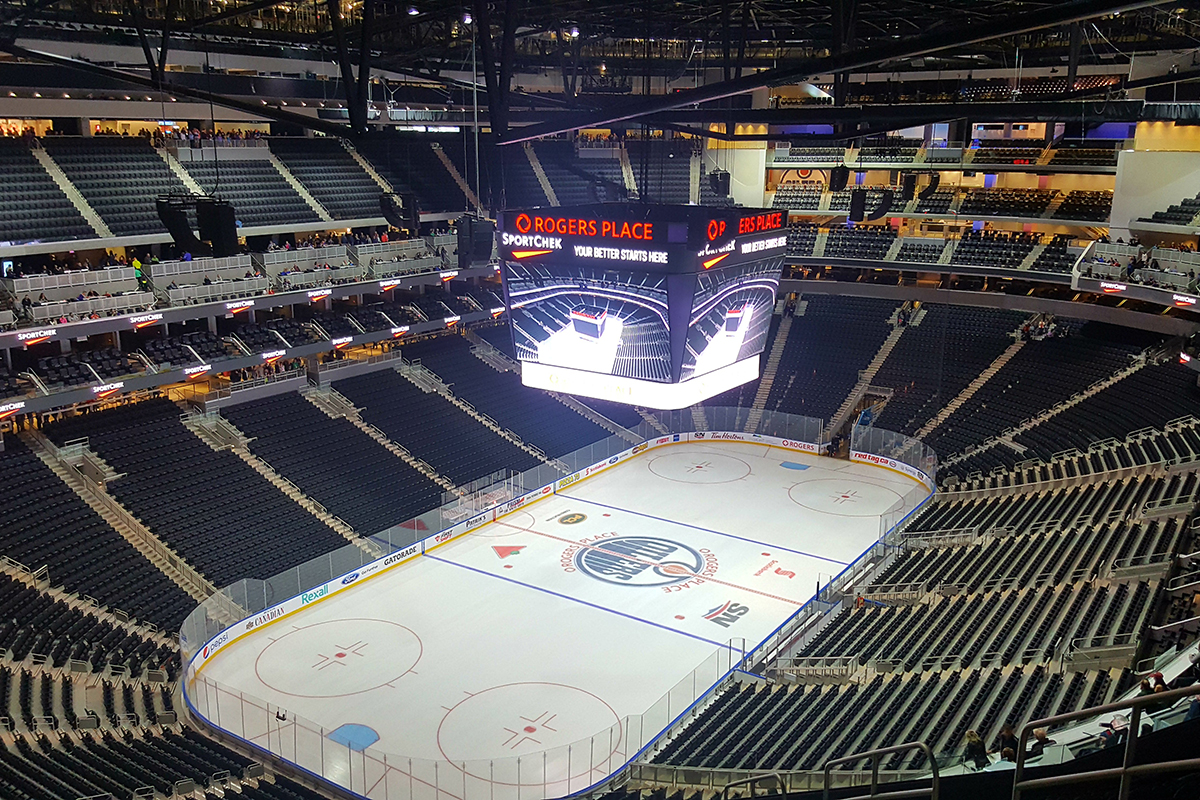 The pièce de résistance of Rogers Place however was dead centre in the building — the rink itself. Stepping into view of the ice surface, I was taken aback. For all of its other window dressings (see: Alberta beef carvery booths, Oilers stores, Gretzky and Messier murals, etc.), this is where Rogers Place proves it can put its money where its mouth is. Sight lines from every level were incredible, as seats from the upper deck seemed more than ever like they could be a part of the action, and the score board overhanging centre ice was a marvel of technology to behold — watching the game on TV will not compare to experiencing it on the imposing screen (ahhh the HD glory). Even without a globe-trotting super star on a stage or a team of young guns skating to earn their place in the NHL playoffs, the rink was the highlight of the day's entertainment.
For much of Edmonton's existing infrastructure, it's apparent that little consideration was given at the time of construction to the possibility of this city one day growing into a booming metropolis. Rexall Place, for all its history, nostalgia and memories, falls right into this outdated category. After seeing Rogers Place first hand, it's clear the city built something worthy of Edmonton's future.