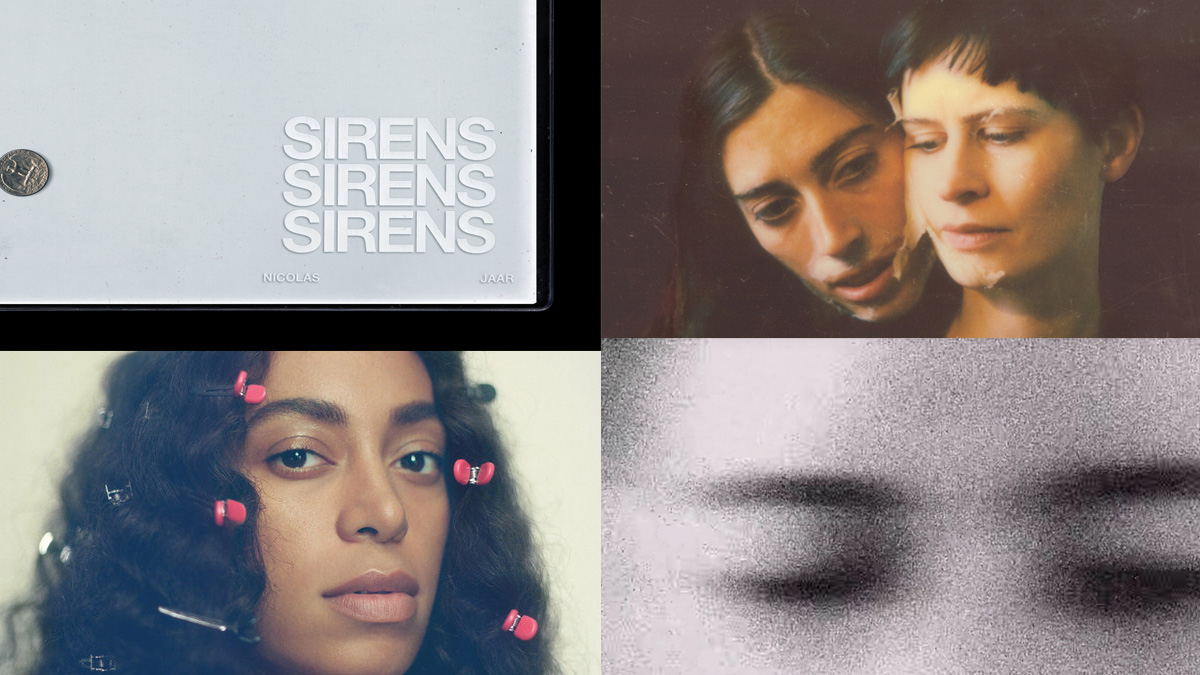 This Friday, the clouds parted, and a chorus of flannel-cloaked angels descended from the heavens, bestowing Justin Vernon's long-awaited 22, A Million upon headphones the world over. While the record was met with rightfully fervent anticipation, it's far from the only reason September 30th was one of the most exciting days for music in years. If by chance, you find yourself needing a break from figuring out how the hell 22, A Million tracks such as "666 ʇ" are pronounced, the following albums are more than worth your time.
Nicolas Jaar
Sirens
Other People
nicolasjaar.net
Buried beneath the chilled-out, ambient layers of Nicolas Jaar's second solo LP, Sirens, lies a ferocious protest record, rife with a sense of global unease. The compositions form an unassuming backdrop for Jaar's vocals, whose multilingual performance carries much of the record, as on the rollicking "The Governor." When on "Three Sides of Nazareth," Jaar sings "He said morality is dead on that side/It's been thrown on the ground on this side," his voice seethes with equal amounts of anger and irreverence. A poignant and nuanced statement of intent, Sirens cements Jaar's reputation as the premier electronic artist of his generation.
---
Jenny Hval
Blood Bitch
Sacred Bones Records
jennyhval.com
Hot off the heels of 2015's Apocalypse, Girl, Norwegian avant-pop artist Jenny Hval's new album Blood Bitch is a high-concept exploration of "lunar cycles, time-traveling vampires, and the flow of menstrual blood." Despite the head-turning subject matter, the record is Hval's most palatable and straightforward collection of tracks yet. She rarely indulges in the confrontational spoken word that dominated Apocalypse, Girl, instead coating her singing in a dreamy haze that almost undermines the boldness of her words. Almost. Never one for compromise, Blood Bitch sees Hval refining her art instead of dulling it, charting a course through parts known but unexplored.
---
Naked
Zone
LuckyMe
http://www.nake.dk/
The debut album from UK noise-pop duo Naked is one of the most exciting this year. From its opening seconds, the group ambushes the ears with energetic songwriting and abrasive production that hardly lets up over the album's 37-minutes. Singer Agnes Gryczkowska's coquettish and unsettling vocals flutter over an aggressive wasteland of blown-out, industrial instrumentals. As Zone delves into potent themes of identity and deconstruction in the digital age, it never feels heady, striking a delicate balance between catchiness and complexity. At their best, Naked offer some of the most visceral pop thrills you're likely to come across anytime soon.
---
Solange
A Seat At the Table
Saint
http://www.solangemusic.com/
For those who complained that Lemonade was "too commercial," I present the new surprise release from Solange (a.k.a. Solange Knowles). A Seat at the Table is hardly content to sit in Big Sister's shadow, however. The album is a striking, ambitious, and deeply personal examination of black humanity, rooted in a powerful sense of family and common heritage. Solange's songwriting and vocals throughout are both vulnerable and galvanizing, made even more impactful by the speeches that populate the album's interludes. A Seat At the Table is a soulful and profound work, another piece of necessary listening in a time of violence and unrest.