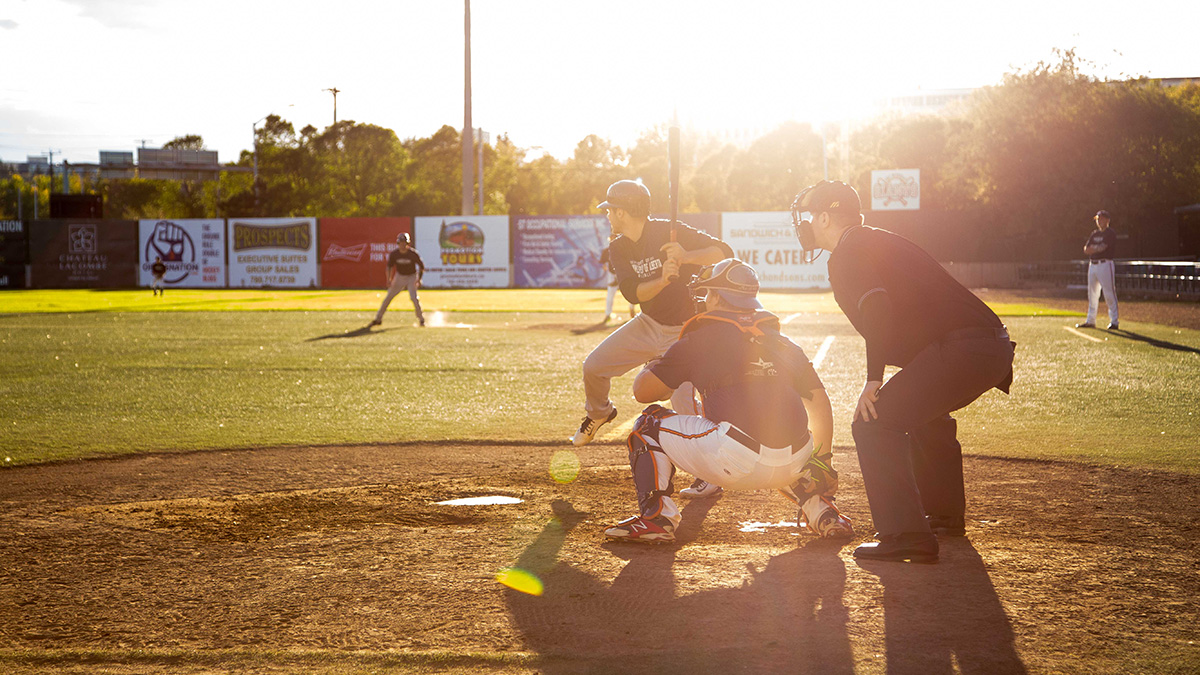 For the first time in its history, the University of Alberta will have a baseball program.
Men's and women's teams have begun in September. With club status, both teams will not have the same support structure as varsity programs. Nonetheless, people at the centre of both clubs see the baseball teams as filling a gap in athletic opportunities offered to athletes.
PANDAS
For Nicole Luchanski, the University of Alberta becoming home to the only women's collegiate baseball program in North America has been a long time coming.
Luchanski, an Edmonton native, has played baseball her entire life, including the past 10 years on the Canadian National Team. It hasn't always been easy, and Luchanski said a lack of grassroots infrastructure is hindering the development of the women's game.
Starting in t-ball and progressing through the coach-pitch level, Luchanski decided to stay in baseball rather than making the change to fast-pitch softball. This posed a significant challenge for her, as she almost always had to play on a boy's team in order to gain increased practice.
"There is that infrastructure for women's fast pitch," Luchanski said. "If that's your thing, it's all laid out for you."
Despite the comparative ease of switching to softball, Luchanski chose to keep playing with the boys on the big diamond. The choice was affirmed for her in 2004, when she attended the inaugural Womens' World Cup of Baseball, held in Edmonton.
"I went and watched the games," Luchanski said in an interview with CTV. "I was young enough to not be on the team but old enough to know that I wanted to get there."
The then-16-year-old Luchanski made her first Canadian national team at second base only two years later. When it came time to choose a college, however, Luchanski chose to switch sports and go south of the border.
After three seasons with the women's softball team at Oregon State University, Luchanski returned to baseball full-time, completing a Bachelor of Science in Forestry in 2013 at the University of Alberta. Though she said she doesn't regret changing sports, Luchanski said this was indicative of one of the biggest barriers to the growth of women's baseball.
"The thing that has to happen to grow any women's sport is college scholarships. Sports blow up when people can get their school paid for."
For Luchanski, recognition as a varsity program is the end goal for the new baseball program. For now, Panda's Baseball will settle for existing as a club team associated with the university. According to Luchanski, it's a good place to start, and she hopes to see more universities follow suit.
"If nobody starts (a league), why would anybody else jump on board?" Luchanski said. "If we get the numbers in the program and get better, maybe it could convince a group in Calgary and Lethbridge to do the same thing, and before you know it, we have a little three-team league."
That day, Luchanski admits, is far off, but the establishment of the U of A program means that she is hopeful a league can be established. In order to spark this development, Luchanski said that Baseball Alberta is waiving many of the player criteria the men's team have to deal with: along with U of A students, alumni and prospective students and transfers are allowed to play. For Luchanski, it shows that the powers that be are making an effort to get the numbers needed to run the program.
Once the team is established, Luchanski said their opposition would likely be Midget-level boys teams from local leagues. Despite not having a full team of players yet, Luchanski said those who have signed on are committed to making Pandas Baseball work.
"I can't imagine that 'women's' anything started with a bang," Luchanski said. "You have to convince people that you belong. Women's rugby just made it into the Olympics."
BEARS
Mark Randall knows a thing or two about bouncing around to play baseball.
Having spent time playing professionally with the Philadelphia Phillies, Houston Astros, Edmonton Cracker-Cats, and several teams in Europe, Randall has also coached and played for the Canadian National team.
Currently in charge of the baseball program at Vimy Ridge Academy, Randall said there were several reasons why the time was right to start up a baseball program at the U of A. For Randall, the primary goal was to keep local talent.
"The main push is the fact that kids are being sent away (from Edmonton) by the hundreds that could stay at home," Randall said. "Primarily, I've sent those kids to schools in the Canadian College Baseball Conference (CCBC), the league that we'd be in."
The U of A would join five other teams from across Alberta and British Columbia in the CCBC. Randall plans to have two full teams, much the same as the other squads in the league. One team would serve as the main travel squad, and the other as a junior varsity team.
Though Randall said the idea of a baseball program at the U of A had been kicking around for several years, it was the availability of the Edmonton Ballpark (formerly Telus Field) for training through the winter that spurred the development of the program for the start of the 2016-17 year.
Randall pointed out that the province's economic uncertainty has many parents re-evaluating the significant investment that comes with moving away to play baseball.
Randall said that moving to another team in the CCBC can cost over $15,000, with the expense being even more if an athlete chooses to go to the United States. For comparison, Randall said the fees for the U of A program will be around $4,500 for the year, with prorated fees for those players that don't travel. Heading south can also put players in uncertain academic situations.
"Usually, (in the U.S.) you're going to a junior college, you're not getting the best education if you want to play regularly," Randall said. "If you want to go south for an education, you're not gonna play."
According to Randall, staying in Canada does not hamper the professional ambitions of prospect players. In fact, he said, scouts can sometimes over-value players from the  Canadian system.
"If a player is good enough, (scouts) are going to find them regardless of where they play," Randall said.
Since most of the prospective U of A players will spend their summers with different teams, Randall said the program will be delivered from September to May, with a travel schedule starting in February and league games starting in March. In the end, Randall said the program is meant to be an accessible stepping stone for athletes.
"That's ultimately what the program is there for, to expose kids to opportunity," Randall said. "Just like any other program in the CCBC, if you're good enough, you get drafted and  move along."