UAlberta alumnus goes from the Biological Sciences Building to the San Diego Zoo
Sofia Osborne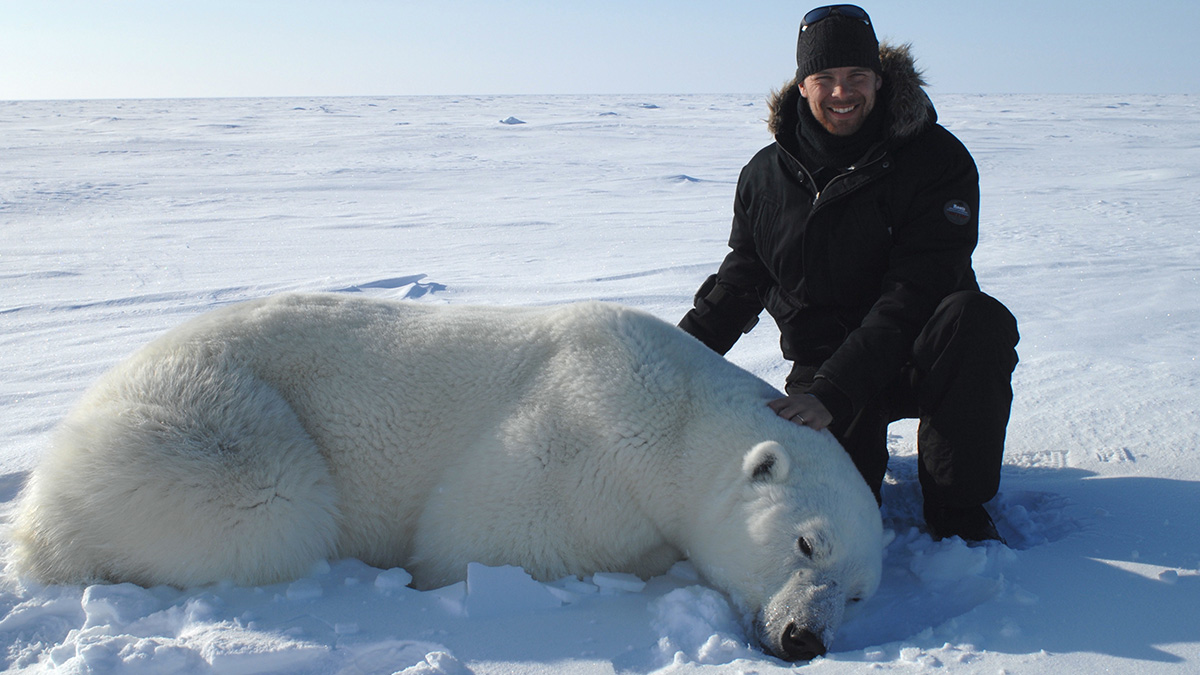 When Nicholas Pilfold isn't at his San Diego Zoo office, he's working with polar bears in the arctic, spectacled bears in the Andes, or great pandas in China.
Pilfold became a post-doctoral associate at the San Diego Zoo's Institute for Conservation Research after finishing his PhD in ecology at the U of A in 2015. He researches polar bears' responses to ice level and climate change, a project that he started at the U of A under the supervision of Andrew Derocher, a biological sciences professor.
Pilfold is one of 200 scientists working at the San Diego Zoo Institute for Conservation Research, which conducts research in 35 countries. As part of the institute's applied animal ecology team, Pilfold works primarily in the field.
This year, Pilfold spent time in the Peruvian Andes studying distributions of spectacled bears, which are one of the least-known bear species. He also works with giant pandas in China to measure success of their reintegration projects.
While Pilfold works with other bear species he said he was first drawn to polar bears because of their connection to the arctic, an area he has always wanted to see.
"(The arctic) is a region that's undergoing some of the vastest changes that we've seen anywhere on the planet when it comes to climate change," he said.
Pilfold grew up on a farm in Maple Ridge, British Columbia, and attended the University of British Columbia for his undergraduate degree in Life Sciences. He had always been interested in animal care, having grown up close to animals with and having access to the outdoors. Pilfold said he was also drawn to ideas in his upper year ecology courses, inspiring him to pursue the field as he worked upward in academia.
Before coming to the U of A for graduate school, Pilfold worked on small wildlife reserves in Africa to see if long hours and remote fieldwork were for him.
"We got up early every day to track predators on the reserves, lions, leopards, and hyenas, and I loved it," he said. "I fell in love with both Africa and the work. I decided that that is what I wanted to do for a career."
Pilfold's work as a biologist has taken him to isolated places such as M'Clur Strait in the Northwest Territories, where he and Derocher stayed in a tiny cabin estimating the number of polar bears in the area. The two-week trip confirmed Pilfold's love for the arctic.
"You're just surrounded by wilderness, there's nobody around for thousands of kilometres and I think that left the biggest impression on me about the arctic," he explained. "It's one of the last wild places on the planet."
Pinfold said he never envisioned himself working at the world-famous San Diego Zoo, but he was drawn to the position when the Institute for Conservation Research was looking for a bear expert.
Pilfold said aspiring biologists at the U of A should be flexible enough to see paths that they might not have considered.
"It's not always easy to end up in your career of choice, there can be difficulties along the way," he said. "Having a persistent attitude and keeping at it is really important to recognizing and achieving your dreams."