Doin' You: Last minute Halloween makeup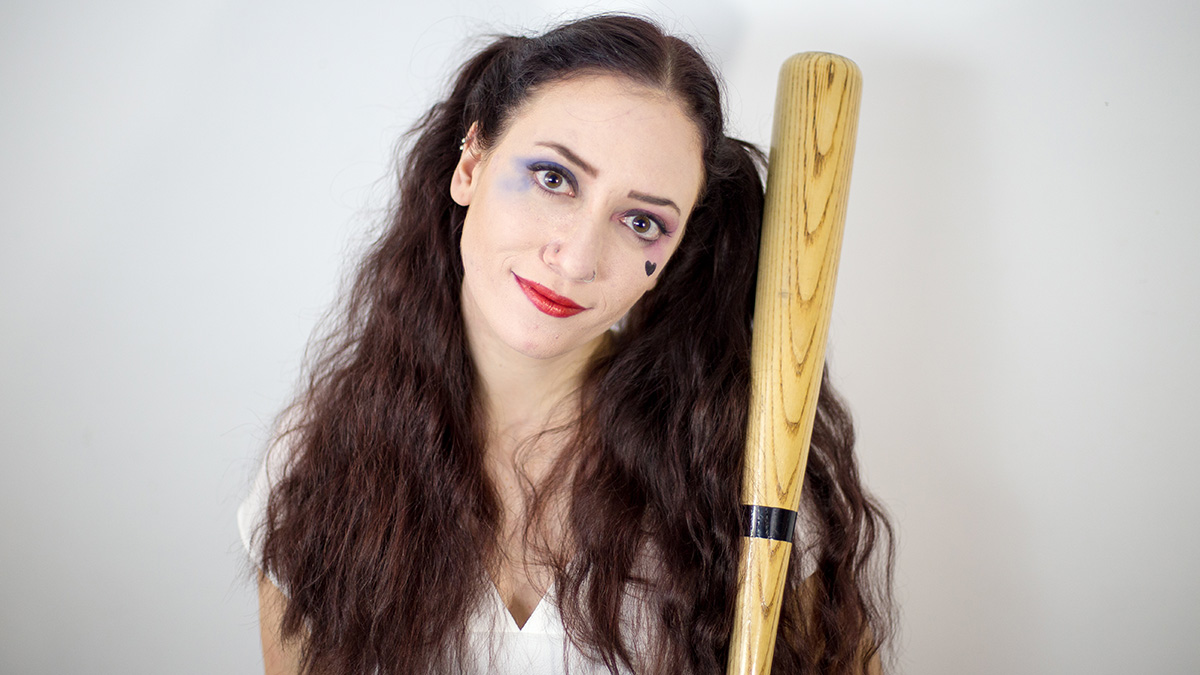 It seems to me that a DIY Halloween costume can go to one of two extremes — you either put in a week's worth of thought and effort to create something epic, or throw one together at Dollarama on the way to your party. If you tend to resort to the latter, are without a costume for this weekend, but still want to look presentable, we have your back.
Here are three last minute Halloween makeup and costume ideas for : Harley Quinn (easy), Wednesday Addams (medium), and Edward Scissorhands (hard), for all levels of time and experience. *Click costume name to see instructions!
---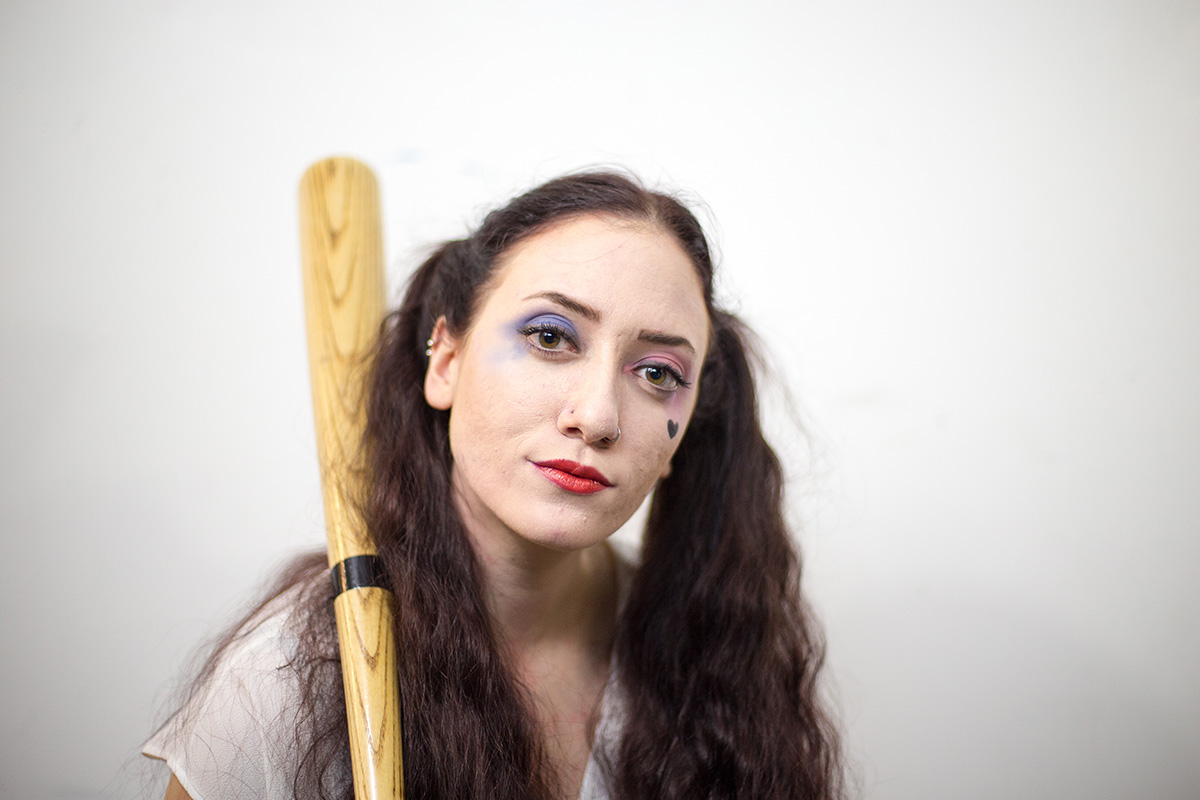 Harley Quinn from Suicide Squad (Difficulty: Beginner)
Inspiration: https://www.youtube.com/watch?v=5qJqlB9y1d0
What you'll need:
Face:

Foundation
Primer
Powder
Black eyeliner (Harley's heart)
Eyebrow pencil
Bronzer or a brown contour shade with Kabuki brush

 Eyes:

Blue/Pink eyeshadow
Black eyeliner
Mascara
2 blending brushes, 1 smudger brush

 Lips:
 Hair:

Hair brush
2 hair ties (she wears blue and pink)
Harley's makeup is smudged and running down her face, so you don't have to worry about being precise with this look. This is a fairly simple process and easier for beginners.
Use a primer all over your face to ensure your foundation will last, then apply foundation over top and blend into your neck. Apply powder on top of the foundation.
Fill in your brows. If you have darker eyebrows and are using a blonde wig, try filling them in with a slightly lighter shade of brown to better match Harley's. I just used my natural hair and left my brows dark.
Using a blending brush, apply pink eyeshadow to one of your lids (Harley's is on her right). Keep the shadow away from your brow bone by focusing on the centre of your lid. Sweep the colour outwards past the outer corner of your eye. Feel free to put some colour on the inner corner of your eye as well. Remember, this doesn't have to be neat. The messier and more smudged it is, the better. Repeat on your other eye with a new blending brush and blue eyeshadow.
To make your eyes stand out more, apply a thin layer of black eyeliner on your tops lids. If you're feeling adventurous, try a slight wing. For a messier feel, use a smudger brush to smudge the black eyeliner. Apply a thin layer of eyeliner on your bottom lid and smudge this out as well.
Finish off your eyes by applying mascara on your top and bottom lashes. This look doesn't necessarily need false lashes to complete it, but for those with shorter lashes, it might make your eyes pop!
We can't forget about Harley's makeup running down her face! Using your pink shadow once more, start at the outer corner of your eye with your blending brush and bring the colour down and out. Do the same on the other eye with the blue shadow. Blend the colour to make it look messier.
This step is optional, but it will make you look fierce. Take a Kabuki brush (or a normal blush brush) and take bronzer/a light brown contour shade and sweep it underneath your cheekbones. Make sure to blend this into your foundation so it doesn't look like lines of dirt on your face.
Apply a ruby red lipstick.
To finish off the makeup, add a tiny heart underneath the outer corner of your eye with black eyeliner. Harley has her's under the eye with the pink shadow.
Harley's hair is quite simple. Part your hair down the middle and brush half into one pigtail at the side of your head. Tie with an elastic. Do the same on the other side. Harley has blue and pink elastics, but this isn't necessary. In Suicide Squad, Harley has two strands of hair coming down framing her face. If you wish to do this, leave two strands out before putting your hair up. The look will look much more complete with blonde hair. I didn't have a blonde wig, so I resorted to my dark hair. However, if you have lighter hair or are willing to splurge on a wig, make sure to take a temporary hair colour and dye your ends blue and pink.
Harley's costume is not simple, but it is doable. If you don't want to get too specific, you can easily wear a white and red baseball tee, black shorts and fishnet stockings. It doesn't hurt to carry a baseball bat either, assuming you aren't taking it to the bar.
---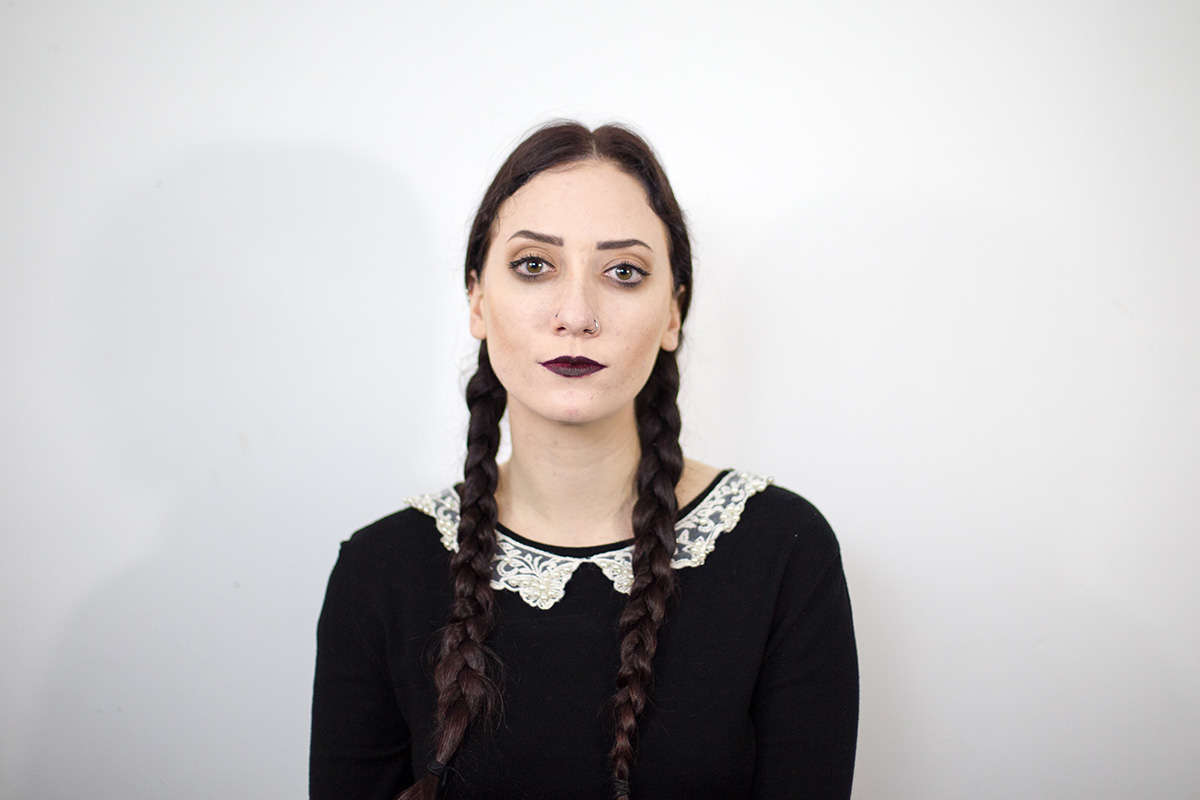 Wednesday Addams  (Difficulty: Intermediate)
Inspiration: https://www.youtube.com/watch?v=qxVBX-weBA8
What you'll need:
Face:

Primer
Foundation
White face paint (optional)
Sponge (optional)
Powder
Black eyebrow pencil/shadow
Eyebrow brush
Brown contouring shade with Kabuki brush

 Eyes:

Multiple neutral/brown eyeshadows (I used Urban Decay's Naked Palette)
Blending brush
Black liquid eyeliner
Mascara

 Lips:

Black or dark purple lipstick

 Hair:

Hair brush
Two black hair ties
This look may appear to be simple on first glance, but the eyes are trickier than they seem. However, it is definitely doable!
Prime your face to ensure your foundation and/or facepaint sticks. Apply your foundation all over your face, blending into the neck. I am a fairly pale person, so I didn't need to add any white face paint. However, if you want to go for the ghostly look, apply a thin layer of white face paint over top of your foundation. Avoid putting on too much or else it will look comical and less realistic. Be sure to blend it in with a sponge.
Fill in your eyebrows with a black eyebrow pencil or black eyeshadow. Avoid drawing them on to look like a sharpie – blend them with an eyebrow brush.
Now onto the eyes. I found Urban Decay's Naked 1 Palette to have the most natural looking shades, as recommended by Madeyewlook Twice on Youtube. Apply the colour "naked" (or a beige) all over your lid, in your crease, underneath your eyelids and on your inner corners. Apply the colour "virgin" (or a white) under your brown bone only. Apply the colour "buck" (or a medium brown) into your crease and your outer corners.
Take a liquid eyeliner and draw a thin line on your upper lids with a wing. Attach your eyeliner to the wing underneath your eye and carry it under your entire bottom lid. Smudge the bottom line with a smudger brush. It doesn't need to be perfect, but make sure the bottom line isn't super thick. We aren't going for an Avril Lavigne "Sk8r Boi" look.
Mascara those lashes! Top and bottom.
Apply black or a dark purple lipstick to your lips.
Using a Kabuki or blush brush, contour underneath your cheekbones to create a sunken look. Again, make sure you blend this to avoid looking dirty.
Part your hair down the middle into two sections. Braid each half. If you have lighter hair, I would consider either getting a wig or using a black (wash out) hairspray. The Wednesday Addams look isn't complete without those dark locks.
As for a costume, any black dress would work if you layer it with a white collared shirt.
---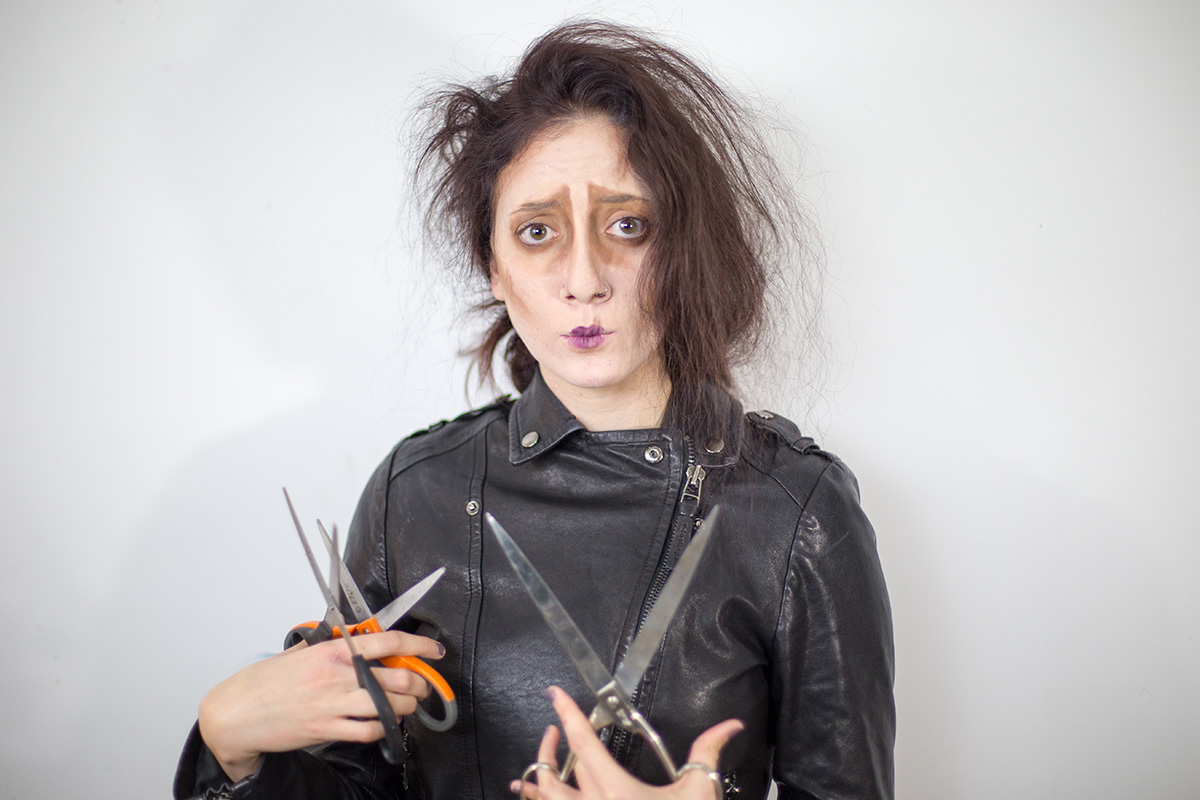 Edward Scissorhands  (Level: Advanced)
Inspiration: https://www.youtube.com/watch?v=oVSJQv_TEQ8
What you'll need:
Face:

Primer
Foundation (recommended: beauty blender or sponge)
White face paint
Multiple contouring shades of brown
Multiple contouring shades of white
Two different small angled brushes
Two different eyeshadow brushes
Powder

 Lips:

Dark purple lipstick or eyeshadow

 Hair:
Even though there aren't as many products to use, this is by far the most difficult of the three. However, if you are willing to spend a little more time and effort, it can be done.
Prime your face to ensure the face paint sticks.  If your skin tone if fairly pale, I would apply your regular foundation first for more coverage, and then add a layer of white facepaint over top. If your tone is darker, you might want to head straight in with the white face paint. However, like the Wednesday Addams look, you don't want to add too much of the face paint to avoid looking comical. Edward isn't a clown.
My eyebrows are reasonably dark, so I found it difficult to cover them up completely. However, do the best that you can. Apply your foundation and/or face paint over top of your eyebrows. The key feature on Edward's face is his sad expression, so you don't want to mess that up with your eyebrows showing. Set your face makeup with powder.
Here comes the tricky part. First, outline his sad looking eyes. Taking a medium brown shade from a contouring kit/medium brown eyeshadow, use a blending brush and start in the corner of your eye on the side of your nose. Bring it down diagonally and out to create a deep bag under your eye. Take the brown and run the brush underneath your eye and up the side on your outer corner. To create the sad look, take your brush and place it slightly above where the inner corner of your eyebrow would've been. Bring the brush diagonally down to meet the line you've already drawn on your outer corner. Now that you have your outline, fill in the rest of your eyelid and any patchy places with the brown shade. Do this on the other eye.
Taking a darker shade of brown, use a different blending brush in the hollows of your eyes on either side of your nose, in your crease, and underneath your eye.
Taking a Kabuki brush or a blush brush, take the medium brown shade you were using on your eyes and contour underneath your cheekbones. This should be thicker than Wednesday Addams and Harley Quinn because Edward's look is more exaggerated. Make sure to blend it. Be sure to apply this to either side of your forehead on the sides and on the top for a more intense effect.
Apply purple lipstick or eyeshadow onto the middle of your lips only. Make sure you have foundation on your lips first to make them appear lighter. You don't want the lips to look too dark or rich, so if you are using lipstick, put some powder over top and or/blend it out.
Edward has many scars on his face, but if you're like me and don't want to spend excess amounts on liquid latex, you can easily contour instead. It doesn't really matter where you place the scars, but I found it more effective to place them over the parts that are contoured darker. That way they will show up much easier. Additionally, be sure to put a scar on your lip as that is one of the more notable places. To do this, take a white powder from a contour kit (or a white eyeshadow) with a small and angled brush. Draw a thin line onto your dark contour. Make sure it is not too thick or long or else it won't look like a scar. Taking a different small angled brush, take a dark shade of brown and outline the white line you just made. Blend it to make it look less drawn on. Do this on multiple places, especially on your lip.
Like Wednesday Addams, Edward's black hair is pivotal to complete the look. If you don't have dark hair, I would again recommend a wig or washable black hairspray. If you are using your own hair like myself, first assess how much hair you have. If you have a lot of thick and long hair, you'll want to tie up your excess hair at the bottom of your neck, leaving chunks out in the front. Tease the chunks you left out with a comb to make them stick up high and unruly on your head. If your hair is short, you can easily just tease what you have. Once your hair looks acceptable, hairspray the crap out of it to make sure it stays.
As for Edward's outfit, it is surprisingly simple. I would avoid doing his original leather get-up and go for his white collared outfit. You'll need a white collared shirt, suspenders, and grey dress pants. However, the scissorhands are a challenge. One idea is to take cardboard and cut them into long strips, then wrap them in tinfoil. You could attach them to cheap black gloves making it easier to take off if they get in the way.