Fashion Streeters: Nina Plummer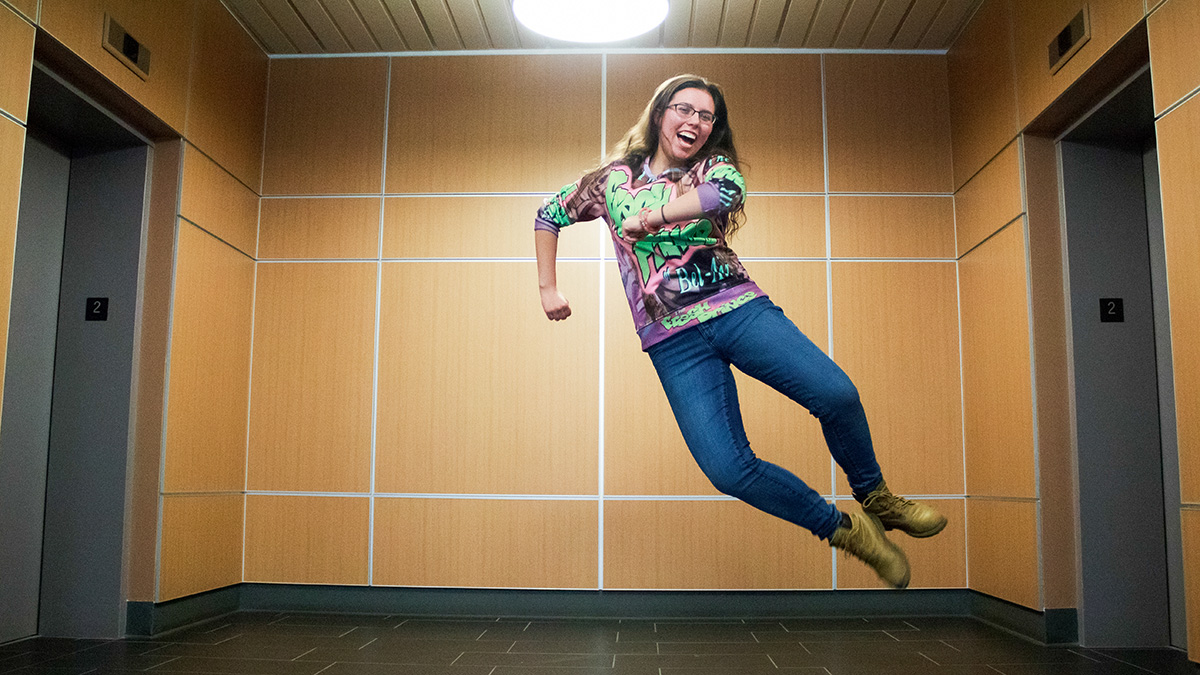 Gateway: Can you tell us a bit about what you're wearing?
Nina Plummer: Most of this ensemble is from costumes of past hip-hop dance pieces I've done. These shoes are what I call my "Jimberlands" — they're fake Timberlands, my 'jimbs — you can tell that they're falling apart. I had to wear them for a dance. One thing that I think is interesting about me is that I'm not into fast fashion; a lot of what I wear is from a thrift store, or are hand-me-downs from my mom's old '80s wardrobe. Pretty much everything that's actually new is from a hip-hop costume. These jeans, though, are completely contrary to what I just told you — I bought these Calvin Klein jeans at Costco this past summer. The shirt is a Fresh Prince of Bel-Air pullover – it's from a dance I did last year. The dance's name was #ThrowbackThursday, so if you look at the back, there's Will Smith.
That shirt is incredible. If you do buy your clothing, where do you usually find yourself going?
For the longest time I would go to Value Village, but I'm trying to turn away from there because they're getting really expensive. Honestly, I'm not really someone who needs to buy clothing; I take up three different closets in my house, it's horrible. It's not that I spend a lot of money, I just save a lot of money from finding things on really good deals, so I end up having more stuff. I don't really shop, so there isn't somewhere I usually go to, but if you were forcing me to go on a shopping spree tomorrow, I'd probably check out some of the thrift stores on Whyte Ave or around that area. I really like Red Pony, or even Goodwill. I'm in the Greek community as well, and clothing and letters can be very, very expensive. What I started doing was making my own letters — so, I bought some Beauty and the Beast fabric from Fabricland and a shirt from Value Village, and sewed the letters onto it.
Where do you get your inspiration for the way you dress?
I like to have stuff that's a bit funny, like this pullover, it's obviously a conversation starter. I think my clothing really just reflects what I like to be involved in, so a lot of the clothes I have are either old hip-hop things, or from things I've volunteered at. I went to Italy this past summer, so I got this shirt that says "Italians do it better," and has this giant espresso machine on it. For the longest time, anything that was brightly coloured, I would buy, so I have a lot of brightly coloured Harem pants and shirts, and not a lot of neutrals. It's kind of a problem — I'm really trying to be more professional. I'm in my third year, not fourteen years old anymore.
Can you tell me about the bracelet you're wearing?
This actually has a lot of meaning to me, I haven't even taken it off since I got it a few months ago. This past summer, I was teaching English in Italy, and through the program, you got host families. This was given to me from my very first host family. It was just a single mother and a little girl who was eight years old — her name is Anita. It was in a smaller town, and I was kind of upset that I had been placed there, because everybody else was in this big metropolitan city, which is what I had wanted. I found I actually liked the smaller towns better while I was there and grew very close with that family — they made me feel like one of their own. They made me feel like a princess. You know how they say that you always leave stuff better than the way you found it? I think it was one of those situations with this family. There was a lot of dysfunction going on, there was a separation in the family, and the little girl used to cry a lot before I came there. I felt like a big sister to her and loved them so much that when I had free time after I was done teaching English, I went to visit them again for a week. I cried a lot when I left. This was a present they gave me the first time I met them. They always message me on Facebook and send me videos. They're basically my second family. When people comment on this bracelet, it just makes my heart swell.