OUTreach: Longtime student group offers LGBTQ students a place to discuss coming out, queer dating
Sofia Osborne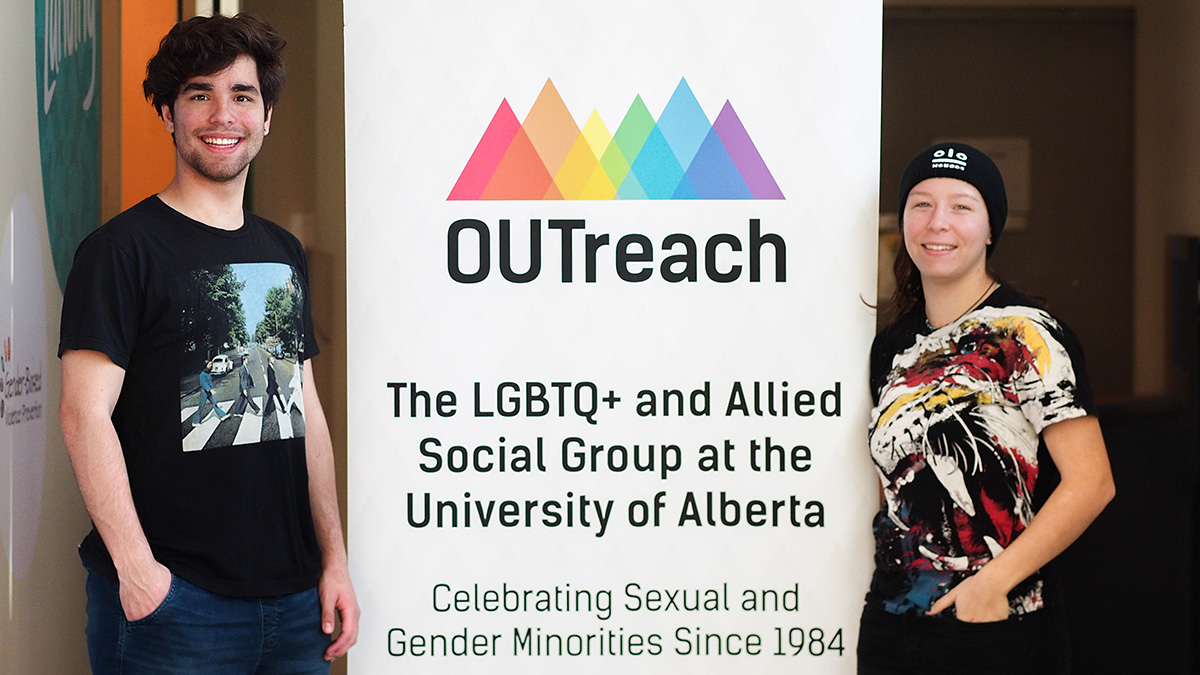 For 32 years OUTreach has been celebrating the LGBTQ community through weekly discussions, board game nights, masquerade balls, and ski trips.
Located in SUB 0-68 in front of The Landing, OUTreach offers a social group for LGBTQ students and allies. Beatriz Henriques, OUTreach's Vice-President (External), said campus life can be lonely whether students identify with the LGBTQ community or not, making OUTreach an important resource for support.
"It's not everywhere that you're going to find the group of people who identify somewhere in the LGBTQ community," she said. "Even though we might not have the exact same experiences it's already enough to build community."
Henriques added that students who come to OUTreach after having negative experiences with their friends and family often feel more comfortable with their identity as they become part of the OUTreach community.
Having a student group like OUTreach shows students that the University of Alberta is an LGBTQ ally, Henriques said. This can be important for students who identify within the acronym but are too busy or not comfortable enough to attend events.
OUTreach has weekly meetings every Tuesday night, which usually reach about 30 participants. Students at the meeting discuss a specific topic such as coming out stories and queer dating. Oftentimes the group goes to Room At The Top or another spot to hang out after a meeting.
On top of weekly meetings, OUTreach hosts larger events ranging from coffee nights to 500-person events such as an annual pride week drag race, held at The Starlight Room last year. OUTreach's next event is a Halloween masquerade party at Dewey's on October 28, and is open to everyone with tickets purchased from the OUTreach office.
Although OUTreach has been at the U of A under different names since 1984, Henriques said it is constantly expanding its scope, which makes it feel like the club is a new addition to the university. This year, the group hosted a casino night in Lister where first-year students were able to engage in games that centred around gender and sexuality.
Although OUTreach focuses on LGBTQ folks, Henriques said anyone is welcome at the group's events.
"People whose experiences are outside (the norm aren't) celebrated as often, so that's why the emphasis is there," she said. "But someone who is not within the acronym but just feels it's the space for them … is going to be welcomed with open arms. We're never going to turn anyone away."
Henriques said OUTreach also works as a "super-team" with The Landing, a student service and dedicated fee unit offering resources and educational opportunities on gender and sexuality. When students need additional resources and one-on-one support they are referred to The Landing, as OUTreach is focused on creating a space for those who are looking to be part of a social community.
Henriques has been a volunteer at The Landing since it was founded in 2014 but was drawn to OUTreach to engage with other students as a friend instead of an educator.
"When you're in a support role people might not necessarily see you as their peer but as someone who can teach them something," she said. "But at OUTreach, there's more of that equal ground. We're all students here."