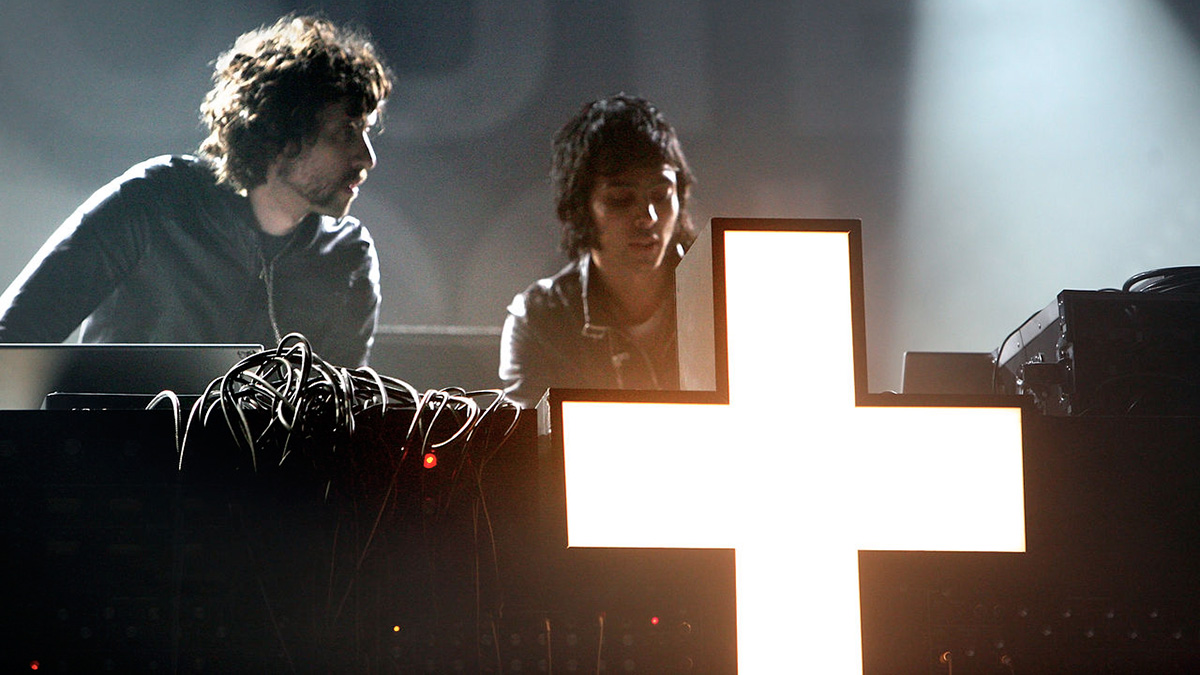 Justice
Woman
Ed Banger Records/Because Music
http://www.justice.church/
When the phrase "French electronic music duo" is mentioned, the first name to come to mind is undoubtedly Daft Punk. However, there's another duo de musique électronique français whose name is also worth remembering: Justice. And on the group's latest release, Woman, they reinforce this, bringing listeners on an epic, retro journey through soundscapes of falsettos, growling guitars, and spacey synths.
While they don't have the same level of notoriety as Daft Punk, Justice has carved out their own niche in the electronic music scene. In 2007, they found their claim-to-fame with the massive, heavy sound of debut album Cross (stylized as †). After this record, on 2011's Audio, Video, Disco, they left the bangers behind for a funkier sound — a similar style to their helmet-wearing fellow countrymen. Now with Woman, which hit shelves last Friday, Justice take a further step away from their grungy past, leaning more heavily on sounds reminiscent of the '80s. Although they may be losing some of their former edge, it's clear they still have an innate ability to create larger-than-life music.
The album starts off with the mysterious, spacey synths and hypnotic choir of "Safe and Sound," and quickly explodes into bass grooves that slaps you upside the head with funk. The song builds anticipation with the addition of chugging, muted guitars and rising strings. This track perfectly exemplifies the experience of listening to Woman: equal parts funky and legendary, as the combination of instruments and melody instill a sense of exploration, mystery, and excitement — from the start it's nothing short of an adventure of a listen.
Justice's production skills truly shine throughout the album. With their selection of bass tones, falsetto vocals, soaring guitar solos, and soulful keyboard chords, each song seems authentically old school — as if released decades ago. Without knowing the artist, the second track "Pleasure" might be interpreted as a Queen song, and the third, "Alakazam!" sounds like it was ripped from a '80s movie (or Stranger Things') soundtrack.
The duo also demonstrates that they can still produce the heavy hitting sound they were known for in their earlier years. On "Chorus," the in-your-face, chugging synths and guitar hooks, mirrored with speedy, arpeggiating blips create a sense of aggression and victory. This gradually morphs into a spooky, ethereal choir and eerie whistling of a Theremin.
Woman's crown jewel track, however, is "Randy." With an infectiously catchy melody delivered through every available retro element, it triumphantly builds with rhythmic keyboard chords, sweeping orchestrations and thunderous drum rolls, leaving the listener simultaneously motivated and grooving. When taking all these tracks together, Woman creates a sense of wonder and inspiration comparable to (what I would imagine to be) the excitement of space exploration — making the dreamy "Close Call" the perfect song to end on.
The standout feature of Woman is that every single song is an enjoyable listen, making the album a continuous, action-packed spectacle. It is an improvement on Audio, Video, Disco, and almost eclipses Cross in its glory. For anyone interested in experiencing a heroic '80s adventure — without having to fight Arnold Schwarzenegger or some aliens — they should definitely give Woman a listen.