Engineers, U of A gearing up to shave heads for cancer research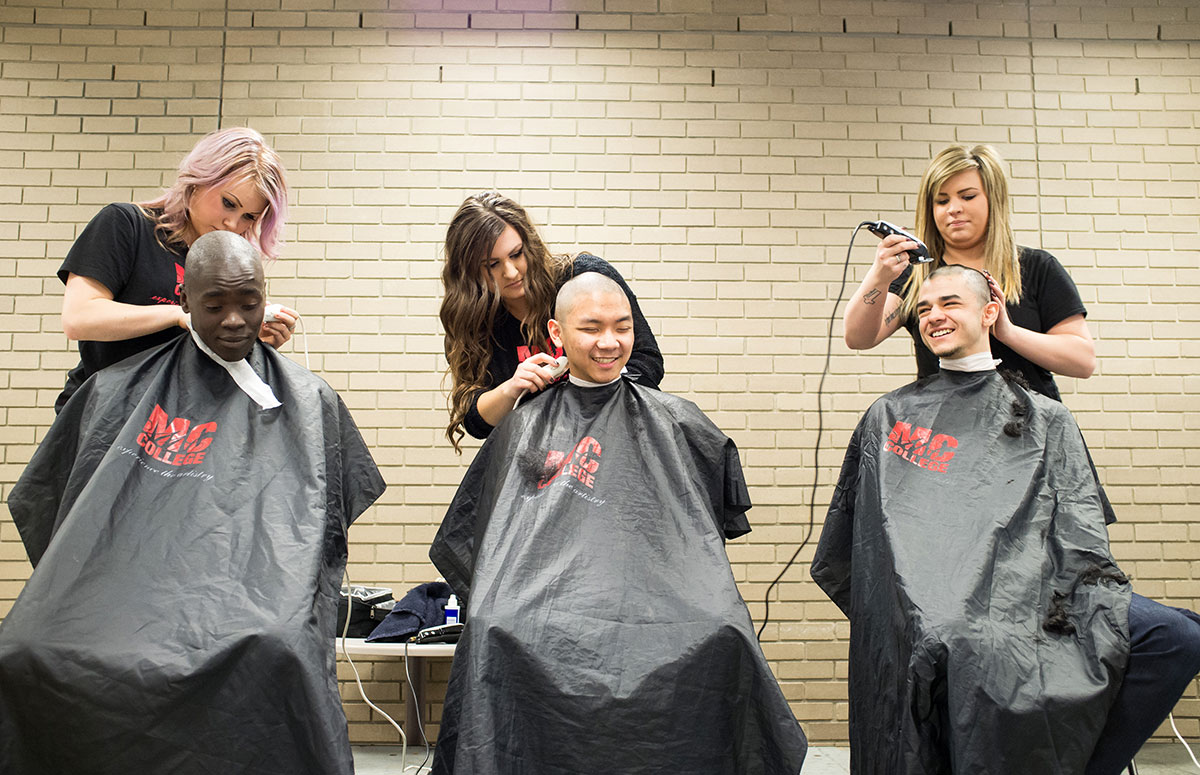 Having a buzzcut just as winter is coming is daunting, but many students will be shedding their locks anyway for cancer research in the annual Engineering Head Shave on November 23.
To participate this year, students will line up in the Engineering Teaching & Learning Complex (ETLC) solarium, to have their heads shaved after collecting pledges for 24 days. All proceeds will go to the Alberta Cancer Foundation — this year, the goal is to raise $15,000, Nick Seniuk, a vice-president of the Engineering Students' Society (ESS) and one of the event facilitators, said.
"It's not just for an initiative within Engineering," Seniuk said. "It's really to benefit the initiative of raising cancer awareness across campus."
All members of the campus community — not just engineers — can join the fundraiser between 10 a.m. and 3 p.m. on November 23. Besides having their heads shaved, participants can also get their hair temporarily dyed pink for $5. There will also be free coffee and cookies.
Now in its 13th year, the Head Shave began after engineering students Gary and Graeme Wicentowitch lost their father to stomach cancer. The brothers, wanting to make a difference, approached the ESS with the idea to fundraise for cancer research by shaving students' heads. Their first event raised $12,000 for the Alberta Cancer Foundation and the initiative has taken off since then, Seniuk said. Since 2003, Engineering Head Shaves have raised a total of $393,000 for cancer research.
"The importance at the beginning was so we could support our students but it's slowly grown into something much larger than that," he said. "Students day to day have family members that are affected by cancer … ESS has taken it upon ourselves to try to combat that."
Students who volunteer are encouraged to have their hair dyed pink on November 15 and 16 at one of the college institutes the ESS partners with to raise awareness around campus leading up to the shave. Seniuk said that while about 20 students registered for the event ahead of time last year, there are a considerable amount of drop-ins — he estimates there will be up to about 35 participants a year.
Seniuk added that the hardest thing about organizing the event is getting participation from students.
"It's quite a big commitment to shave your head, especially as winter's approaching," he said. "It's always for a good cause and we really appreciate the students when they participate."
Students who have their heads shaved are usually given toques and patches to signify their participation in the event and to say thanks, Seniuk added.
Head Shave participants collect pledges from friends, family, and businesses on hard copy or online pledge forms. Donors can also go online pledge form from the Alberta Cancer Foundation to make anonymous pledges to students or to the initiative as a whole.
Seniuk said the more people that are involved with the initiative the larger the impact will be.
"(The Head Shave) is not just an ESS event, we're really trying to push other people to join," he said. "It's fighting cancer and raising cancer research awareness for everyone, not just us."
Check out our coverage of the 2012 event below.