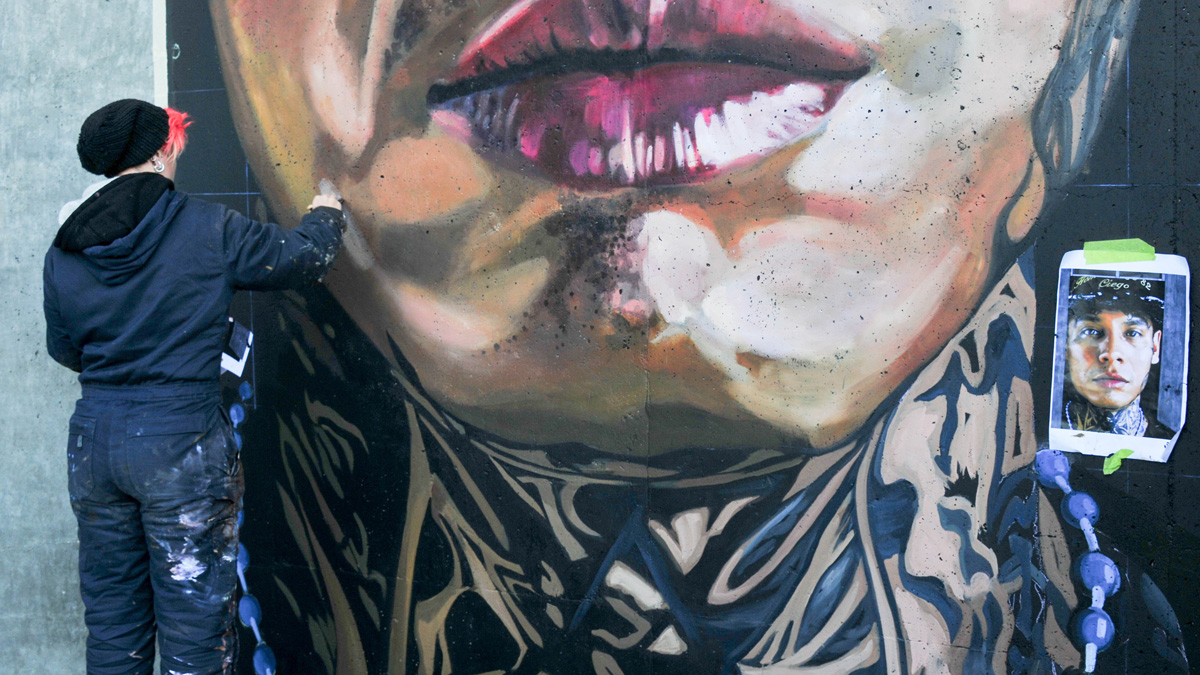 Unless you are a beauty-hating utilitarian, the value of good street art should not be a new concept for you, and unless you are in denial of wealth disparity, gentrification shouldn't be new either. However, if you are a university student overwhelmed by finals season and the last thing you want to be reading is an article with the intention of guilt-tripping you for being a relatively privileged member of society by default, don't stop reading.
If you frequent downtown, Oilers games, or big-name concerts, you may have seen the new mural on the LRT vents outside of Rogers Place painted by Layla Folkmann and Lacey Jane, but the fact that the five faces included in the mural are Boyle Street goers may be a surprise.
"People came by and asked us 'Which famous person is this? They must be someone I know.' And I was like, 'Well no, that's the point,'" says Jane.
The idea of a mural of portraits of every-day Edmontonians is complemented by the fact that Boyle Street Community Services is across the street from the new arena.
"We applied (to do the mural) with the concept of a photo-realistic mural of different, very, very real faces of marginalized community members of Edmonton," says Folkmann.
The goal of giving struggling Edmontonians a legacy made the mural a no-brainer for the artists.
"When you have things like Rogers Place coming in, the city officials talk about it, investors talk about it, local businesses talk about it, but they don't go and ask the random person that lives around the corner," says Jane. "But now you've seen them, now you've actually looked at them. Before you've probably just walked by."
The mural, entitled "Pillars of the Community," is designed to represent the downtown body. Those included in the mural come from different ethnicities and socioeconomic backgrounds to make the local community feel included. "It may not be their faces," says Folkmann, "but if it's a Cree person, they'll see a Cree person, or if it's a young artist, they'll see another artist, or if it's a kid, they'll see another kid."
When the Jane and Folkmann approached Boyle Street Community Services about including their social workers and attendees, they were thrilled by the idea. "You don't have to be a hockey player to be in a mural," says Sebastian Barrera, a high-risk youth worker at Boyle Street.
The faces of the mural were chosen out of forty photos taken, and those at Boyle Street are very proud of people behind the faces.
"I remember when I met Noah," says Barrera. "He was four years old, and I walked through the drop-in centre of Boyle Street and I heard this little kid singing and roaring his traditional (Cree) songs with his drum."
The artists' vision is tremendously moving for Barrera because of how important Noah is in the Boyle Street Community. "He represents how important it is that this new generation is still singing," says Barrera, "even after the dramatic story of residential schools and the hundreds of years of colonization."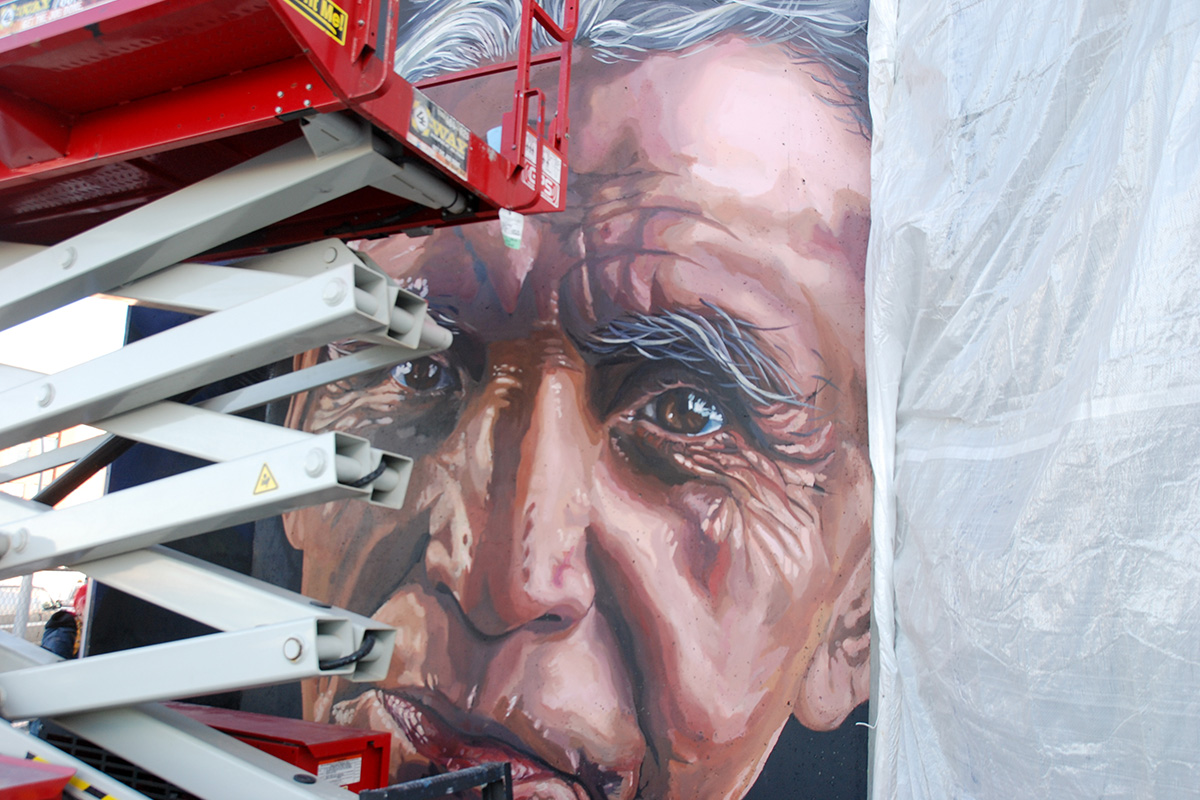 Barrera is tremendously appreciative of the work done of Folkmann and Jane, and is also very conscious of the social commentary within it.
"There has been some stress and some other situations that have been pushing our people out of the core of downtown Edmonton," says Barrera. "You can find a lot of information about how heavy investments raise people's rent, and in the end, they have to leave."
The two artists are aware of this issue as well. "Boyle Street has kind of felt the rumble of it all the most so we wanted to take real photos of all of the people there," Jane says. "It's kind of our way of putting Boyle Street sort of on the map."
Unlike other cities such as Los Angeles and Chicago that have executed big projects similar to the Ice District, Edmonton hasn't put money into rebuilding affordable housing for those displaced by the rent hikes. The arena simply sits between what downtown Edmonton was before and the shiny new part it has become, explains Jane.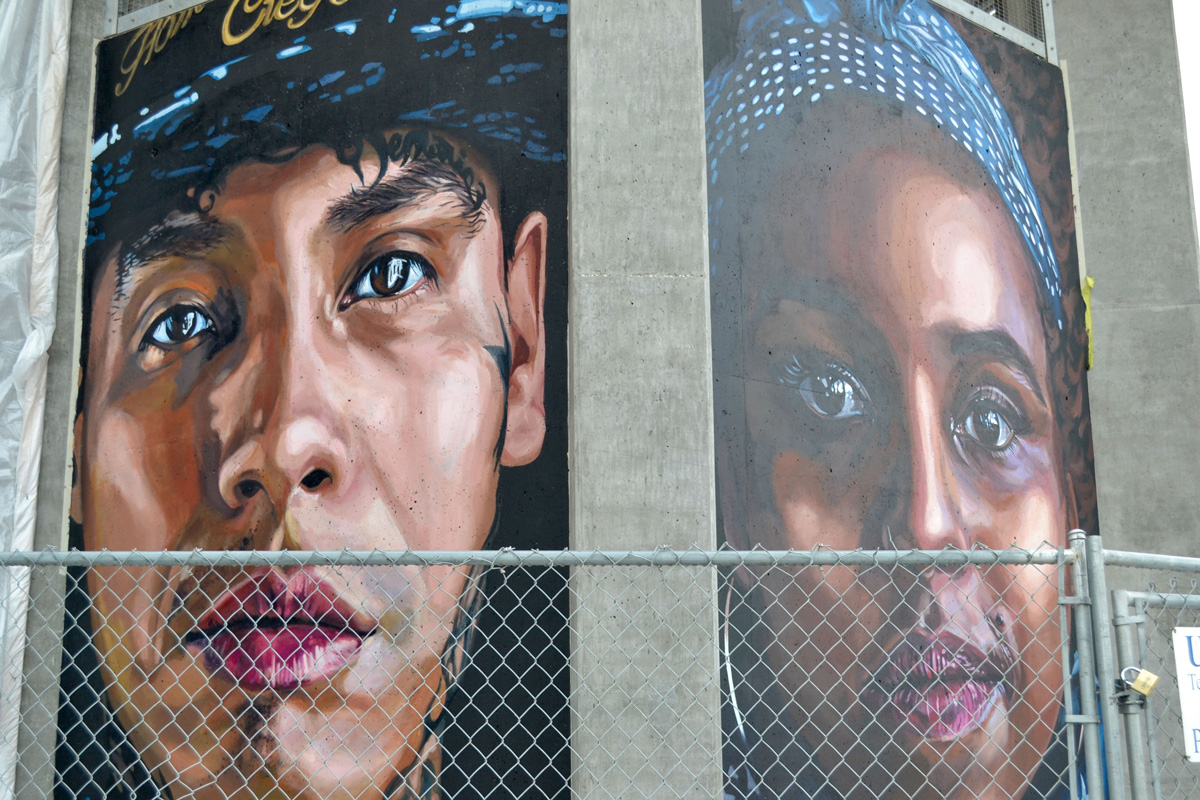 "I had sort of a weird viewpoint where I was standing on maybe 106 Ave and in my line of view I could see city hall lit up, and the arena lit up at night," says Folkmann, "and then I could see about 70 people setting up their tarps so they could sleep on the street and try and stay warm."
This disparity is something the artists and Boyle Street want to remind those excited about the arena.
"I think Rogers Place is part of a big picture, I think all the future investments of downtown investments should be more responsible to our communities," says Barrera. "That is what the mural will bring forward — (it) is honouring every single Edmontonian and honouring our people on the street and honouring culture and community."
Update: Edmonton Police Service contacted the Edmonton Arts board to inform them that Tyrone, the young man in these photos, has a record as a violent offender. His violent past with members of the downtown community is thought to be reason enough for Edmonton Transit Service and the Arts board to replace his face with that of a white man with a history of drug abuse.