12 Days of Archived Holiday Content: The Gateway Christmas Wish Lists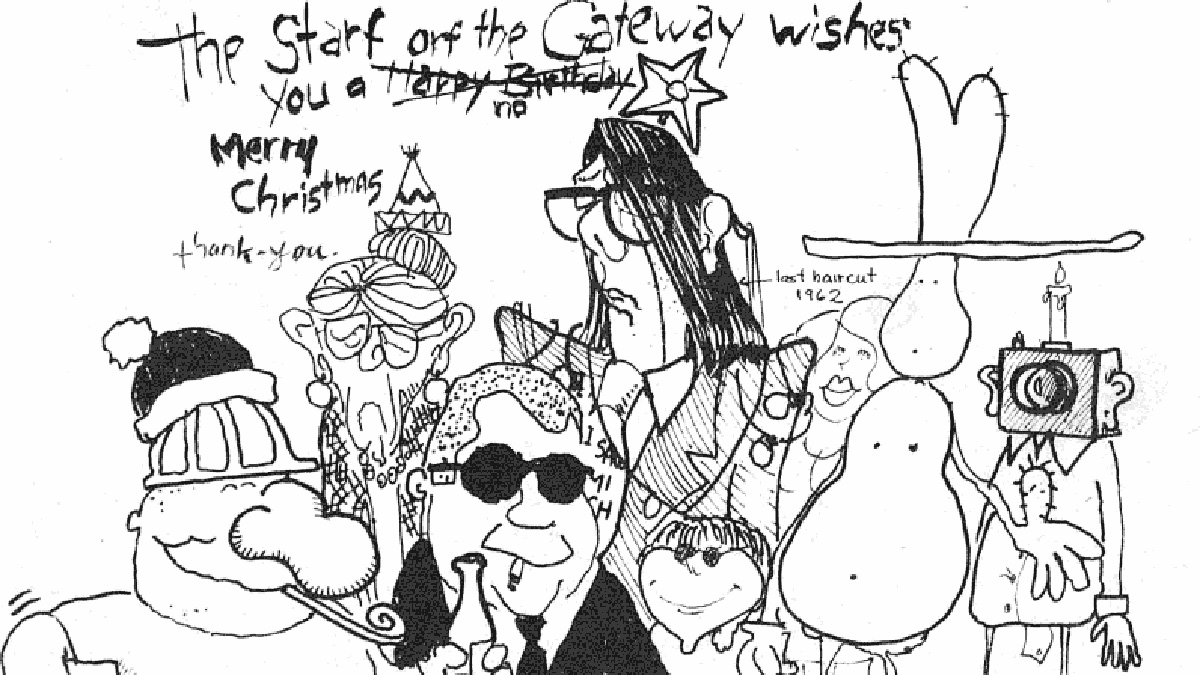 December 2, 1993
The Gateway Christmas Wish Lists
Juliet "Scoops" Williams, News Editor
 I'd like 48 hours of continuous sleep, followed by shopping and more sleep.
A 9 in Geography (that would never happen even if there is a Santa Claus).
An hour-long massage all over my body — with oil would be good.
I'd like to see the return of Oscar the grouch. He was my friend and I miss him, Dave!
Joe Croteau, Broadway 
My own place to live! I can't take much longer living with the dog.
A winning Oiler season … just once more before death.
I wish all those law students unable to get a date, a date, because I know they're too busy (you know who you are) or I'll just take the box set of the Tragically Hip.
Fish Griwkowsky, Managing Editor and Monkey Lover
I'd like to wake up on Christmas morning and know that somebody loves me.
I'd like Love, Peace, Harmony for the whole galaxy. Dagobah too.
I'd like a good reason not to slit my wrists. That's right — a Twisted Sister box set!
Kevin Guyalets – Mr. Ubiquity
I hereby notify the gift giver to hold on to my request and pass it along to someone with greater needs than myself. Thank you for everything! Otherwise, books from South End Press, two earrings, tix to and from Cuba, grapefruit, please get that woman off the 8th floor of Med-Sci. Bldg. and into her new office, toiletpaper, and any Sun Ra releases that can be found in the back of the sleigh.
David Malmo-Levine – the fucking hemp fairy
A reefer thick as my arm and and twice as long to pass around at a party (if pot was legal, this would be possible).
Three hours of primetime CBC TV airtime to give corporate Canada a headache it'll never recover from.
An apartment with a shower that doesn't run out of hot water after two minutes and a place to hang my hammock so's me and my sweety could swing while we snuggled.
Craig Elliot, music director, CJSR
Nothing. A lump of coal. A raise. Liz Phair. Peace of mind. Bono's head on a stick. Never mind. Nothing.
Dave Johnston, mental
I dunno. Peace on earth … a house of my own … a huge stereo … a big bed … a film version of Brave New World by James Cameron … my friends and family to be happy … especially Fish. You know, the usua.
Todd Babiak, cool dude
This Christmas I want special stuff. I want heaps and piles of fame, fortune, respect and disrespect. I want everyone in the world to want me for Christmas. I want to be the world's greatest rock and roll star. I want to be a highly revered visionary poet. I want to be THE loved, respected, and misunderstood actor of our generation. I want to review myself in the Entertainment section. I want it all.
Original link: http://peel.library.ualberta.ca/newspapers/GAT/1993/12/02/12/