'The Revenant' sequel is out now… and it's directed by Quavo
Sam Podgurny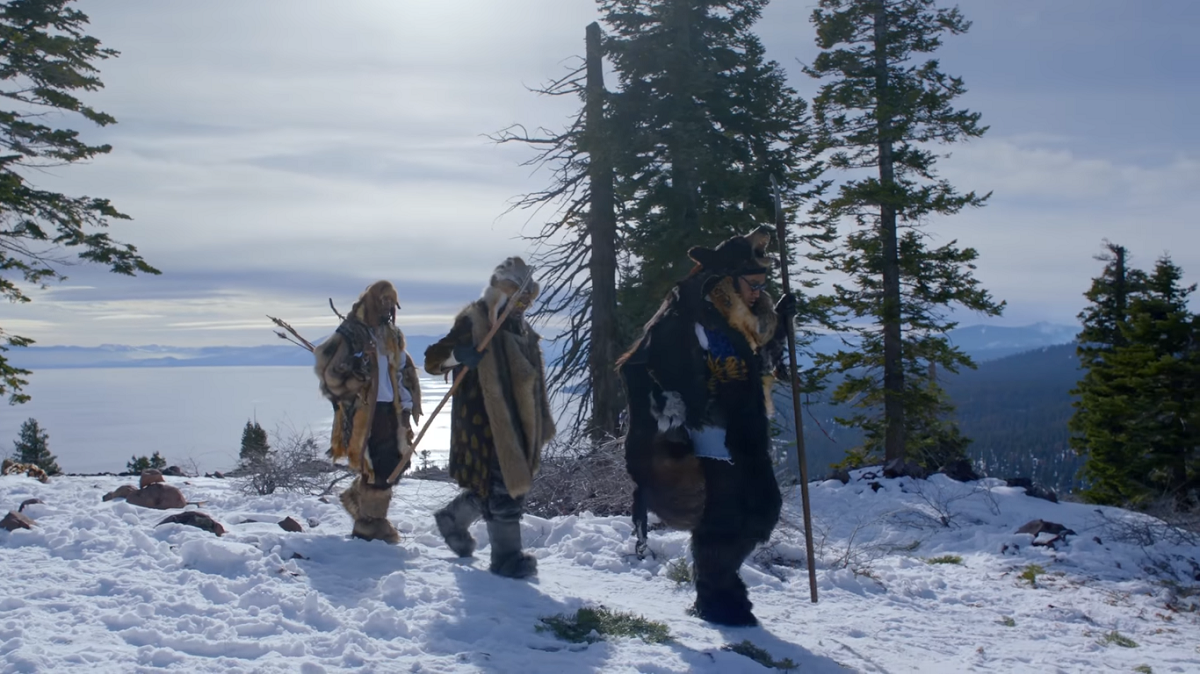 Almost a year ago today, Alejandro G. Iñárritu and Leo DiCaprio released the excellent Travel Alberta film, The Revenant. Today, rap group Migos follows it up with a worthy sequel in the form of their "T-Shirt" music video, which is directed by the trio's leader Quavo (watch it below).
Just like the actors in The Revenant, Migos (made up of Quavo, Offset, and Takeoff) don bear skin outfits and fur hats as they traverse a snowy wilderness. Some may think this is the only similarity between the two cinematic works of art, but the comparisons go deeper. The original film tells the story of a group of fur trappers struggling to make ends meet in a harsh environment. "T-Shirts" also happens to follows a group of trappers, but instead of killing beavers for their bucks, Migos (presumably) cook dope in a Pyrex over a camp fire and peddle cash-filled pelts. An additional similarity is that The Revenant was mostly filmed right here in Alberta. A-L-B-E-R-T-A, that's pretty close to the spelling of Migos' hometown of Atlanta. Dab. Lastly, DiCaprio's character in The Revenant is named Hugh Glass. Remove the letter "L" from his character's name and you get what (I imagine) the casting director of "T-Shirt" required the female stars of the video to have before hiring them.
Even if you haven't seen The Revenant (and you really should, it's on Netflix now), or aren't sure if Leo's crawling around was actually Oscar-worthy, "T-Shirt" deserves a watch. Migos new album C U L T U R E is due out January 27.
If you have any further doubts of this video's greatness, Chance the Rapper took to Twitter to offer his enthusiastic thoughts and Oscar predictions (which can be seen below):
😱😱😱😱😱😱😱

— Lil Chano From 79th (@chancetherapper) January 6, 2017
This needs an Oscar. Has @QuavoStuntin directed before this? pic.twitter.com/JZdE04QfaG

— Lil Chano From 79th (@chancetherapper) January 6, 2017
.@QuavoStuntin #cinematography pic.twitter.com/VxR2fQc7l1

— Lil Chano From 79th (@chancetherapper) January 6, 2017
.@QuavoStuntin #oscarworthy pic.twitter.com/1Mhx3uM1Ve

— Lil Chano From 79th (@chancetherapper) January 6, 2017
.@QuavoStuntin #gifworthy pic.twitter.com/iM2rJQqB24

— Lil Chano From 79th (@chancetherapper) January 6, 2017
.@QuavoStuntin I am done tweeting. Im finna watch it again.

— Lil Chano From 79th (@chancetherapper) January 6, 2017