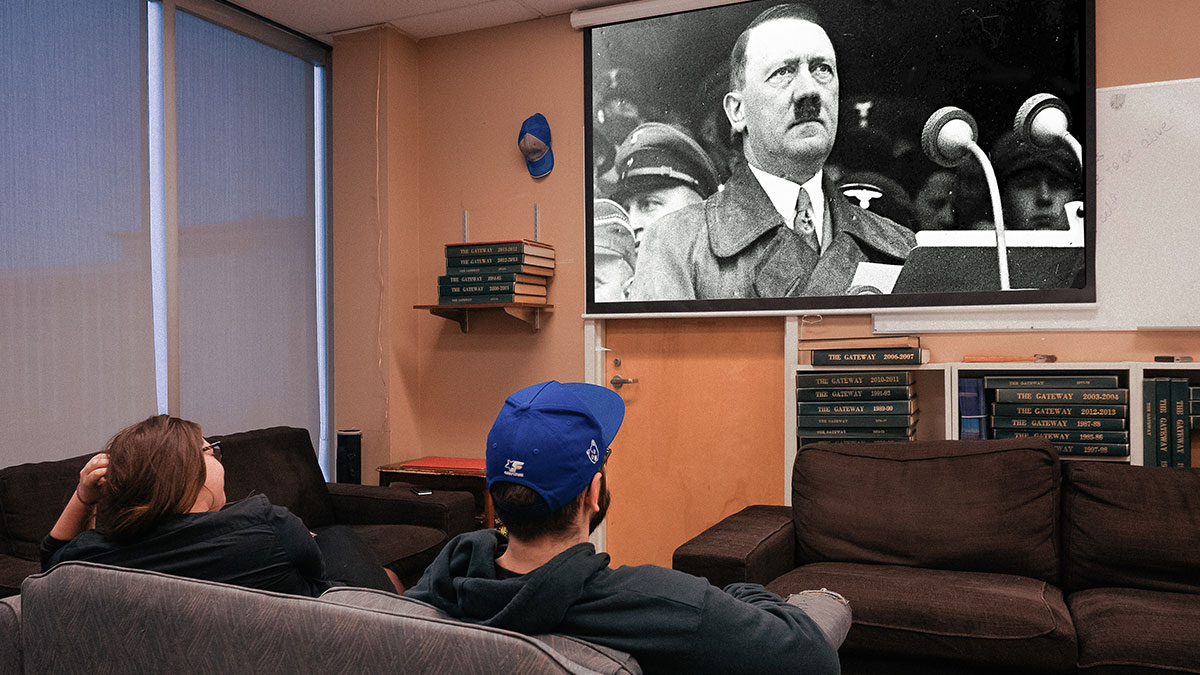 Recommending shit is boring. Well, at least, using the word "recommend" is. So, in hopes of being relatable to all of us millennials, the following Netflix programs, be it show or film, will be assigned one of two grades. If the verdict reads "Netflix and Chill," then it's not worth watching, and probably should be left in the background while you get some. However, if the show is "Netflix and Nah, B," then it's great and deserves your undivided attention, so respond to that Netflix and chill text with a big fat "nah, b."
---
Please Like Me
If I know anything about Australian television (and I know absolutely nothing), it's that its comedy is close to that of the Brits. At least Please Like Me is. It's a show fuelled by uncomfortableness, but it makes you laugh because the characters are relatable, and their awkward encounters and choices are even more so. It follows newly-realized homosexual Josh and his lovely, beautiful, weird world, which includes his giraffe obsessed best friend Tom and ex-girlfriend Claire. The show also weaves in Josh's family, featuring his depressed mom, an often liquored but religious aunt, and his endearing dad and his new girlfriend.
Please Like Me does at first seem like a needy title, but it never begs for your affection. It allows you to slowly grow with the characters, even if they aren't all that likeable from the start. Josh, particularly, is self-loathing, but the longer you get to know him the more his compassionate and insightful personality peeks through. The show is real. It gives characters flaws and illnesses and asks you to take them for who they are. It lets you laugh along with their fuck-ups, but also cry with them too.
Television needs more comedies that don't shy away from heavy, real world issues and stigmatism. A comedy lead by a gay character, filled with gay characters, with a suicidal mother, filled with suicidal characters, is a tough sell, but creator Josh Thomas, who plays the lead of the same name, has crafted something carefully kind. Unforgiving at times too, sure, but that might possibly be the most important aspect. Josh Thomas realizes that life is unforgiving and that most of what happens to us is uncontrollable. Thankfully, Please Like Me has the wonderful ability to both squeeze comedy out of touchy topics and carefully unpack and treat them, and for that it should be hailed.
The Verdict: Abso-fucking-lutely Netflix and Nah, B.
---
A Series of Unfortunate Events

There's a lot to draw from the first episode of this Netflix adaptation of the popular children's book series. It deftly introduces you to Violet, Klaus, and Sunny Baudelaire and the tragedy that has befallen them, as well as the strange and gloomy world that surrounds the transfixing and transfixed-upon children. Fortunately, the first 50 minutes of this eight episode first season is better made and more intriguing than the now ancient 2004 movie.
While there is a lot to like about A Series of Unfortunate Events, it's well done elements are overshadowed by a remarkably goofy, family-aimed tone. The writing is often smart and meta, but unbalanced at times. The acting is enchanting, especially Neil Patrick Harris as the monstrous Count Olaf, but the dialogue often distances you from the performances. It tries to get laughs out of kids with silly jokes, such as Olaf asking the Baudelaires a question, Violet getting it right, and Olaf retorting with a no, only to say the exact correct answer again. It's a cheap joke and not particularly funny, especially when it happens a couple times in just the first episode. However, when the jokes do succeed they are often poking fun at weird characters or highlighting them, and that works in spades.
As mentioned, the world that creators Mark Hudis and Barry Sonnenfield have managed to build is truly incredible. The set and costume design are fantastic. Green screens are often used, obviously and purposefully, and gives the show an uncanny aesthetic. Unfortunately for this series of events, it appears only die-hard fans and kids will really enjoy it. It should, however, be appreciated for being a really well done show for children, because those are few and far between. It's smart and delirious in all the right and wrong, not-yet-adolescent ways.
Verdict: Netflix and Chill this one, just kick your little siblings out of the room before you go at it.
---
Minimalism: A Documentary About the Important Things
Directed by Matt D'Avella
Minimalism is a documentary that wants you to get rid of like, all your shit (but that's totally okay). Consumerism is a dangerous habit that society, more than ever, has been overcome with, and the film makes a clear point of highlighting how unorganized and hectic this makes us. For fashion lovers, closets are usually crammed with the latest Yeezy-inspired garb ($$) or new Kardashian craze ($$$). Our ill-materialistic mindset has thrown out the value not only in a pair of jeans, but even in our phones. I mean, why treat our iPhone 7 with care when we're just going to get the upgraded 7S next fall?
The doc follows a pair of minimalists who tour the States speaking about the movement and, as one could probably guess, their 10 month stint is only powered by one suitcase; a pair of pants, a couple shirts, and mostly underwear. That, perhaps, is the most extreme example. The film jumps into other minimalist mindsets, featuring segments on tiny, mobile homes, and even an apartment with retractable, moveable walls. Another idea that speaks the highest to our fashion-obsessed minds is the 30 for 30 challenge. It involves owning 30 pieces of clothing and accessories only and creating different outfits for 30 days. That may possibly be the true test of anyone's creativity (but they really do make it look easy).
Where the film lacks is its forgetfulness of the dangers of consumerism. The environmental impact is never talked about in depth but only touched upon in the beginning, which seems like a sadly missed opportunity. Though it may entice newbies to take up the minimalist mantle, it doesn't open up any new, insightful doors for people already introduced to the movement. If anything, the film makes minimalism seem like a rather quirky, hipster-esque way of living that may save your wallet but not your shopaholic sanity.
Verdict: This is mostly some good Netflix and Chill fodder.