Commentary
Sports
The Oilers and Blue Jackets have been lucky in their climb up the standings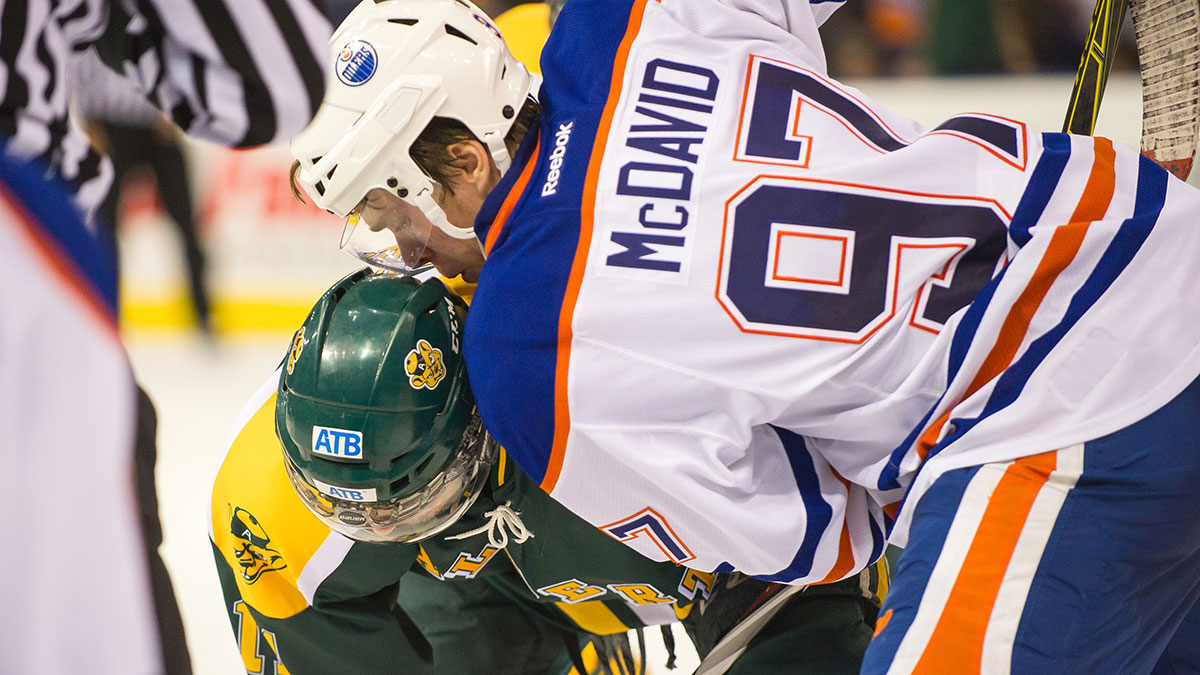 At the 2012 NHL Draft, the Edmonton Oilers and Columbus Blue Jackets, after similarly disappointing seasons, owned the first and second overall picks. Four and a half seasons later, they're both comfortably in playoff positions and fighting for the top spot in their divisions. What happened in the seasons between this transition from the bottom of the standings to the top is mostly a story of luck.
The Oilers had already picked first overall in the two years prior to the 2012 Draft, selecting Taylor Hall in 2010 and Ryan Nugent Hopkins in 2011. But another abysmal season in 2012 meant another first pick of Nail Yakupov. Compounded failure and lack of any real managerial outlook — exemplified by the front office carousel that included five different head coaches and three general managers in seven seasons — meant three more years of ineptitude and disappointment. Until finally, the streak culminated in the Oilers winning the Draft Lottery again, but this time to draft the most sought after prospect since Sidney Crosby, Connor McDavid.
Unlike other recent top picks, McDavid's short career with the Oilers has been anything but underwhelming, and his excellence has rendered a few terrible moves by Oilers management (the light return for Taylor Hall and unnecessarily long Milan Lucic contract) insignificant thus far. He leads the NHL in scoring more than halfway through his sophomore year, and his dominance at his position has allowed the Oilers to survive the lacklustre play of forwards that they wouldn't have been able to stomach prior to McDavid's ascent as one of the league's best. Jordan Eberle and Benoit Pouliot's simultaneous and incredibly long 18 game goalless slumps, and Ryan Nugent-Hopkins' uninspiring 23 point scoring campaign thus far would be a much hotter topic without #97. He consistently thrives against top centres that previous iterations of the Oilers have had trouble with (such as the Kopitars, Toews, and Getzlafs of the world), and his rise into "generational talent" territory, occupied by the likes of Crosby and Ovechkin, affords the Oilers the ability to tinker with their forward lineups and play him with a revolving door of wingers. Centering for the struggling Jordan Eberle and Milan Lucic or the red hot duo of Patrick Maroon and Leon Draisaitl, the Oil can trust that his production won't dip.
It's a blessing of immeasurable magnitude to have a player who is simultaneously one of the game's fastest, smartest and most skilled, and acquiring him as a result of possibly the worst six-year run in recent hockey history is fortuitous to say the least. The odds of getting a generational talent are incredibly slim, but the Oilers are now firmly in a playoff spot a mere one and a half seasons into the McDavid-era after 10 seasons of barely being an NHL calibre team. And the chief reason for that success comes down to the lucky bounce of a few ping-pong balls.
The fortunes of the Columbus Blue Jackets are much more short-term. Following the drafting of Ryan Murray, the Blue Jackets missed the playoffs before finally making it in 2014, only to lose to the Pittsburgh Penguins in the first round. They missed the post-season the following two seasons, including last year's second from the bottom finish in the Eastern Conference. But so far this year, they're second in the conference, and they've done all this with virtually no roster changes. While a few of their younger players like Alexander Wennberg, Ryan Murray, and rookie Zach Werenski have progressed significantly, most of their roster is filled with established NHLers near, at, or beyond their prime, the sort of players not expected to make big year-to-year jumps in production. But it's these players and the uptick in their production that has propelled the Blue Jackets from the bottom of the standings to the top. Players like Cam Atkinson, who's just seven away from his career high in points slightly past the halfway mark of the season, or Nick Foligno, who's already matched his point total from the previous year — in 27 less games. Even former Oiler Sam Gagner already has more than double the amount of points he had last season. These significant increases are aided by smaller, less drastic production increases from a few other players in the lineup, like Seth Jones and the aforementioned Alex Wennberg.
But the real story behind the Blue Jackets' success and the jump in production from a significant portion of their roster is in dissecting their shooting percentages. Cam Atkinson, the team's leading point producer, is scoring on over 17 per cent of his shots this season. His previous career high was just under 12 per cent, and for a player who regularly takes over 200 shots a season, this jump in shooting percentage translates to at least 10 more goals. Alex Wennberg is scoring on just over 13 per cent of his shots, with his previous career high being a shade over eight per cent. If he takes the same amount of shots he did last year, this amounts to five extra goals. Even Sam Gagner is scoring on a career high 13 per cent of his shots this season. And while Nick Foligno is shooting a shade under his career high of 16 per cent (2013-2014), he's shooting 50 per cent more shots than that year, and more shots naturally means more goals as well.
These players are four of the top five scorers on the Blue Jackets, and while teams can usually expect one or two players to have reasonable aberrations from their shooting percentages each year, what's unexpected is having a third of its forward group — and four of its five highest scorers — having significant deviations from their career norms. This isn't sustainable, but it is this sort of luck that has propelled them from last in their division to fighting for top spot. And if next year they fall back down to earth, it might not be due to front office blunders or sub-par on-ice play, but rather a consequence of their top players' shooting percentages falling back down to their career averages.
While the climb out of the basement of the standings usually involves a combination of front-office savviness, and at the very least, competent player development, sometimes it's just luck. Luck landed the Oilers one of the most talented players in the history of the game, and luck has most of Columbus' top forwards seeing significant and random increases in their shooting percentages.