Opinion
The Student Driver: 2017 Acura MDX Elite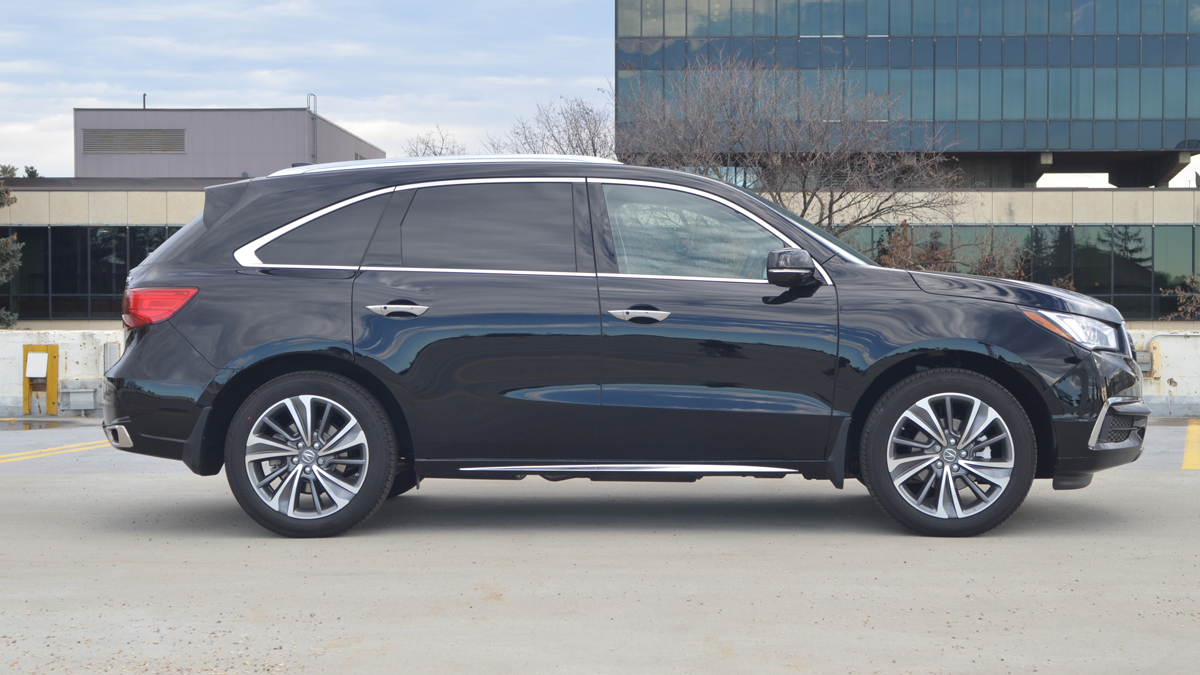 To put it plainly, the 2017 Acura MDX is one of if not the best sports utility vehicles I have ever driven.
It drives incredibly well for a vehicle of its size; this is mostly due to its four-way independent rear suspension and Acura's Super Handling All Wheel Drive (SH-AWD) system with rear wheel active torque vectoring. (Essentially, a lot of engineering goes in to sticking the car to the road and keeping it planted through turns.)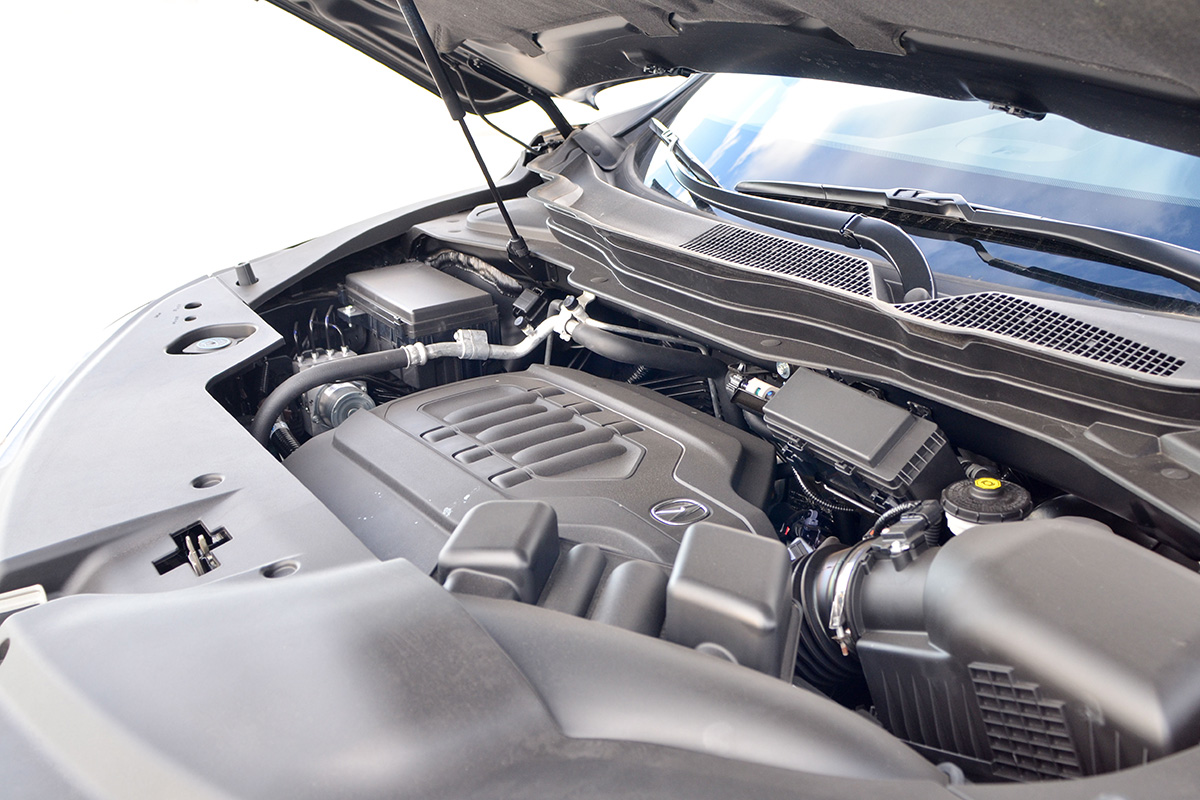 When it comes to the drive, I have to start with the MDX's amazing handling. It's a real pleasure to drive. On the road, the ride is ultra-smooth and quiet (thanks to sound insulation and noise cancellation technology) with none of the body roll or top-heavy feel associated with many SUVs. Sitting in the MDX almost feels like you're floating on a cloud that is superglued to the road — we're talking performance car levels of planted and refined. The steering is very precise and well-balanced with impressive road feel. The brakes are not mushy and have plenty of stopping power. Through the corners, the SH-AWD micro brakes inside the inside wheels to keep the SUV agile and free of power understeer. (There's that engineering from before.) Under the hood, the 3.5L naturally aspirated i-VTEC V6 engine produces 290HP and 267ft-lb of torque as mated to a nine-speed automatic transmission.
91-octane premium gasoline is recommended, but regular pump gas can be substituted. Power is very good in all drive modes and fuel efficiency is enhanced with variable cylinder shutoff technology — if you're not driving hard, your V6 turns itself into a four-banger. Fuel efficiency number were unavailable at time of publishing.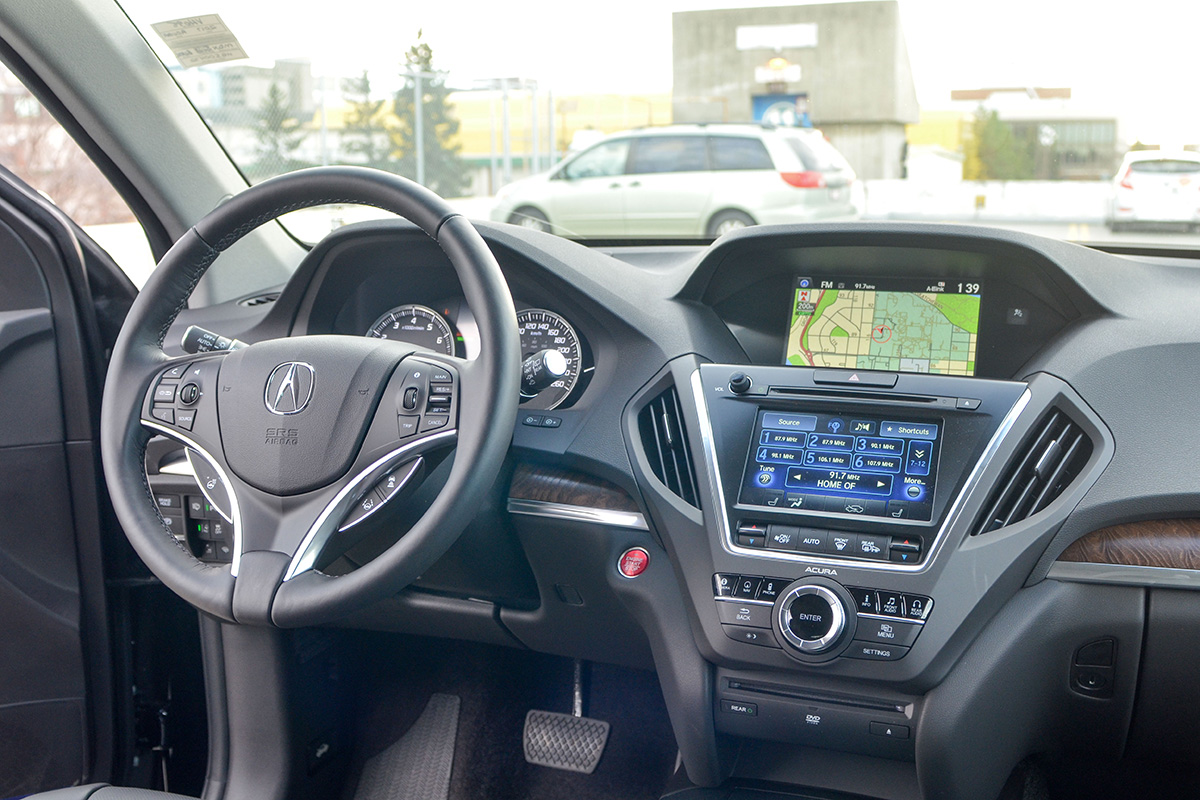 Inside, the MDX is equally as impressive. The build quality is astonishing, with nice interior touches and plenty of room ready for cargo human or otherwise. Everything is super well thought out and elegant. It may not be as pretty as the interiors found in German cars of this segment, but it is enormously more functional and easy to figure out. Like I said, build quality is out of this world as Acura swapped plastic buttons for metal ones ones and included wood accents in the doors.
The steering wheel is leather-wrapped and feels great to the touch. Everything is easy to reach and has the all-important premium feeling. Seats are super comfortable and supportive, with the memory functions that can be assigned to the car keys in order to keep different drivers comfortable. The most unique feature is the use of five backlit buttons on the centre console to replace the normal "PRNDL" drive selector. It is ergonomic and easy to use, and should become the new standard for all cars.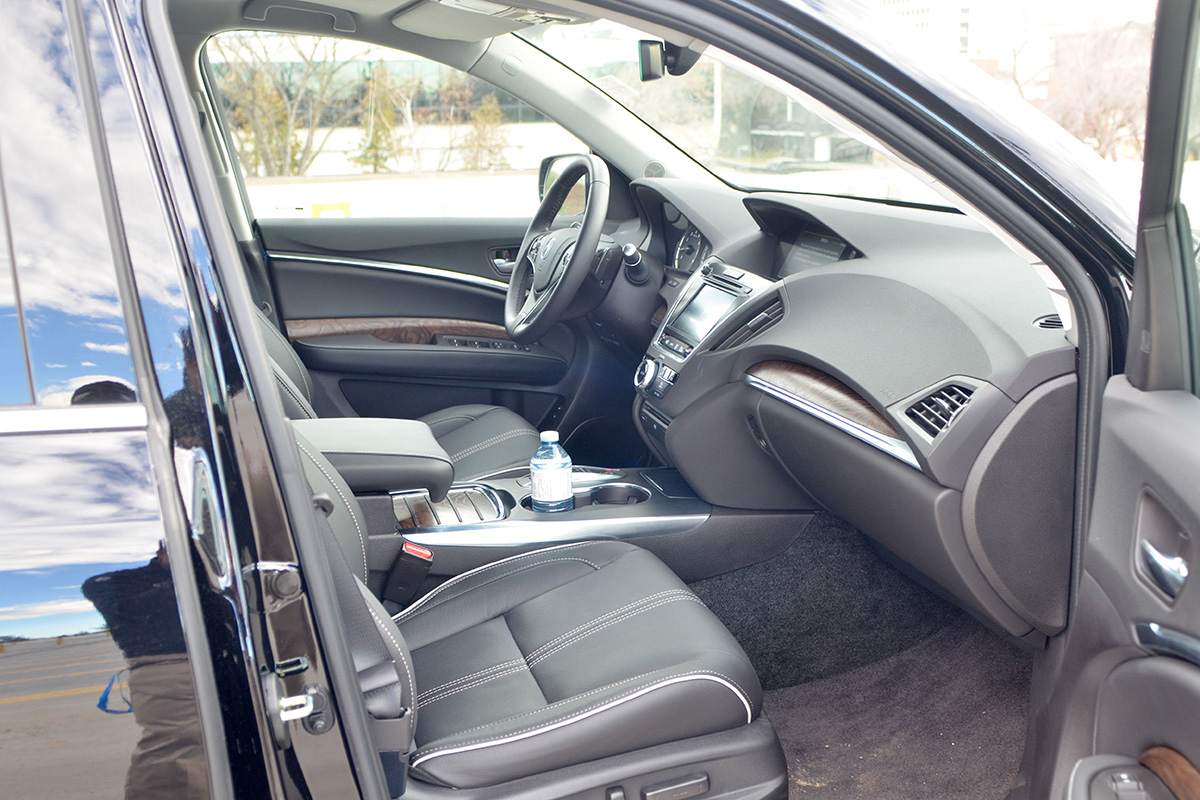 The infotainment system includes two screens, one touch for input, and the upper one for display. The system works very well with a good navigation system and it provides tactile access to navigation, front/back audio, info and 360-degree camera. Unfortunately, it looks a bit dated and is unabashedly reskinned from the Honda Civic. The 360 camera is a real life-saver when things get tight (it's an SUV) and you don't want to wreck your paint job. When driving, visibility is extremely good in combination with no serious blind spots and an edgeless rear-view mirror that works super well. Other safety features include blind spot assist, rear cross traffic alert, adaptive cruise control, lane keep assist (wheel will tug to keep you in the lane, you can drive with no hands practically), collision mitigation technology, Acura "Link" a voice concierge service, and high intensity front LED lighting. It's a whole lot of technology all making sure you can't screw up too badly driving down the road.
Most importantly though, Acuras have a reputation for dead nuts reliability. They rarely break and if they do, they are inexpensive to fix as compared to other cars of the segment. Essentially, it's a Honda Pilot Touring wrapped in much prettier packaging, and the 3.5L V6 is a well-tested, pretty bulletproof power plant.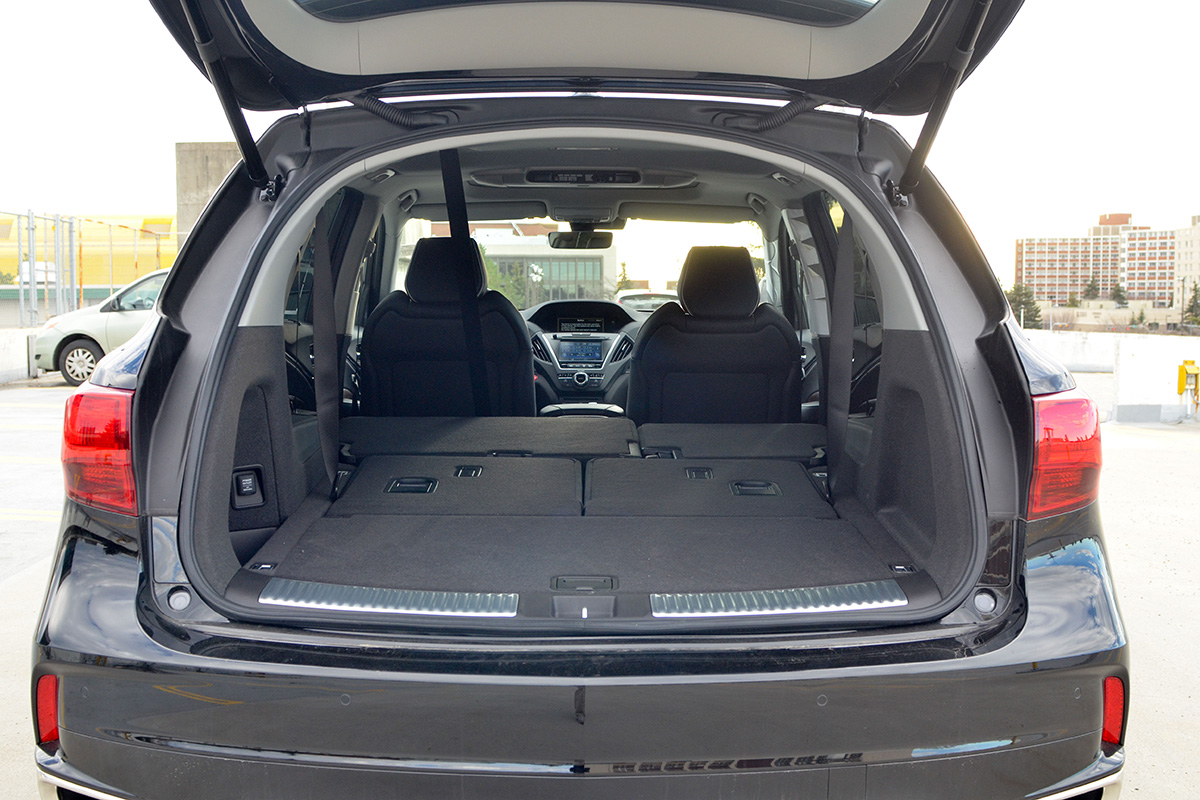 The real allure of the MDX is the cavernous space once the seats are down. Normally, the vehicle seats up to seven with three rows of seating. The first two rows are very comfortable and usable with good head and leg room, but I can't even fit into the third row. The microscopic third row folds away at the touch of a button, and words cannot describe how helpful of a feature that would be for a young family on their way to soccer practice. Once down, the MDX has just shy of 2,600 litres of fully useable cargo room as the seats fold down flat. In fact, I can take a nap in there comfortably with just enough room for a partner. In a crunch, you could sleep inside the MDX during camping trips. Such capabilities are real luxuries that are not common among most vehicles in general.
In all, if you're looking for a luxury SUV for the family or even yourself look no further than the Acura MDX. I implore you to look at it if you're in the market — if things like tuition didn't exist, I'd be the first in line at the dealership. In fact, the car's so good in my opinion that I think this car should dissuade you from buying a German vehicle. When you couple Honda reliability, the option of using regular gas instead of premium, cavernous trunk space, a luxurious but functional interior, and stellar ride characteristics it's really not that hard to see why the Acura MDX is one of my favourite SUVs of all time.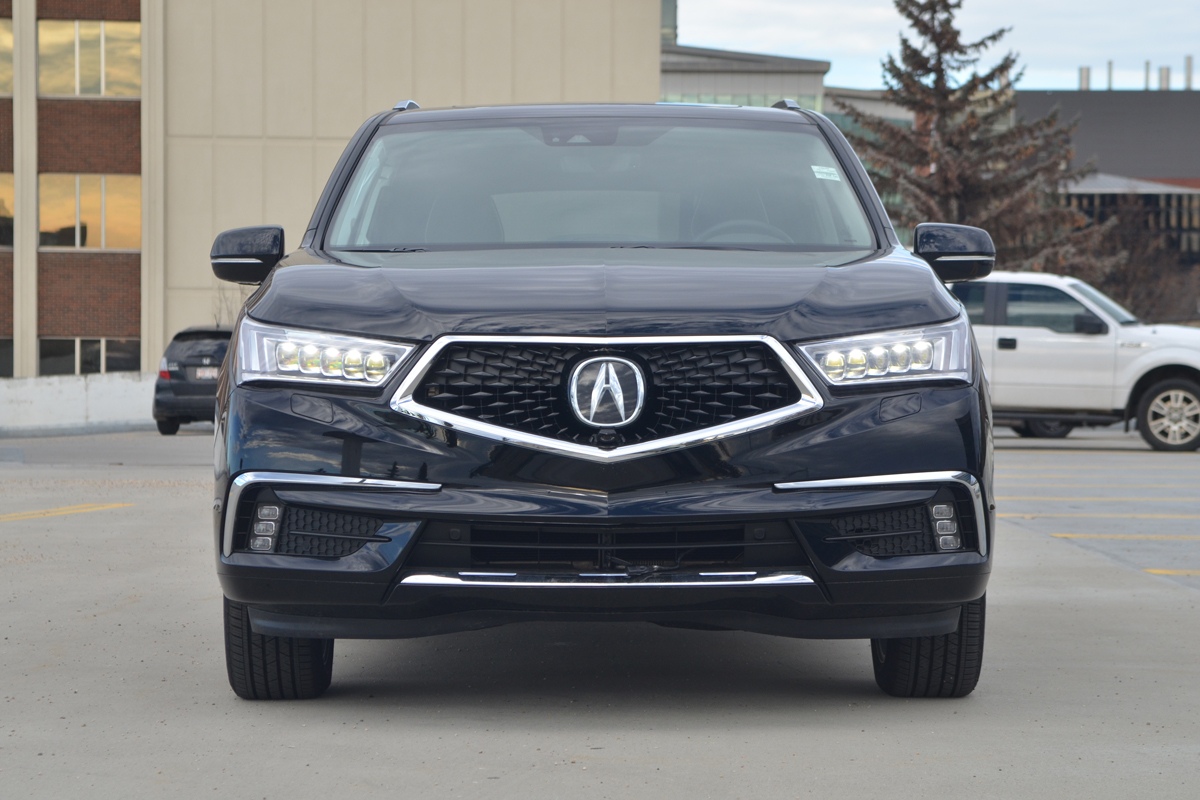 Conclusion: A+, Editor's Choice vehicle for 2016-2017

Exterior: A
In my opinion after this year's refresh the car looks sharp and fresh. While it's not my all-time favourite looking vehicle it is no slouch in the looks department.
Interior: A
Build quality is rock solid with the use of metal buttons and everything is easy to use and elegant. Visibility is excellent with few or any blind spots and the seats are very comfortable with lots of leg and headroom. The one-touch button that provides easy to access to the third row is a life saver. When all the seats are down (the trunk is all flat), the cargo space is cavernous at 2,575 litres and it's so big two people can lie down comfortably. You won't be disappointed.
Handling: A
For such a large SUV it sheds any feelings of top-heaviness. The SH-AWD system with torque vectoring does an amazing job of keeping the MDX planted but agile. The car is smooth, refined and quiet with precise handing that always keeps the driver in control. The option of using normal vs premium gas is a big benefit that should not be discounted. Power is good and overall driver/road feel is remarkable.
Value: A+
While it's not a cheap vehicle it is reliable and has a cool five-year/100,000KM major component warranty. Since it's an Acura it'll be incredibly reliable and you won't need to use the warranty to be frank.
Safety: A+
The vehicle is built on a reinforced steel unibody and the SH-AWD will help get you out of the snow. If you do get in a collision, all you need to know is you'll be better off that the other guy. The only issues are how it is an SUV and since it is heavier and taller, it has a higher chance of rollover and needs more time to come to a stop. It also will be less nimble.
Conclusion:
If I could sum it up, it beats German SUVs at their own game. It's so good I would buy one on the spot if I had the cash. The amazing handling, impressive interior, ability of using normal vs premium gas, Honda reliability and the large cargo room with the seats down make this car a no-brainer if I needed an SUV. I can't really say any more, I believe you should test drive it yourself to see the hype. I very rarely inquire about the purchase price of a car after I review it but for this one, I did. I hope you fall in love with the all-new 2017 Acura MDX the way I have.