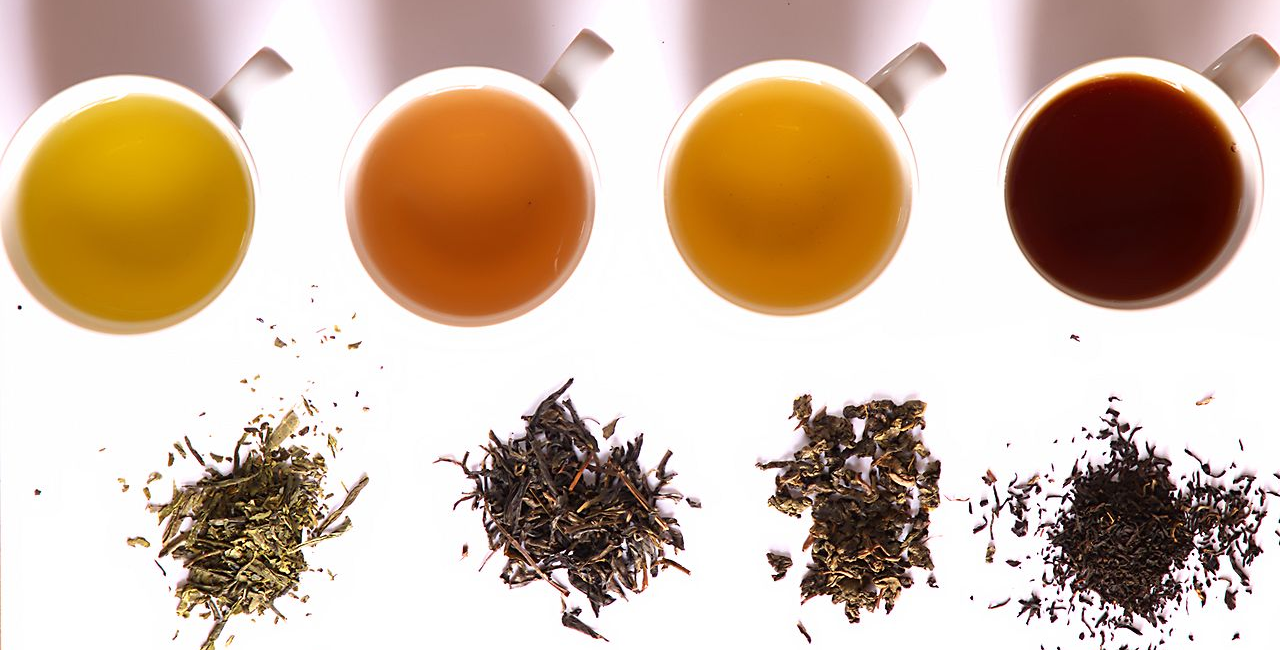 If you're looking for a new go-to healthy beverage but the thought of drinking blended kale makes you cringe, tea may be the drink for you.
Tea is the second most consumed beverage in the world behind water. Derived from Camellia sinensis leaves, white, green, oolong, black, and pu-erh tea contain polyphenols, a type of antioxidant, that can provide various health benefits. To a certain extent, they all tend to help prevent cardiovascular diseases, lower cholesterol, promote weight loss, and even fight cancers.
Although all five teas are produced from the same plant, their production processes are vastly different, causing them to have varying caffeine contents, flavours and aromas, and, of course, health benefits. 
White Tea
White tea, coined from its silvery colour, is made from new, young Camellia sinensis leaves that are steamed and dried, not cured, fermented, or roasted like other teas. Steaming gives the tea a more mild flavour in comparison to fuller teas like black teas. Although it contains caffeine, it's the least caffeinated tea of the five.
White tea is often dubbed the "multi-tasker" because of its array of health benefits. Due to its milder preparation, white tea often contains the most antioxidants (polyphenols). Catechins are a common type of bioactive polyphenol that include epigallocatechin-3-gallate (EGCG). Why does this matter? EGCG is the most effective at eliminating free radicals. It has anti-carcinogenic effects and protects the cardiovascular system by reducing cholesterol and thinning the blood.
In addition, white tea helps with stress, obesity, and aging. It's also a major contributor to good oral health.
If you're looking to sample one of the purest forms of white tea, David's Tea carries Bai Hao Yin Zhen. Dubbed "Silver Needle" for its fuzzy, silvery buds, this tea is the highest grade of white tea available. You can expect a pale-yellow brew and subtle sweetness from the first sip.
Green Tea
Green tea is probably most associated with health benefits. The unfermented leaves are heated, steamed, then dried to inhibit too much oxidation, which would alter the colour and flavour. As for caffeine, it has slightly more than white tea.
It really does have a wide range of health benefits. The presence of EGCG helps suppress the risks of bladder, breast, lung, stomach, and pancreatic cancers. It prevents the closing of arteries and burns fat, reduces risks of Alzheimer's and Parkinson's diseases, enhances the brain's cognitive functions like the working memory and slow progression of dementia, lowers cholesterol and therefore the risk of a stroke, and it's anti-inflammatory properties helps improve arthritis. The presence of vitamin K also helps protect against fracture risk and bone loss at the spine as well as reduces the risk of type 2 diabetes.
David's Tea offers a number of loose leaf green teas, one of them being Japanese Sencha. This organic tea offers grassy notes and a smooth finish.
Oolong Tea
These tea leaves are partially fermented: they're oxidized in the sun, dried, then rolled; therefore, this tea contains less antioxidants than the previous two and also has a higher caffeine content.
Oolong's claim to fame is its weight-loss properties. Chinese traditionally consider oolong tea to have anti-obesity and hypolipidemic effects, which is proven to be true. The tea activates enzymes responsible for dissolving triglycerides and it boosts metabolism which leads to weight loss. It also effectively lowers blood pressure and cholesterol.
If you're interested in tasting an oolong from Taiwan, try the buttery, fruity, nutty Tie Kwan Yin from David's Tea.
Black Tea
Known for its high caffeine content, about twice as much as green tea, black tea is produced through a full fermentation process. It is in the rolling stage where the twisted leaves develop their rich flavouring.
Black tea has glucose-inhibiting properties that assist in the prevention of diabetes. It's high concentration of theaflavins and thearubigins (antioxidants) can also help lower cholesterol and reduce risks of strokes. And it can also protect lungs from damage due to cigarette smoke exposure.
Although it makes up popular teas like Chai or English Breakfast, try a different black tea from David's Tea, like their organic Wild Black Yunnan. You'll immediately notice it's rich colour, sweet aroma, and earthy taste.
Pu-erh Tea
Pu-erh tea goes through a post-fermentation process. Not only are the leaves fermented like black teas, but they're aged, thereby giving the tea a stronger, rich flavouring and high caffeine content.
This tea has some similar health benefits to the above four, but it also positively affects the digestive system. It can prevent tooth decay and ulcers, cure stomach pains, and improve bacterial flora in the intestines. 
At David's Tea, you can find their organic Golden Pu'erh, which is from China's Yunnan Province. It encapsulates a true pu-erh tea for its earthy flavour and five-year aging process.