Throwback: A historic Bears shutout loss (Feb 21, 1964)
Sam Podgurny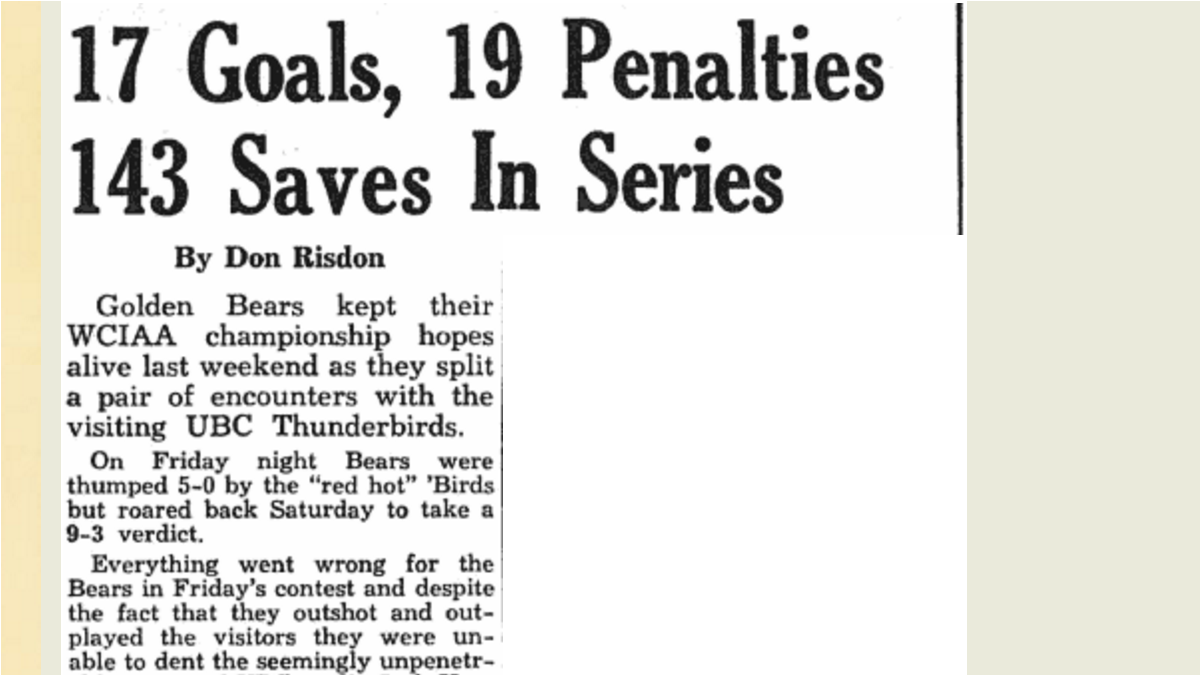 17 Goals, 19 Penalties 143 Saves in Series
by Don Risdon
Golden Bears kept their WCIAA championship hopes alive last weekend as they split a pair of encounters with the visiting UBC Thunderbirds.
On Friday night Bears were thumped 5-0 by the "red hot" 'Birds but roared back Saturday to take a 9-3 verdict.
Everything went wrong for the Bears in Friday's contest and despite the fact that they outshot and out-played the visitors they were unable to dent the seemingly unpenetrable armor of UBC goalie Jack Harris.
'BIRDS SCORE EARLY
Thunderbirds dew blood almost immediately as Don Rodgers scored unassisted at the three minute mark of the first period to make it 1-0. Ralph Lortie added another unassisted marker at 17:38 and 'Birds carried a 2-0 lead to the dressing room after 20 minutes of action.
The count remained at 2-0 BC until the 13:32 mark of the second stanza when Don Rodgers teamed up with John MacLeod and Ken Cairns to increase the margin to 3-0. The fourth UBC goal came just 19 seconds later. This time is was Bob Parker scoring from Pete Kelly and Al Merlo.
BC HITS EMPTY NET
Bears fought desperately in the third period in an attempt to get back into the game. In the last four minutes of play, coach Clare Drake pulled Golden Bear goalie in favor of an extra attacker. 'Bird's Pete Kelly fired the final marker of the game into the empty net at 17:44.
UBC goalie, Jack Harris turned in an outstanding game as he kicked out 42 Bear drives in registering the shutout. Bear's Dale Harder, made 27 saves.
Each team collected six minor penalties in the rugged contest.
BEARS BOUNCE 'BIRDS
Saturday's contest was all Bears as they took a 3-1 first period lead then added six more counters in the last two periods to split the series and add an additional two points to their league total.
Bears opened the scoring at 6:44 of the first period as John Aubin scored from linemate Ed Wahl. Ian Baker made it 2-0 Bears on a goal at 7:46. Assisting on Barker's marker were Leigh McMillan and Jim Flemming.
Bob Parker of UBC cut the margin to 2-1 as he teamed up with Pete Kelly and Al Merlo to score the first two goals at 10:47. Alberta's Ed Wahl ended the period scoring with just five seconds remaining on a relay from Dave McDermid and Aubin.
Bears completely controlled the second period scoring as they added four markers to hold a 7-1 margin after 40 minutes of action. At 5:02 it was Flemming from McMillan. Terry Bicknell scored the first of two goals at 16:50 with the assist going to McDermid. Leigh McMillan made it 6-1 Bears as he teamed up with Dick Wintermute and Baker to score at 19:24. Ian Baker fired his second goal of the night at 19:58 on a pretty passing play from Jim Reaman and McMillan.
Each team counted a pair of markers in the third frame. Bob Parker reduced the Bear lead to 7-2 at the 11 second mark of the period as he fires home from Pete Kelly and John MacLeod. At 3:09 Bear's Terry Bicknell scored from Butch Hyde and Dale Rippel. Rippel counted the the last Golden Bear marker at 14:44 on a pass from Bicknell. UBC rounded out the scoring at 19:20 as Dave Morris flipped a lazy shot over the shoulder of the startled Bear netminder Dale Harder. Assisting Morris were Stu Gibbs and Bill Bowles.
TWO BEARS INJURED
There were 13 penalties handed out in the hard-hitting contest which saw two Golden Bears leave the ice with serious enough injuries to keep them out of action for the remainder of the contest. Aubin and Barker failed to make third period appearances after Baker was sent to hospital with a broken nose and Aubin suffered a severe charley horse.
Bears collected five of the penalties while Thunderbirds served eight. Jim Reaman of the Bears and Stu Gibbs of UBC were the most penalized players. Each served a two minute minor and a five minute major for high-sticking.
Bears outshot the 'Birds 53-21.