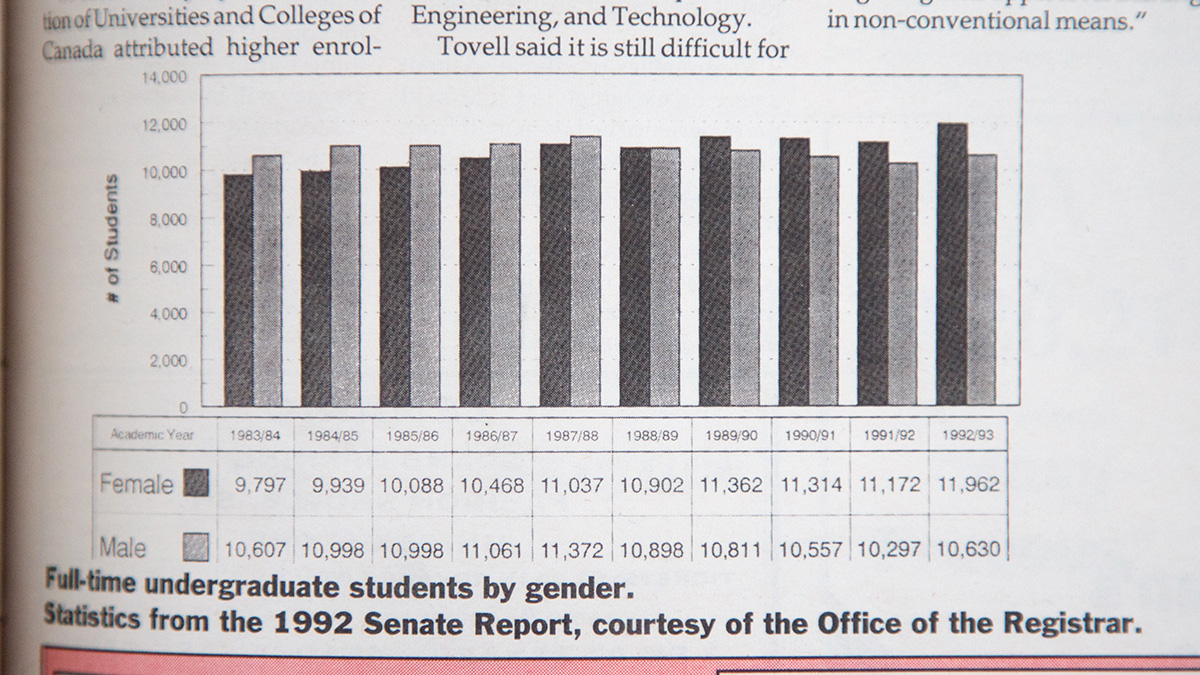 November 5, 1992
Karen Unland
More and more women are attending the University of Alberta, but they are still few and far between in in traditionally male-dominated faculties.
These are the findings of an annual study by the Office of the Registrar. Statistics from the Registrar indicate that for the fourth year in a row, female enrolment has surpassed male enrolment in full-time undergraduate programmes, with women at 53 per cent and men at 47 per cent.
"We're pretty well in parallel… with the rest of the country," said Registrar Brian Silzer.
A recent study by the Association of Universities and Colleges of Canada attributed higher enrolments to an influx of female students. Silzer sais the U of A's enrolment, which increased by over five per cent this year, can also be explained in part by a greater number of female students.
The Registrar's figures show that women are concentrated in the Arts (64 per cent) and Education (69 per cent) and traditionally female faculties such as Home Economics (92 per cent) and Nursing (94 per cent). Only 38 per cent of Medicine students, 43 per cent of Science students and 15 per cent of Engineering students are women.
"We have a lot of work to do," said Dorothy Tovell, coordinator of Women in Scholarship, Science, Engineering, and Technology.
Tovell said it is still difficult for women to make inroads in some faculties, but she has seen a lot of progress sinece the 1960s.
"The increases are small in the really traditional male areas. But they're there."
Undergraduate enrolment at the U of A increased by 1,099 this year, and Silzer said he expects more and more students in the future. Quotas or similar measures may be the short-term solution to too many people.
"The competition for places will be enhanced," he said. "The long term solution may be in terms of the reconfiguration of higher education … In the future, students may be getting their upper level training in non-conventional means."
Original link: http://peel.library.ualberta.ca/newspapers/GAT/1992/11/05/1/