Donut the Cat and Banana the Hamster are running in this year's SU election race
Jonah Kondro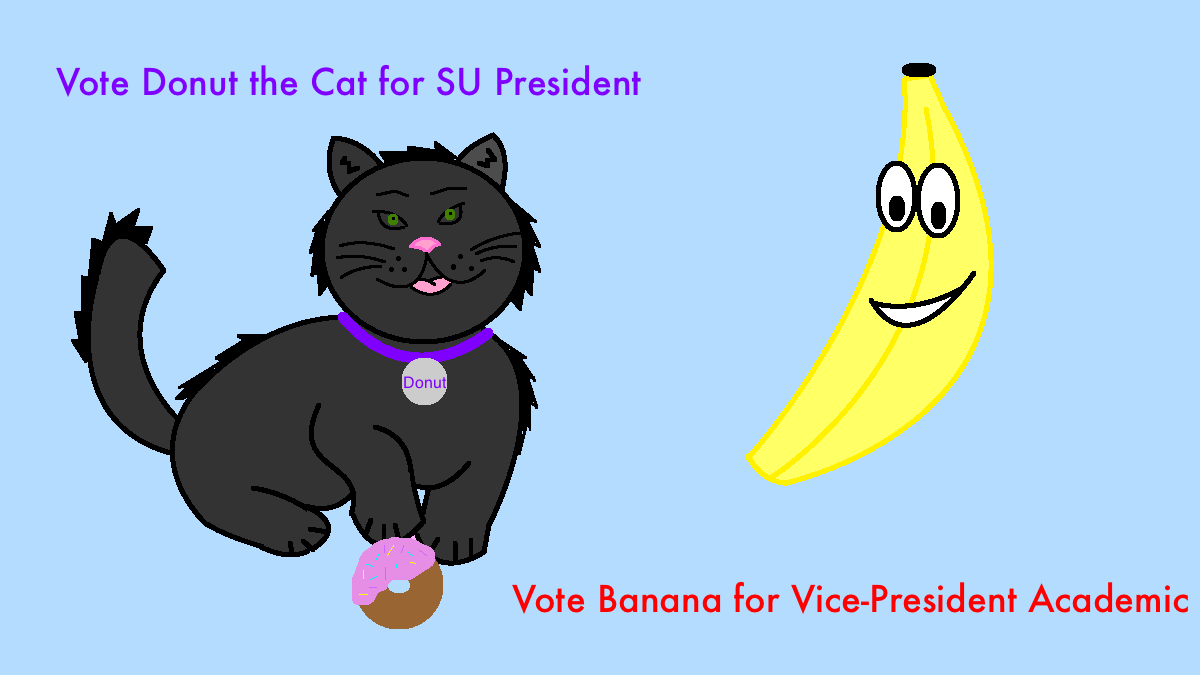 A note on the header: Banana is a hamster, however since they are listed on the ballot as simply "Banana", our illustrator mistook the hamster for the fruit. Our bad.
---
Donut the Cat and Banana are running in this year's Student Union election race, and the two candidates, with a questionable ontological status, are aiming to secure the SU President and Vice-President (Academic) positions for the 2017/18 academic year — Donut the Cat and Banana the Hamster are both joke candidates (I don't want Dank Tweets to believe I'm disseminating fake news).
I like hearing about dumb stuff that occurs during an election (like the rumours that the deceased Harambe got over 10,000 write-in votes during the recent U.S. presidential election). News like Donut the Cat and Banana running for student office reminds me (and it should remind you) not to take life too seriously all the time. I did chuckle out loud to myself (I did not lol) when I read Donut the Cat and Banana were among the candidates, because they were obviously a joke and I didn't need to read the written disclaimer to know that.
However, when joke candidates, whether they intended to cause humour or make a political statement, submit election nomination packages, it should be a reminder that we all should be paying attention to the 2017 SU election. I stopped to consider if there were any other living and breathing candidates who entered the race as a joke, but we just can't tell yet.
As student voters, we shouldn't need to encounter obvious joke candidates in our SU election race to make us critically question the legitimacy of all the candidates. However, Donut the Cat and Banana served us all with a quick left jab to wake up our political awareness.
I'm all about shaking things up from time to time. (In hindsight, if I wasn't so busy I would have nominated my neck tattoos, not me, just my neck tattoos for SU presidency). It's good for the systems and structures we are challenging to be tested, and it's good to draw the constituency's attention to an election with a little nonsense.
The SU, despite contrary opinions, is doing good work — at least from what I can tell. Decisions and implementing changes are never going to happen as fast as one can post a status update. Governance takes time and so does critical thought. I recommend we all take a moment to think through our options for candidates and maybe see some opportunity for change in this race whether for oneself or others, if we're all not too busy licking the railings in HUB mall and eating French fries.
The leadership we instal into the Students' Union for 2017/18 may not affect us immediately (and if you're graduating this year and giving the middle finder to campus in the spring, probably not for you at all). But there will be a new batch of undergrads next year who won't know what's going on. We better make sure, at least for the next generation of U of A students, there will be a student government in place to make decisions for their best interests if own interests won't be met in the short term.