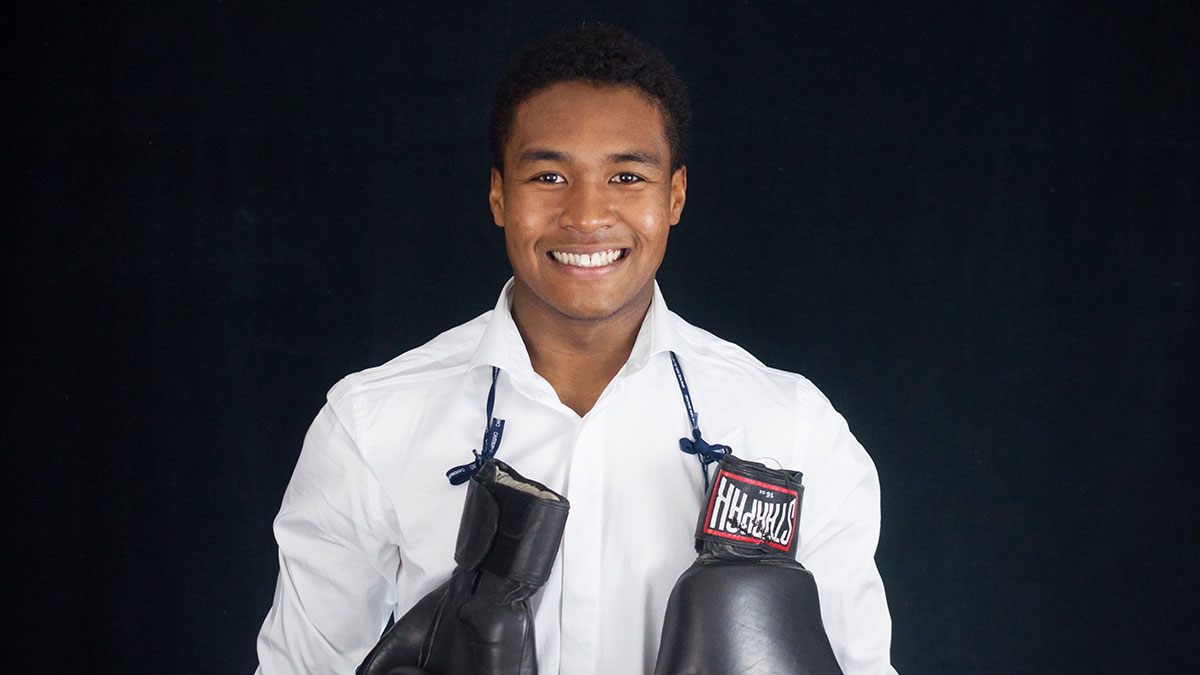 Before reading our report cards, check out our rubric here.
Looking for a different report card? Check out the grades for President, VP (Operations & Finance), VP (Academic), VP (Student Life), and Board of Governors Representative.
---
Mike Sandare
Grade: D
Coming into the Vice-President (External) position, Mike Sandare had some big shoes to fill. Evidently, slightly too big.
Sandare's boxing-branded campaign promised more access to grants, more access to jobs, and more access to mental health resources. Leaving all those buzzwords loosely defined, improvements have come in all those areas while Sandare has served as VPX although he was directly responsible for almost none of them. Sandare served as the public face for a variety of VPX policy wins, but almost all of those had been set in motion by his predecessors.
He introduced legislation to standardize the rate which artists are paid for exhibiting in SUB, he spearheaded efforts to create a CAUS policy on residents' rights for those in student housing, and he was responsible for the formation of EMPfest. (If this makes it sound like he didn't do much, that makes two of us.)
EMPfest, for Sandare, is the highlight of his term. However, a quick skim of the schedule shows that nearly all of the sessions (interview skills, resume writing, networking, etc.) are available through other resources at the university. Sandare's aim to create a catch-all employment event reads as something intended primarily to look good on his resume, especially when it hosted around half the number of the sessions that were included in GovWeek, an initiative run by the VP (Academic).
In addition, to the questionable viability of EMPfest, Sandare has been questioned regarding late or incomplete work by a member of Students' Council's policy committee. Sandare said that he was working on EMPfest materials, and did not finish committee work on time for council. Though he took ownership of the incompletion, Council and its subcommittees must take priority over event-running, regardless of how many meetings are left in the year. On top of that, Marina Banister — who orchestrated GovWeek — did not receive similar complaints.
In one meeting of Council, most of Question Period was spent openly criticizing Sandare's motivation, work completion, and essentially asking if he was doing his job or not. It's one thing to have a private conversation behind closed doors, but it's another to have council members openly accusing an executive of not fulfilling the requirements of their job. In the three years I've been covering the SU, the question of whether an exec was fulfilling the basic duties of their position hasn't come up. Though we can't speculate as to what goes on in committees and behind closed doors, the fact that councillors are airing grievances in the most public forum they have access to does not look good for Sandare.
For all the broad-ranging policy successes that happened this year, Sandare served in the capacity of representative, not leader. We can thank former VPXs and the Council of Alberta University Students for larger lobby goals like the tuition freeze and reintroduction of the STEP program. Sandare served as the U of A's public face for these advocacy wins, but had little actual input in the success. This is disappointing, as the current NDP government sitting across the river is the most student-friendly one that has been in power in nearly 50 years, and Sandare has done little to take advantage.
Possibly the most concerning aspect of Sandare's time in office, however, has been his unpredictability. For example, in a meeting of Students' Council, an emergency in-camera session had to be called when Sandare brought up his thoughts on SU political maneuvering in public. Had the rest of council not acted swiftly to push the meeting behind closed doors, untold damage to SU interests could have been done. Sandare (unlike those who have held his position in past) also did not assume a leadership role on council. Tough questions directed his way often had to be clarified or answered for him by other members of the executive team. Quite simply, Sandare did not give the impression of someone prepared for the seriousness of the VPX role.
Sandare's year in office can only be fully judged in hindsight, as what few long-term advocacy goals he put forward are achieved or not. As it stands now, though, there's not much to hope for. Sandare found himself in an ideal situation as VPX, with a student-friendly NDP government creating a climate ripe for pushing external policy. This, combined with excellent predecessors in the VPX role, allowed Sandare to coast in the position, but still appear as though he achieved a variety of goals. Sandare barely did what was required of him, and not much else this year. Combine that with a loose-cannon attitude in public fora, and Sandare gets a bare pass on our report card.