Who's afraid of the right to strike? Alberta graduate student associations misrepresent members in provincial consultations on constitutional rights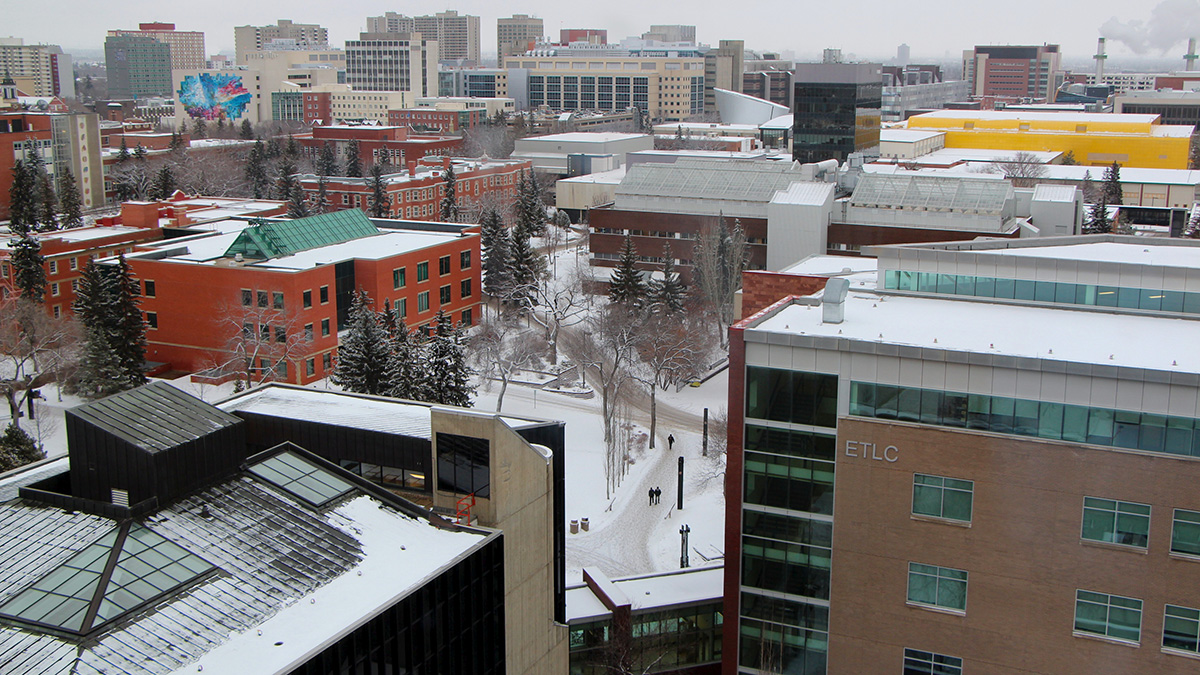 This article is part one in a series of three opinion pieces discussing how the University of Alberta's Graduate Student Association (GSA) has suppressed and misrepresented the voices and constitutional rights of its graduate students. 
---
"The students are, it is true, allowed to have a toy government of their own." – Jerry Farber, 1968  
Should academic workers in Alberta have the right to strike? It's being debated, but not as much as some stakeholders would like. For the second consecutive year of government consultations, the voices and constitutional rights of Alberta graduate student workers have been misrepresented or suppressed, and by the very student associations whose structure and authority a Supreme Court ruling has challenged.
In July 2008, the Saskatchewan Federation of Labour (SFL) and other unions challenged new Saskatchewan legislation limiting striking rights. In January 2015, the Supreme Court ruled striking is a constitutional right crucial to fair collective bargaining. In Alberta, however, academic workers, uniquely, are governed not by the Employment Standards Code and Labour Relations Code — as they are by equivalent legislation in other provinces — but by the Post-Secondary Learning Act (PSLA). PSLA 96(1) grants exclusive power to graduate student associations (GSAs) to negotiate grad student labour with universities. Disputes resolve to compulsory binding arbitration, implicitly restricting strikes/lockouts (which the PSLA doesn't regulate), emphasizing how while such associations serve some union-like functions, they are not unions. Thus, the Supreme Court decision triggered Government of Alberta consultations with PSLA stakeholders. The government's Fall 2015 consultation report assessed a vague, somewhat status quo consensus, "that if the government decided to amend the PSLA by March 31, 2016, it should take a minimalist approach and only amend the Act to ensure it aligns with the SFL ruling."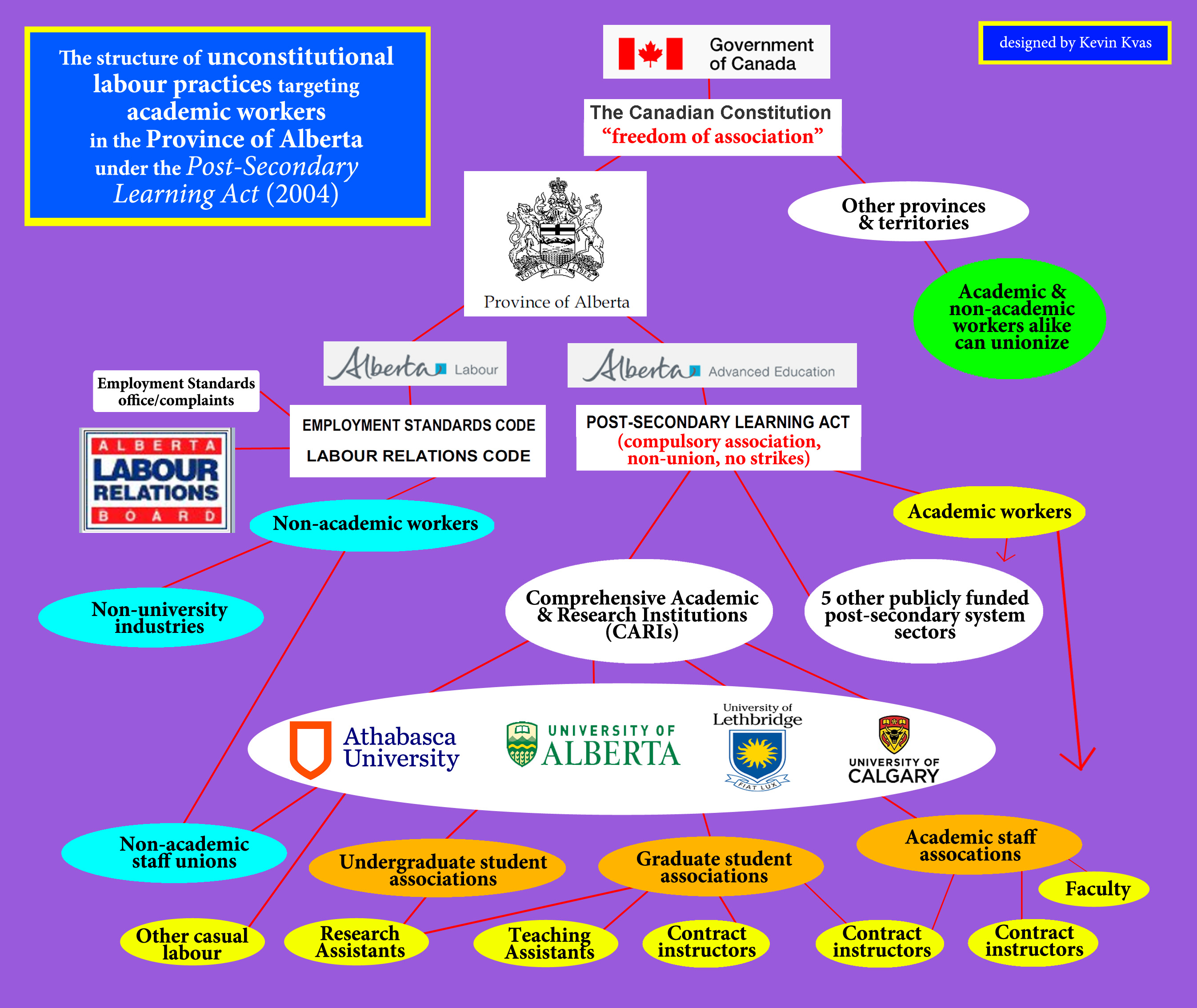 Ostensibly, this conclusion reflects a graduate student position of unanimous anti-unionization. But by "graduate students" the report means "graduate student associations," which were "very clear…they do not wish to lose their statutorily enshrined exclusive authority to represent graduate students in collective bargaining" as per PSLA 96(1). The report assumes GSAs represent graduate students, but in 2015 — and again in fall 2016 — U of A's GSA and, statistics indicate, other Alberta GSAs, failed to adequately inform or consult their members before assuming a position with the Alberta Graduate Provincial Advocacy Council (ab-GPAC), a collective lobby of Alberta GSA reps from U of A, Athabasca U, U of Calgary, and U of Lethbridge. As U of A GSA President Sarah Ficko told me in November, "It was really that group that did most of the work on the labour position." Yet no official wording was ever publicized through the GSA listserv for either 2015 or 2016, not even that such a position had been struck, and not even verbally to the U of A GSA Council, let alone the 7,000+ GSA members which comprise almost half of ab-GPAC's 15,000 grads. Moreover, although ab-GPAC represents 15,000 grad students, the pro-status quo position taken in its October 2016 report to the Minister of Advanced Education, Marlin Schmidt, was based on a sample size of only 62 (or 0.41 per cent), despite the variety of viewpoints even among that sample.
As far as I know, the only word about the GSA having finalized a position at all came when Ficko happened to briefly allude to it at a small Get-To-Know dinner event for prospective 2017 GSA Board nominees held on October 26, 2016, attended by board members and GSA staff, a few former board members, and no more than 20 other people, most of them non-councillors. This came only two days after the October GSA Council meeting, at which such an "official" position — which was given no more detail than "status quo" — was not even mentioned, despite that meeting running hours shorter than its usual notorious length. Both the U of A GSA and ab-GPAC have ignored member requests for information. In the interim since submitting this article in November 2016 and finalizing it for press, I only finally received a response this January from ab-GPAC after pestering both them and the GSA ever since October's dinner "announcement." So, ab-GPAC's position statement to government has finally been made personally available to one GSA member, at least, albeit three months after the official consultation period. Meanwhile, the fact remains that U of A's GSA never produced its own statement to represent its own constituents on their own terms, as their own body, despite claims in the GSA's September 2016 newsletter that "we are developing responses to submit to government both as individual GSAs and for ab-GPAC." Thus, the GSA Board — especially President Ficko and VP External Masoud Khademi, who sit on ab-GPAC — not only failed to adequately consult their constituents, or even elected members on council, and to develop and submit a representative statement on their behalf, but allowed the GSA's collective voice to be subsumed under an external organization with which they unilaterally struck their own position. This is troubling since the position is not even solely their "own" — it echoes the same anti-labour pro-PSLA status quo sentiments expressed by university presidents David Turpin (U of A), Elizabeth Cannon (U of Calgary), and Mike Mahon (U of Lethbridge) in their letter to the Minister of Advanced Education.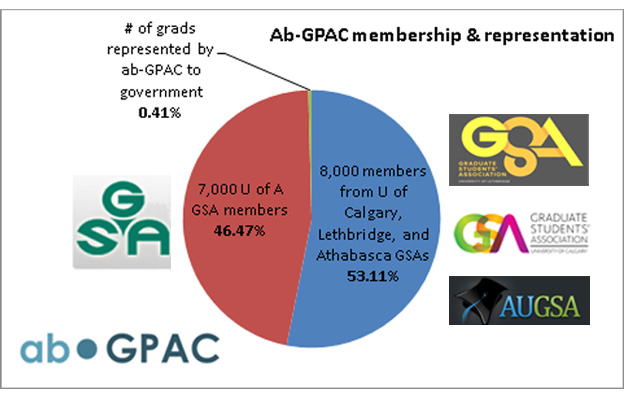 The misrepresentation is also ironic given ab-GPAC was formed in 2014 in attempt to improve the former graduate-student provincial advocacy group, the Alberta Graduate Council (AGC). "Put simply, the previous PC government would not talk to individual GSAs or SUs (Student Unions)," former U of A GSA President and ab-GPAC co-founder Brent Epperson explains in an email. "There were major education cuts happening, and tension between the Redford Government and leadership of provincial research universities (the four Comprehensive Academic Research Institutions, or 'CARIs'). The SUs had 'CAUS' (Council of Alberta University Students) as their advocacy group, and it was quite good at the time, more strategic in my view than what I saw at my first couple AGC meetings. To play a positive role in advocating for higher education, beyond writing about it in the media…, we needed to talk to decision-makers through an advocacy organization that had an effective lobbying strategy. We wanted a seat at the table where reforms were under discussion. We wanted the potential for the GSA to take more leadership in advocacy strategies and to advance graduate student interests through a professional advocacy organization. In my mind at the time, I hoped what later became Ab-GPAC would function a lot like CAUS provincially, or CASA (Canadian Alliance of Student Associations) nationally."
But if the government report on 2015 is so general and "clear" on graduate students, lacking any statistics, surveys, or opinion range, it's because ab-GPAC (and its constituent GSAs) didn't represent or advocate for any such range. In light of the GSA Board's (in)actions this year, the Government report on the 2016 consultations in regards to grad students promises to echo 2015's.
The government reports that the fall 2015 consultations took place in "October and November," but at the U of A they received brief mention only in GSA then-president Colin More's report in late November. Likewise, at the Athabasca GSA, they are only briefly alluded to in the Dec. 2015 minutes. More's report was addressed only to the GSA Council; but even then, such reports tend only to be blindly approved, then included in minutes, rather than read aloud or discussed. The issue was not even warranted as its own agenda item. More reports on discussing with ab-GPAC "how graduate students may be included in the upcoming (review of) right-to- strike legislation." But such inclusion never came up, despite More's sound-off to "keep you informed as the process unfolds!" Ficko, then-VP Labour, reported in Feb. 2016 that it was only "Following the last (GSA) Council" in January 2016 that "the GSA Board," exclusively from council or members at large, "discussed unionization at length and agreed … this discussion would be more suited to … ab-GPAC." None of the next eight months of list-served GSA newsletters mention the consultation. The government says its consultation involved "a number of stakeholders" including graduate students. But the GSA Board never invited them.
Finally, on September 28, 2016, the GSA Board distributed a Special Bulletin soliciting feedback on behalf of ab-GPAC. But this was now in response to renewed consultation. This came due to leadership changes in the Ministry of Advanced Education in 2016 pursuant the 2015 provincial election, but also because, says the GSA, "the Government…indicated…the status quo was not compliant with the Supreme Court ruling." So, to re-cap, in 2015 the Supreme Court said the status quo isn't OK, leading to government consultations saying it's OK, to which the government responded this "OK" wasn't OK, leading to 2016 consultations, some of which again said it's OK but on behalf of many people actually saying it's not OK. OK? And so the status quo is maintained. At the January 2017 GSA council meeting, Ficko expressed her belief that the government would do another round of consultations. This would add to the sense that, as Kyle Curlew observes about recent federal consultations around Bill C-51, such consultations function as a delay mechanism, or as a "delay tactic encouraging compliance while all the 'problematic' aspects of the legislation became more culturally embedded."
Ironically, another reason for the renewal in 2016 was that the 2015 "minimalist" outcome came from "short timelines for consultation." But 2016's timelines again came up short. As Ficko told council in September 2016, "the deadline was really short and … ab-GPAC replied that they would prefer the status quo." Likewise, that month's Special Bulletin requested responses "no later than 4 PM on … October 4," giving members less than a week, and also only one day's notice about the government's U of A townhall meeting. By October 6, the GSA reported, "We've (ab-GPAC) only had about 40 responses from individual grads so far from about 15,000 grads across the province" — 0.2 per cent. As one PhD worker put it, "I'm surprised that GSA is surprised about the lack of responses — there's a certain irony in asking us to voluntarily complete an 11 question survey about labour relations in the middle of the semester while expecting swift replies."
Ab-GPAC's final number of responses was 62 students. You don't need to pay tuition for statistics 101 to figure out that 62 out of 15,000 students does not make a representative sample. If your sample size is that small, then you have no business making authoritative claims about an entire population. But that's exactly what the GSA reps at ab-GPAC — many of them scientists who supposedly understand basic statistics — did.
Updated: March 17
Read a Letter to the Editor responding to this article: https://www.thegatewayonline.ca/2017/03/letter-editor-gpac-response/