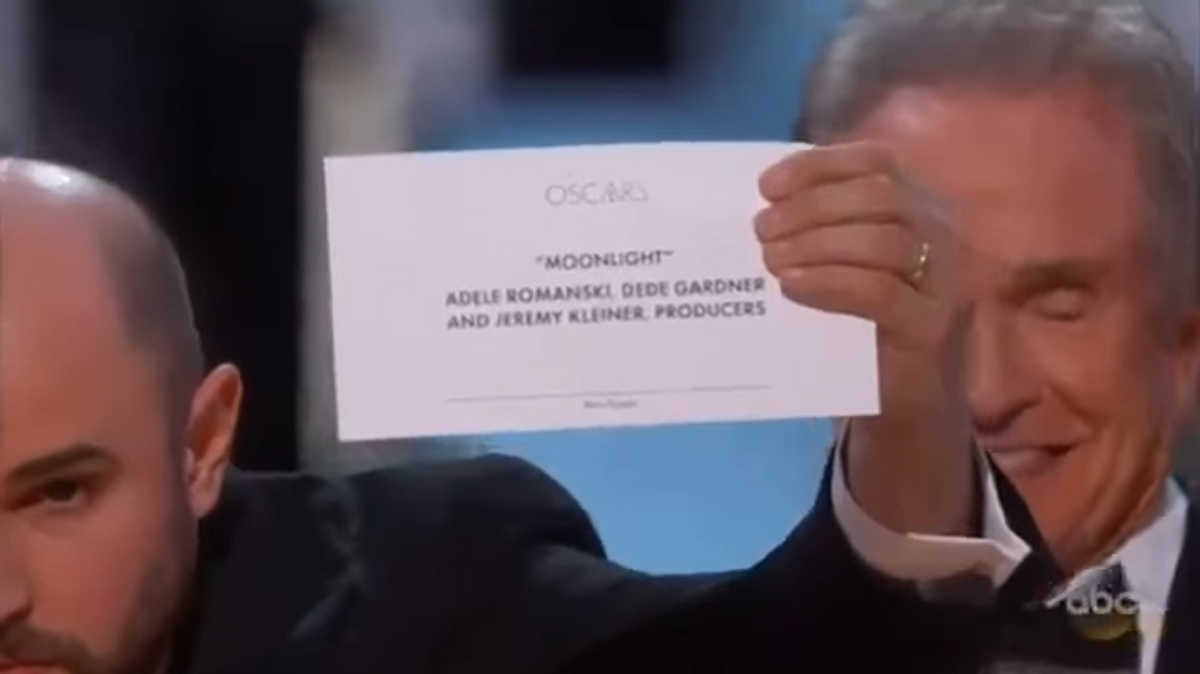 Celebrities have continuously been speaking out about President Donald Trump on social media, in promotional videos, and publicly at award shows. Last night's stage at the Oscars was no different. Although some public speeches have been somewhat cringeworthy (Meryl Streep's Golden Globes acceptance speech for the Cecil B. DeMille award), here are the top five subtle (not subtle) jabs at Trump from the 2017 Academy Awards.
---
5. Adapted Screenplay speech
Barry Jenkins and Tarell Alvin McCraney won the Oscar for Best Adapted Screenplay for Moonlight. In their acceptance speech, they cite their troubled upbringings, both of which inspired Moonlight's story. McCraney accepted the award on behalf of all the "black and brown boys and girls and non-gender conforming who don't see themselves." And Jenkins reassured everyone that "we have your back … for the next four years, we will not leave you alone, we will not forget you." Jenkins' subtle jab at Trump's four-year presidency was just enough to tie into their Oscar win.
---
4. Gael GarcÍa Bernal critiques Trump's wall
While presenting the award for Best Animated Feature, Bernal casually dropped a critique against Trump's proposed wall between The United States and Mexico, saying "As a Mexican, as a Latin American, as a migrant worker, as a human being, I'm against any form of wall that wants to separate us." He didn't have to spell it out for the audience to get his point.
---
3. Best Foreign Language Film speech
The Salesman won the award for Best Foreign Language Film. This Iranian film's director, Asghar Farhadi, wasn't at the Oscars, and instead, Anousheh Ansari accepted the award on his behalf. Why wasn't Farhadi there? In a prepared Oscars acceptance speech, Ansari apologized for Farhadi's absence, explaining that Trump's travel ban is directly to blame: "My absence is out of respect for the people of (Iran) and those of other six nations whom have been disrespected by the inhumane law that bans entry of immigrants to the U.S." His speech continues, "Dividing the world into the 'us' and 'our enemies' categories creates fear, a deceitful justification for aggression and war." He added that part of his job as a director is to create empathy in film, something that is needed in the world "today now more than ever."
---
2. Jimmy Kimmel Tweeting Donald Trump
Host Jimmy Kimmel decided to poke the bear, that is, Donald Trump by tweeting him during the Oscars. He sent out two tweets to @realDonaldTrump saying "Hey … u up?" and #Merylsayshi. Ballsy. Also, no reply from President Trump.
---
1. La La Land wins Best Picture, JK. It's Moonlight.
Steve Harvey wasn't even at the Oscars and somehow the biggest award of the night was mis-awarded. Not only is it a large political statement that The Academy decided to not award a movie about Hollywood with the most important Oscar of the night — one that is so blatantly a depiction of white Hollywood (oh yeah, John Legend had a small role) — instead, choosing to award an African American film about the struggles many black children face growing up in impoverished neighbourhoods and drug houses to prove that #OscarsNotSoWhite. Although this was the most #awkward moment at the Oscars, the La La Land handoff to Moonlight for the Best Picture Academy Award was classy and honourable. And when Moonlight accepted their award, they dedicated it to all the people who feel marginalized. Take that Trump.
*Bonus: Not only did Moonlight win Best Picture, but Mahershala Ali won the Oscar for Best Actor for his role as Juan in Moonlight, which makes him the first Muslim actor to win an Academy Award.