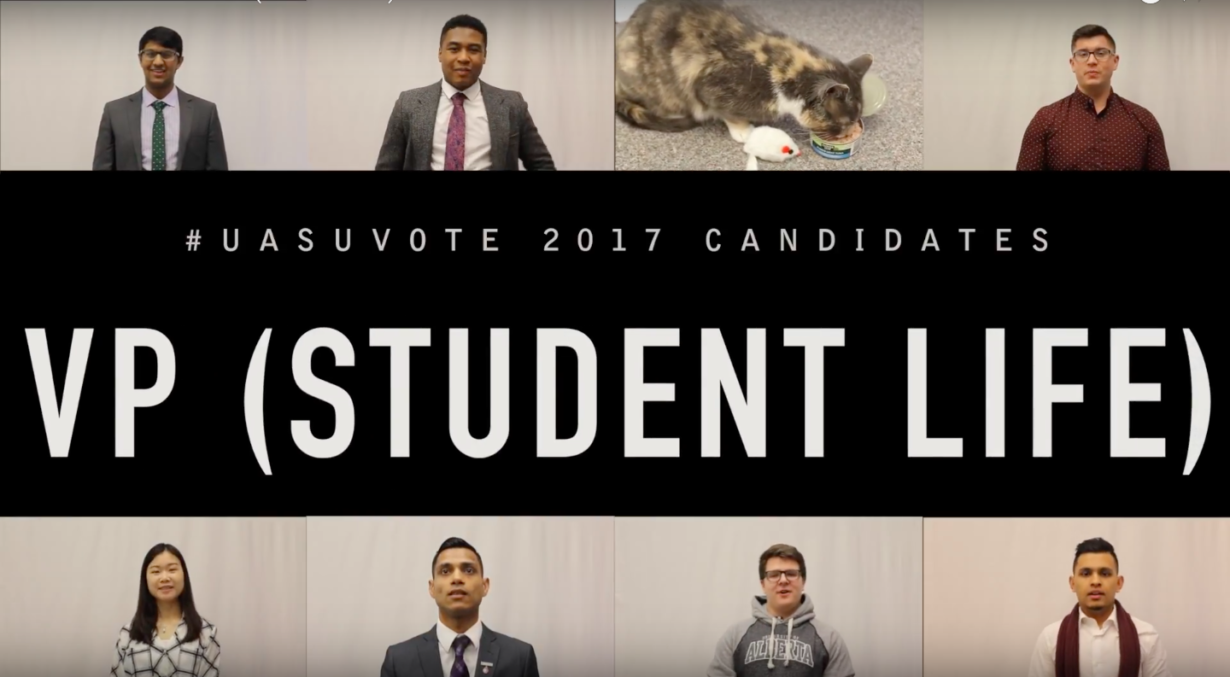 The Students' Union Vice-President (Student Life)'s portfolio covers the non-academic side of campus activity and advocacy. This executive works with university residence administrators and residents themselves, and carries out tasks including surveying students and sitting on residence committees.  They are also responsible for facilitating student events and organizing internal mental health initiatives.
The following interviews have been condensed and simplified for clarity. Full recordings can be heard on SoundCloud.
Rabib Alam
Kyle Monda
Ilya Ushakov
The Gateway: Why are you running?
Rabib Alam: When I moved to Canada, I understood that there is power in your voice, and when you combine voice with passion, you can bring change. I got more involved with my residence community of over 800 residents for around two and a half years. Then I was with the Engineering Students' Society for over eight months. Two weeks back, I was like, "Okay, I'm going to graduate in two months. I have a job lined up. But I feel there's a greater good that I can do." Then I saw that everybody's running for Students' Union executive elections. And the Student Life portfolio is something I can relate to a lot because I've sat at tables with Residence Services and with Students' Union executives. I have experience, and with voice and passion, I feel I can make a difference.
Kyle Monda: I'm running because I've had a lot of experience working in student life positions, such as working as a resident assistant in residence, and serving as a Students' Union councillor this year. There's a lot of easily implementable and positive changes I think I could bring to the student experience if elected.
Ilya Ushakov: In the past four years, I've seen a pretty big decline of a community here on campus. I feel that everyone's kinda segregated into faculties, like upper years and lower years, and there's not really like a uniting sense of community that you see in some of the other schools I hear about. I love what we have at Week of Welcome, where everyone's so excited. But as school starts, everything kind of fades away. So I'd love to see that more on campus, and that's one of the biggest reasons why I'm running. I think it's really important for individuals to find that sense of community, and find their passions, and find their identity on campus.
Could you briefly explain your platform?
Alam: The first platform point is to address racial discrimination by engaging with different groups on campus, like people of colour, and ask them what are some stereotypical things they hear. My goal is to break that stereotype and make university an inclusive environment. My second point is to address mental health, sexual assault, and consent with concrete steps. I'll be working with, for example, the Daily Grind or Undergrind to have coffee sleeves printed with messages that can say, "We're here to listen to you; go to this website." I'll also work with with the Community Social Work Team to deliver short presentations on red flags of mental health or rape culture. The third point is residence associations — there are lots of issues, and each residence has unique problems. I've outlined them under their own headings. For example, in HUB Mall, safety is an issue; Lister, the meal plan was a headline for a year and the Lister Hall Students' Association (LHSA) just got established again. The final thing is rates — residence rates are ridiculously high. There's a few ways of controlling that, one is by regulating it. I also really want to work to introduce a housing bursary for low-income students.
Monda: I want to promote a different student group each week to create easy drop-in events that students can attend, as well as expand the Students' Union Building (SUB) house party to the last day of classes in the Fall semester and the Winter semester. I want to advocate for improved health and wellness services on campus, including making sure we're collecting the right data and analytics on usage so we effectively advocate for funding from the provincial government, and ensure health services are inclusive of different types of people, including LGBTQ people and aboriginal people. I want to make sure residences have strong associations that are focusing on advocacy and community building, as well as promoting activities of residence associations. Because the fee for residence associations shifted to an opt-out model this year, it's really important that students see the value in their associations to stay members. To make campus services more inclusive, I want to offer peer support centre services in more than one language, and also expand the availability of gender-neutral washrooms on campus.
Ushakov: My platform is really community driven. I focus a lot on advocacy issues: for example, rent. In the past four years, our rent has increased at least double the inflation rate every year, and I want to decrease it, or at least freeze it so more residents can enjoy residence life instead of moving out. Some of the other topics I have covered are university events. We have a solid portfolio of events, but it's very stale, with the same events every year. They're great events, and they attract a lot of students, but I'd love to increase the diversity of events, and to engage students in talks of mental health and sexual assault. I believe we're very reactive to those issues: we only really do anything when things happen. But I think early on we need to engage student groups with services like the Sexual Assault Centre and our clinic to provide the resources so that people can talk about these issues freely and not feel the stigma that's later present in midterms and finals. More of my platform is on my website voteilya.ca.
This year the Vice-President (Student Life) has had to do a lot of advocating for residents. How would you improve on their strategies?
Alam: VP (Student Life) Francesca Ghossein has done a great job of advocating. I feel she's really changed the role. It's not just the fun position but more so an advocating position as well. I feel that other residence associations could have received more attention. At the same time, you cannot blame Ghossein for that because you don't know how much time a Lister meal plan can take. That's a lot of time. For me to say that other residence associations could have been given more time if probably my not knowing what her time entails. When I go into the position knowing what goals I have to establish, I'll be forming committees if I cannot achieve those goals myself. For example, a committee that would focus on HUB Mall, or Lister, or on mental health. That way, a lot of jobs can be broken down and delegated and at the end of the year, we can achieve goals for all residence associations and all student life goals.
Monda: I think the current VP Student Life has done a really good job of advocating for residents this year. I think a lot of it is just continuing the work she's been doing, especially around the meal plan. One thing I think I could do better is around the restart of the LHSA that's coming up this September — elections are getting underway now. I think it's important to acknowledge that the LHSA wasn't always the most inclusive group in the past and could cause some divisions among students. I think it's important to openly discuss the flaws of the LHSA in the past to make sure that we're building a stronger organization that will be focused on advocacy and building a community that is healthy.
Ushakov: Our residence associations have a meeting called the Council of Residence Associations (CORA). It's a meeting that the VP (Student Life) chairs and collects information. I believe our associations have the resources available to collect student consultations because a lot of these people are elected, and they're highly favoured and popular within their residences. Those people can get the consultation needed, which is a big struggle within our university. A lot of town halls, a lot of surveys, just don't get the response we need. I think through CORA, we can get more representation from residences and residence associations.
If a student group was getting kicked out of their office space, what pathway would you take to help them?
Alam: When a group is being kicked out, it's important to listen to all sides of the story: the members of the student group, student group execs, and the people that are making the decision. Over the years, we've seen how the Dean of Students treats students and we have had working committees formed. For example, there was a task force to investigate what's going on — they have a set of recommendations too. I would look into the recommendations, see what process should be followed, and make sure student groups are not punished so that they cease to exist.
Monda: I would first discuss with the student group themselves and student group services to find out why this is happening, and consult with the Vice-President (Operations and Finance) to see if there's a better way to meet their space requirements within SUB. Then, either explore keeping them in their office space if it's a resolvable problem or work towards alternatives.
Ushakov: The university controls the student space here on campus, and I think it's really important for us to advocate for available student space. It's obviously going to be a case-to-case basis, and I can't say what the circumstances are. But, if it's unreasonable, obviously our Students' Union needs to stand up and support that student group through that process and try to get that space back. As a Students' Union, we have space available as well, so if worst comes to worst, we could always use our spaces as a temporary interim before we get the spaces back.
The U of A is a commuter campus, this year's VP (Student-Life) has been working to connect students through a SUB house party planned for the end of the year. How do you plan to facilitate a student community?
Alam: Student community starts from the first day you get that letter in your hand saying you've been admitted to the university. It starts from there, to making sure you have a great orientation, a great academic experience, and then ending the year with a big bash. My goal will not just be to have a big bash. That means working collaboratively with other executive portfolios to make sure that everybody's doing their part for mental health and for ensuring students are heard, have affordable tuition and rent, have a good student life overall.
Monda: I'm really focused on removing barriers to getting involved with student groups. One way I want to do that is by promoting a different student event on campus each week. This would be through the Students' Union social media and website. It would be an easy way for students to see something that's happening on campus this week, whether they want to do something fun, or find out about a new group to be involved with on a regular basis. I also want to expand the SUB house party to the last day of classes in fall semester because it's an effective way of showcasing student groups, and it's going to be a really fun event.
Ushakov: That's what my platform's mainly about. The most important thing is getting students on campus. A lot of students come to school, go home, and engage in their own communities. Keeping them here with good services, good events, and accessibility to student groups and clubs will allow students to feel that sense of community. With exposure throughout the year and enhancing that exposure through more engaging events, those students can come and feel a sense of community on campus.
JOKE: The nuclear reactor under the Dentistry/Pharmacy Building explodes and the only place left habitable is HUB mall. As VP (Student Life) you are in charge of students' lives, how do you make sure everyone survives for a year?
Alam: There's a huge storage room where we used to store bottles for recycling purposes, so we can take the bottles out to fit people because I feel student lives matter more than sustainability. In terms of rationing, people in HUB Mall cook, and there's restaurants too, so we can take those resources and try rationing them accordingly. Using my leadership experience and my connections with HUB executives and residence assistant teams I'll make sure there is a leadership team there as well. Because when there's that end of the world, people are going to go after each other. So making sure there's a good leadership team, plenty of food and water, and there's room for people in storages or units.
Monda: It would be most important to ration resources. There's a lot of food in HUB Mall because it's essentially a really long food court. So making sure we're appropriately managing the resources we have as well as allocating space, using my resident assistant skills to resolve some of the conflicts, and create a restorative justice model of conflict resolution.
Ushakov: We would need a lot of food. And we need good food because diversity in food is really important. If people eat great food, they're happy, and that's all you can really care about. Good food, good vibes.