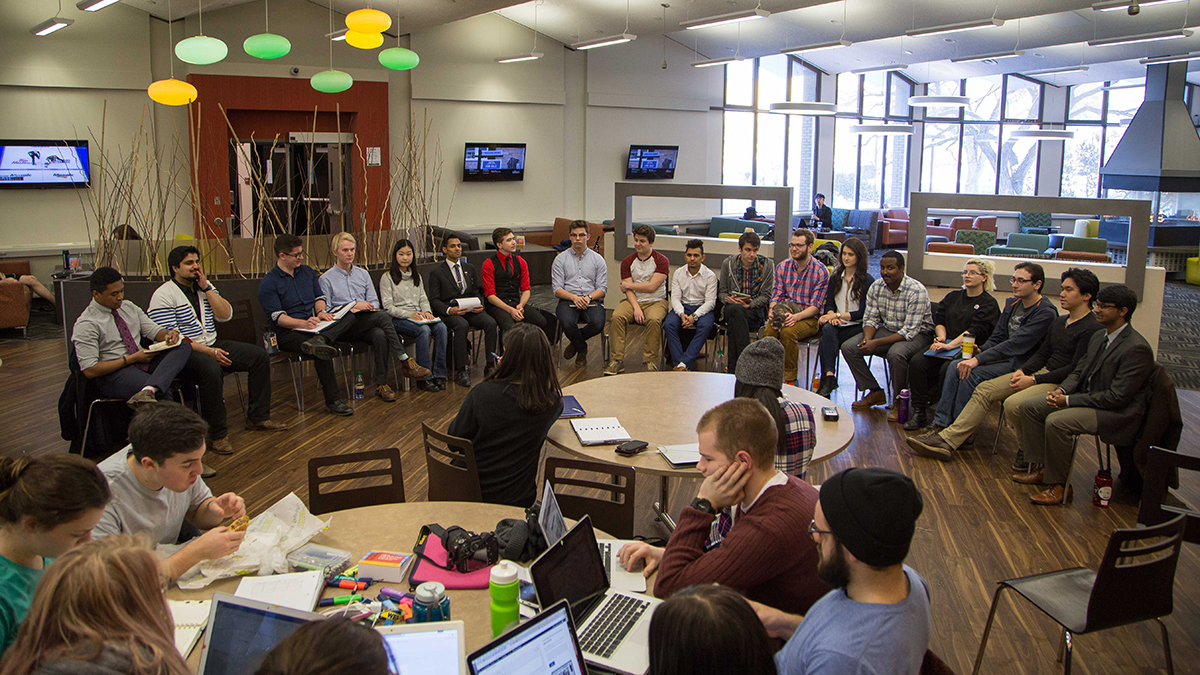 Indigenizing campus and training leaders
The Presidential candidates were again grilled on indigenous issues at the final forum of the election season in Lister on March 7.
An engineering student asked how the candidates, who have both said they support the implementation of a mandatory Native Studies course, expect engineering students to fit an extra course into their degree.
"I'm in engineering and I have to take six courses every semester to finish in four years," he said. "Where do you expect me to take that course so I can finish my degree?"
Current Vice-President (Academic) and Presidential candidate Marina Banister said a phrase she heard at the InterD conference has stuck with her when considering mandatory Native Studies courses.
"'The more we resist learning about indigenous culture, the more it shows how much we need to,'" she quoted. "And I think that's really true."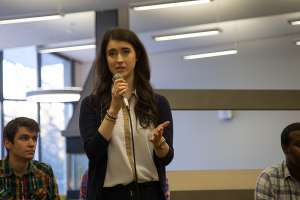 Banister added that when she advocates for a mandatory Native Studies course she wants it to be catered to specific programs and degrees.
"(The mandatory Native Studies course) is going to happen," she said. "The university has made it very clear that this is a priority for them, especially President David Turpin. I think as students it's our goal to work with students to make that a reality in the best way that works for students."
Presidential candidate Bashir Mohamed, former Students' councillor, said discussions with the Faculty of Engineering and the university should determine how the course should be implemented for engineering students.
"I know there is a Massive Open Online Course related to Native Studies," he said. "So that's one way to go about it. But when it comes to things like this we should be working towards things that are necessary and if there's an obstacle in the way that shouldn't be an excuse not to do it."
The candidates were then asked how they plan on indigenizing campus. In his answer, Mohamed said Native Studies councillor Nathan Sunday motion at Students' Council on February 28 to create a Truth and Reconciliation Commission implementation committee is a good first step.
Mohamed said he would make sure this committee is implemented within the first 30 days of his tenure, if elected. He also promised to meet with indigenous stakeholders on campus to find out how the Students' Union can improve.
"Being part of the group that put in a treaty acknowledgement in Council," he said. "I think we need to move beyond just words and more towards actions."
Banister began her answer by saying she's the only candidate in the race who has had content about indigenizing campus in her platform since the beginning of the campaign period, as Mohamed's points on Truth and Reconciliation were added after the candidates were asked about mandatory Native Studies courses at the Campus Saint-Jean forum.
"I think the big priority for the university has to be listening," she said. "I've heard (indigenous students') priorities include making sure they have specialized mental health supports, making sure there are necessary grants and bursaries, as well as being really cognizant of integrating Treaty 6 recognitions in the holistic nature of the Students' Union."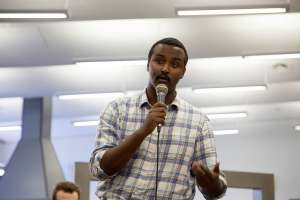 Later, when candidates were asked what their biggest regret from their campaign is, Mohamed said he regrets not including anything about making campus better for indigenous students in his original platform.
"Starting from day one I didn't have anything in my platform about (indigenous students)," he said. "It was a huge mistake and I take ownership for that. Throughout the weekend I have been having those conversations and that's why I have added that point on Truth and Reconciliation. I think it's important to reflect on our own mistakes."
He also said he hasn't been grateful enough for his volunteers who have "dropped everything" to help him with his campaign.
Banister said she wishes she could pick herself up faster when strangers are rude to her when she approaches them during her campaign. Donut the Cat said she regrets choosing a spokesperson who's so busy and has a midterm on Friday to study for.
The last question of the election season went to the Presidential race. Candidates were asked how they would expand leadership training at the University of Alberta.
Mohamed said he was on Students' Council when the Peter Lougheed Leadership College was proposed and pushed through.
"I thought (the Peter Lougheed Leadership College) was a waste of university resources," he said. "Allocating that amount of money to so few students. The only reason it went through was because they promised it would reach 10,000 students through intensive programming but that's never happened."
If elected president, Mohamed said he would fulfill that promise by pushing the university to provide more funding things such as study abroad and research grants. He explained that students can make more money working a minimum-wage job over the summer than participating in research.
Banister said the Students' Union should be very critical in defining what leadership is.
"Do we mean citizenship?" she asked. "Do we mean fundamentally leading a dedicated group of people?"
The university offers opportunities such as Community Service Learning, grants, research opportunities, the Peter Lougheed Leadership College, the Emerging Leadership Program, and the Alberta Student Leadership Summit, Banister said.
"We need to make sure that we are investing in leadership opportunities that do reach a broad amount of students, but in diverse ways," she said. "Because people take different things and want different things out of leadership development."
No Chen, no questions
Vice-President (Operations and Finance) candidate Chen Liang was not present at the residence forum. His opponent and current VP (Operations and Finance) Robyn Paches was asked no questions during the question period.
I'm calling my lawyer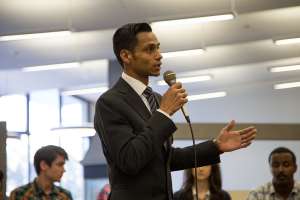 The Vice-President (External) candidates were asked a sole question about how they advocate for residents.
Correctional peace officer and candidate Ankur Pandey focused his response on supporting students. He said that if any concerns were brought to him he would support the Vice-President (Student Life) in responding.
"I will take a proactive stance," he said.  "If anyone needs a lawyer the Students' Union should provide one. That is what we are all paying for."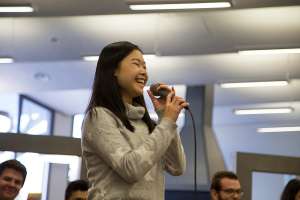 Fifth-year psychology student and candidate Lisa Zhang admitted that she has "no specific targets" for student residency rights.
Zhang said her plan would include lowering mandatory non-instructional fees so that students could afford rent and tuition.
"I would advocate for more funding (for students)," she said.  "I want to promote supports on campus and at the same time provide students with opportunities off campus."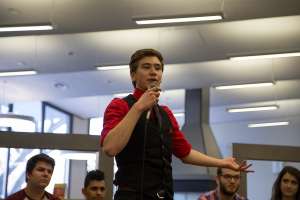 James Thibaudeau, candidate and past Vice-President (External) for the Education Students Association, said he plans to connect residents with any legal assistance through legal councils, partner firms across the city, or with students from the Faculty of Law. He also said he hopes to address the lack of residents' rights by incorporating students into the Alberta Residency Tenants Act.
"I would take a very proactive approach with this," he said.  "I understand this may take a longer amount of time. This is why I would like to connect students with legal counsel as soon as possible."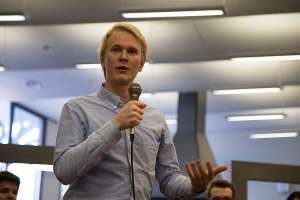 Candidate and Arts Councillor Reed Larsen disagreed with Thibaudeau. He said the only solution for residents would be to create stand-alone legislation specific to the needs of residents. He added that student legal services already exist on campus.
"Tenants' rights are my number one priority," he said. "The needs of students in shared residences are very specific and you need very specific things to cover those needs."
Larsen added that he would like to host a town hall in residence with Lister's provincial MLA Lori Sigurdson.
"People can come out and ask about housing and her portfolio to talk directly to students," he said. "I think that would be very interesting."
Tricky Questions
Being the last forum before students can vote, Vice-President (Academic) Shane Scott received greater scrutiny from the audience than he did in past forums.
Arts councillor Ben Angus asked Scott what distinguishes his platform from current Vice-President (Academic) Marina Banister. Scott started off by saying it was a "tricky question," and answered with his platform point on creating a syllabus database. He then focused on what he and Banister have in common, explain that they both take inclusive approaches to their platforms.
"And VP (Academic), the role is very similar," he said. "Yeah I'm just going to leave it at that. I'm digging a hole."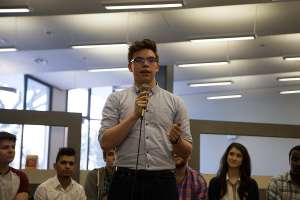 The next question directed at Scott asked what concrete steps he will take to indigenize campus. He answered that since he hasn't experienced colonization, it's important to give those who have a voice, and that doing so would mean working with the Aboriginal Student Service Centre (ASSC) and Students' Council to implement the recommendations of the Truth and Reconciliation Commission.
"I personally want to take a strong hand in moving forward," Scott said. "And I want to make sure that (the recommendations) aren't something that gets put on the back burner for Students' Council next year."
The final question directed to Scott came from Gateway editor Ashton Mucha, who prefaced her question by saying that just because the race for Vice-President (Academic) is uncontested, that's not reason enough for her to vote for him. She then asked Scott what project he would undertake as Vice-President (Academic), not including his predecessor's GovWeek and InterD Conference.
For his answer, Scott reiterated his syllabus database. Scott said he would advocate the university administration for students to have access to their database, as well as create a Students' Union syllabus database within the first four months of his term.
Vice-President (Residence Life)
Vice-President (Student Life) candidates fielded questions from Listerites at the Residence Forum over one the portfolio's biggest responsibilities: residence.
Lister Hall, having nearly been switched over to an all-you-can-eat meal plan earlier this year, generated many questions for candidates Rabib Alam, Kyle Monda, and Ilya Ushakov regarding residence advocacy.
Regarding the university's intention to switch Lister residents onto an all-you-can-eat meal plan that's more expensive than the current declining balance plan by 2018, candidates were asked how they would ensure students get a plan that's satisfactory.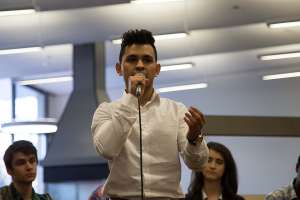 Alam, former president of the HUB Mall residence association, said he'd work with committee groups for residents that already exist to make sure the university's contract with Aramark, its main food supplier, are visible to all students. He added that the meal plan prices needed to decrease.
"We need to make sure nothing is done under the table," Alam said. "We need to know why exactly they're charging us so high. That's how students will know why these are being pushed forward."
Ushakov argued against Alam, and said Aramark contracts cannot be visible to students because the Students' Union is a direct competitor to the third-party food supplier. Last year, The Gateway obtained a copy of Aramark's contract with the university through the Freedom of Information and Protection Act, however the contract's contents were heavily redacted.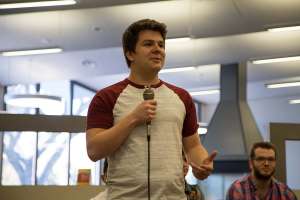 While Ushakov acknowledged the Students' Union's role in advocating for the meal plan, he said the main voice on how to move forward on the meal plan should be the Lister Hall Students' Association.
"Currently the all-you-can-eat meal plan is not feasible in this cafeteria," Ushakov said. "This cafeteria has a capacity of 600 students. How do you expect 1,200 students to eat here every night? These are talks we need to have over the next couple years to make sure each student has the meal plan they want."
Monda said students need to rethink how consultation is done with Dining Services, the university body that administers meal plans. Right now, Dining Services creates a plan and then brings it to students for feedback, which ends up with meal plans being pushed through with little potential for change, he said.
"We need to flip that process to identify students' priorities about what they want to see in Lister, and then integrate that into whatever proposed plan comes from Dining Services," Monda said.
Like with the meal plan, rental rates have also been a major topic in the VP (Student Life) race. Candidates were questioned on how they would achieve their goals to reduce, or regulate, rent.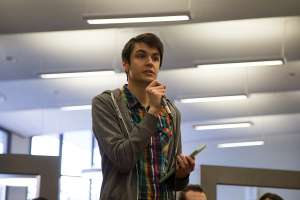 Monda explained how rental rates are set — he said the decision starts at the residence budget advisory council, then the Board Finance and Property Committee, and finally, the Board of Governors.
"I would really work to create an evidence-based argument for why rent is currently excessive, especially in East Campus," Monda said. "Residence has been struggling quite a bit with occupancy this year, and that would be probably the best way to address that problem."
Alam said he hopes to regulate rent. Ancillary Services, he said, sets rent at the current rates because it has to run revenue-neutral. Anyone proposing to reduce rent has to come up with an answer to the accompanying deficit. Because of this, Alam hopes to introduce bursaries for housing to increase accessibility.
"I want to introduce bursaries by working with the government to get bursaries to permanent residents and citizens, and with the university so that even international students have options," Alam said.
Ushakov, like Monda, addressed occupancy in campus being "the lowest it's been." He proposed working with the University of Calgary's Students' Union, as they have managed to freeze or decrease rental rates on their campus.
"I want to do this with student consultation and with data so that the university knows that if they keep increasing rent, they're going to see less and less of an occupancy rate," he said.
Holding the BoG/BoG Rep Accountable
The Board of Governors Representative candidates were asked two questions at the Residence Forum.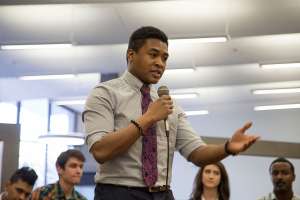 The first question asked how they would hold the Board of Governors accountable to the student body when it comes to controversial issues, such as the recent Lister meal plan proposal.
Candidate and current Vice-President (External) Mike Sandare said he would work closely with the rest of the Students' Union to make sure they have "succinct messaging."
"One of the best things about the BoG Rep position is they can be a supplementary advocate," he said.
Armand Birk, former president of Campus Saint-Jean's residence association said he would consult with as many students as possible and commended current Board of Governors Representative Colin Champagne's efforts in keeping the all-you-can-eat meal plan from passing at the board level.
"One of the biggest ways in which we can hold the Board (of Governors) accountable is have more students implicated in that decision," he said.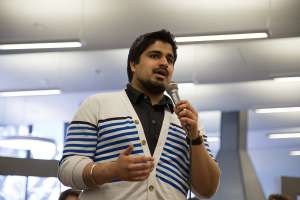 Another student asked the candidates how they would manage their time if elected to ensure that they are fulfilling their role.
Birk answered that he would mandate office hours, working hours, and consultation with students.
"Since day one of my platform I've talked about formalizing the responsibilities of the position," he said.
Sandare, in his answer, said he would have a plan.
"As a Board of Governors Representative, we need to come to the role with a plan of action," he said. "I plan to budget my time by following the plan I set out during this election."
APIRG in Lister
Representatives of both sides of the Alberta Public Interest Research Group (APIRG) plebiscite received one question during the Lister forum.
One member of the audience asked if either Laura Kruse from the "Yes" side or Alexander Rodd from the "No" side could speak to what APIRG does for residents in Lister. Kruse said that the issues that APIRG takes a stand against affect everyone, including residents in Lister. She also mentioned a pilot project APIRG attempted with Lister engagement intern Evan MacDonald, and that they had to cancel a planned series of workshops because no one came to their first event.
"Hopefully we can get that started again because we would love to work specifically with students," Kruse said.
Rodd's answer was brief.
"I'll just argue that the engagement to those workshops kind of reflects the effectiveness of most of APIRG's projects," he said.