Presidential questions become personal at Myer Horowitz forum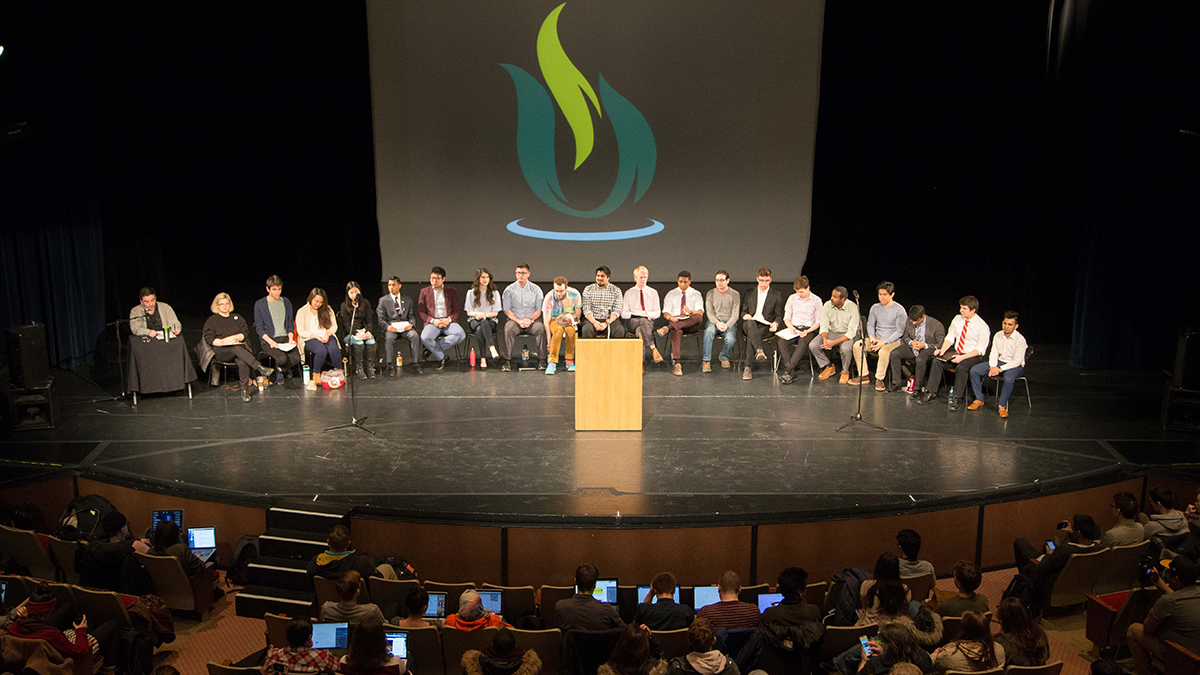 Indigenous student issues
While both Presidential candidates said they wanted to focus on issues, questions from the audience at the March 6 Myer Horowitz forum strayed towards personal attacks.
After 46 minutes of introductions from candidates, and many students leaving the theatre to get to 1 p.m. classes, former Arts councillor Bashir Mohamed and current Vice-President (Academic) Marina Banister answered questions from the audience about indigenous students.
"I am a white settler here at the U of A," Banister said. "We need to rely on the lived experiences of our indigenous students in informing the advocacy the Students' Union does."
Later, Banister added that indigenous students need to be given more "seats at the table."
"It's important that we're never painting all indigenous students on campus with the same brush," she said. "Many indigenous students come from different lands, they have different identities. All those students have diverse needs."
Mohamed said he has added a platform point to his website promising to hold a meeting with indigenous stakeholders on campus and put a motion forward to establish the Truth and Reconciliation Committee within the first thirty days of his tenure, if elected. He said he regretted not including the promises in his platform earlier.
"I think we need to move beyond just simple treaty recognitions and make sure there are actions behind those words," he said. "I do commit to meeting with relevant groups on campus within those first 30 days but also moving forward to have true reconciliation, beyond just words."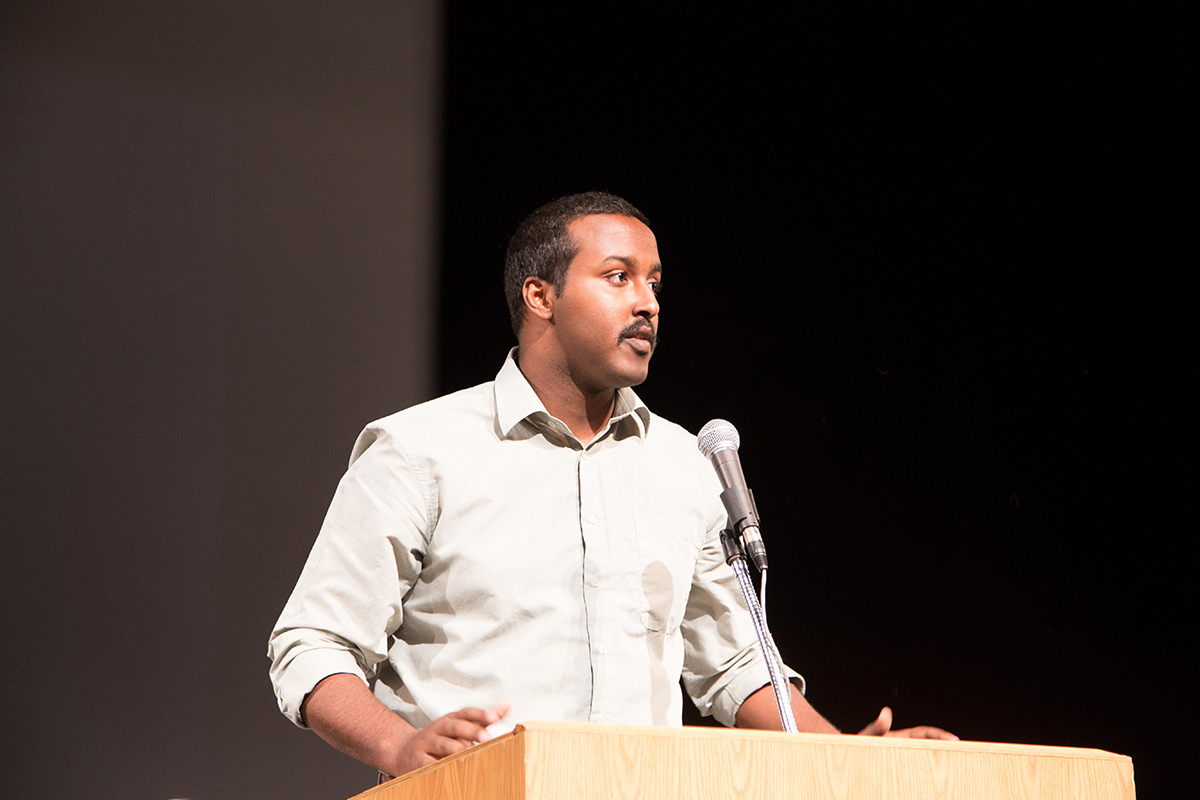 Pointed questions
As question period continued, questions were being directed primarily to individual candidates, Mohamed in particular, citing their specific platform points or moments in their political career. Mohamed accused Chief Returning Officer (CRO) Donald Ademaj of double standards when it came to allowing questions directed at specific candidates. Mohamed said Ademaj was allowing questions attacking him to be asked, but when a question was directed at Banister, Ademaj said both candidates needed to be able to answer the question.
"I want to say I'm not satisfied with the CRO because there have been numerous questions directed towards me," he said. "I hope the CRO prevents these kinds of questions, I want this election to be about ideas not about peoples' personalities."
Ademaj told Mohamed not to talk to him in front of the forum.
"Please talk about the question," he said. "You don't have to talk about me, if you want to talk to me please do so after the forum."
Later, an audience member stated that Mohamed's comment about being painted as an angry black man at the International Students' Association Forum was "unprompted." The student then asked how the candidates will make the election, and their tentative presidencies, about representing students.
Banister answered first and said she's strived to keep her campaign positive.
"My platform has diverse experiences," she said. "I don't need to rely on attacking other candidates or pointing out any of their flaws because I really believe in the strength of the issues we're presenting here."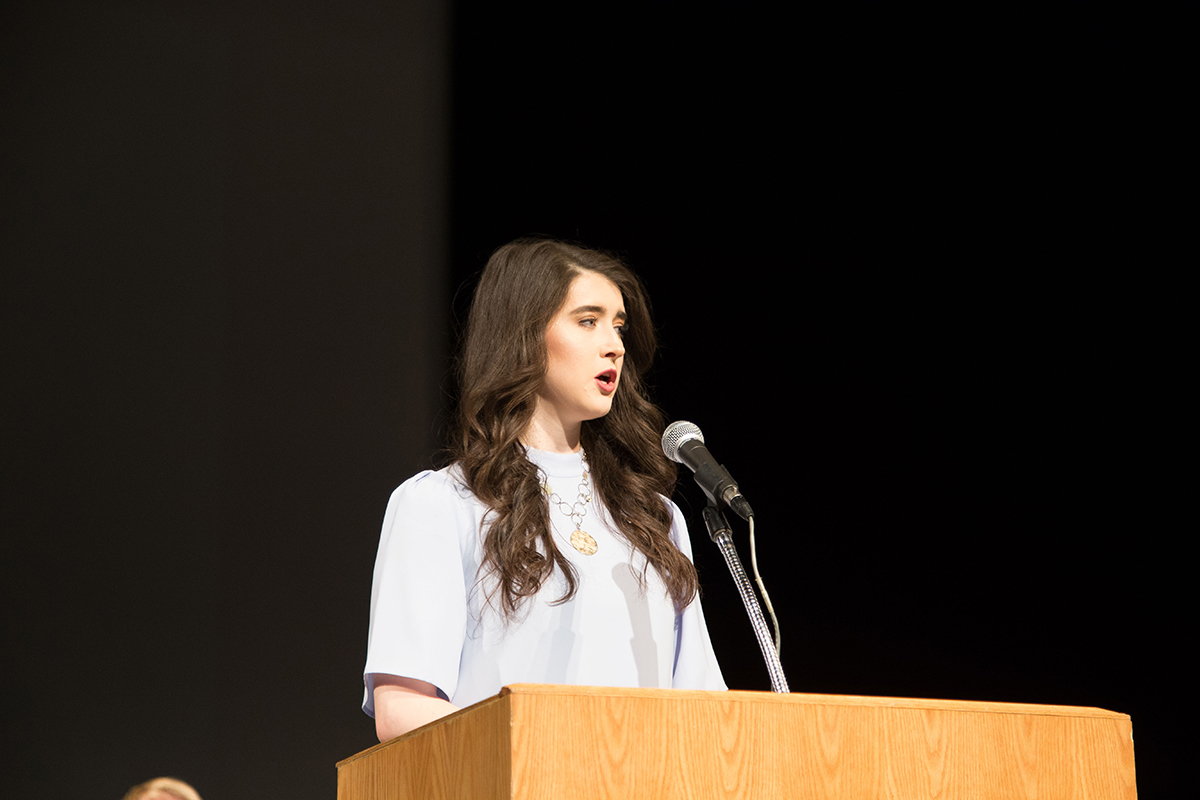 Mohamed said Banister has not been refuting the personal attacks against him and has been adding to the characterization of him as "hot-headed."
"Moving forward actually I hope for an apology," he said. "I hope that any time it's brought up she refutes it and goes back to the actual issues. If we want more people of colour to be in (executive) positions then we need to call that stuff out, we need to make it awkward."
Mohamed acknowledged that he was getting flustered because of his passion for his platform points.
"I care deeply about these things," he said. "I've spent a quarter of my life on this and it hurts that my issues are not being talked about but rather who I may be."
The final question at the forum was so personal it was rejected by Ademaj. Science councillor Umer Farooq tried to ask about an exchange between Mohamed and the university's Board Chair Doug Goss in a sitting of Students' Council in 2014, but was cut off by Ademaj.
"Does this question involve attacking one of the candidates?"Ademaj asked Farooq.
Ademaj prompted Farooq to immediately ask his question without giving background information. When Farooq continued to talk about the exchange at Students' Council, Ademaj said he didn't think it was a question that could be answered by both candidates in the race. He allowed Farooq to instead ask the candidates what roles they had held with the Students' Union.
Mohamed said he hoped Banister would condemn the question.
"Black people, in order for us to be in these positions, have to be mostly neutral and much more successful with our resumes," he said. "We can't be seen as emotional, we can't be seen as political. When that happens, we get painted as angry black men or angry black women."
Mohamed went on to say that he's worked with the university administration, the Legislature, and the Office of the Ministry of Human Services, and said he hopes he's qualified enough for Farooq.
Banister responded by saying she's done three terms with the Students' Union, and then said she agreed with Mohamed.
"We need to make sure we have an inclusive space for all identities," she said. "I relate to a lot of what Bashir's saying, as a woman you're expected to be more emotional and more sympathetic to a lot of peoples' needs."
Aftermath
Over social media, Mohamed and a member of the public asked Banister to make a public statement disavowing the racial stereotyping of Mohamed throughout the forums as hot-headed and emotional.
"Your volunteers have been writing targeted and negative comments about our campaign," Mohamed said in a Facebook comment. "I have brought this up with your campaign manager and have received no followup regarding this. As I made clear today, I am disappointed by this and do not feel satisfied that this is a proper response."
Banister responded by creating a Facebook post entitled, "Reaffirming my commitment to inclusivity."
"I do not condone comments from the public that play to racist stereotypes in any way," she wrote in the post. "This has been brought up and it needs to stop."
She ended the statement by encouraging students to ask questions based on the candidates' platforms, not their personalities or identities.