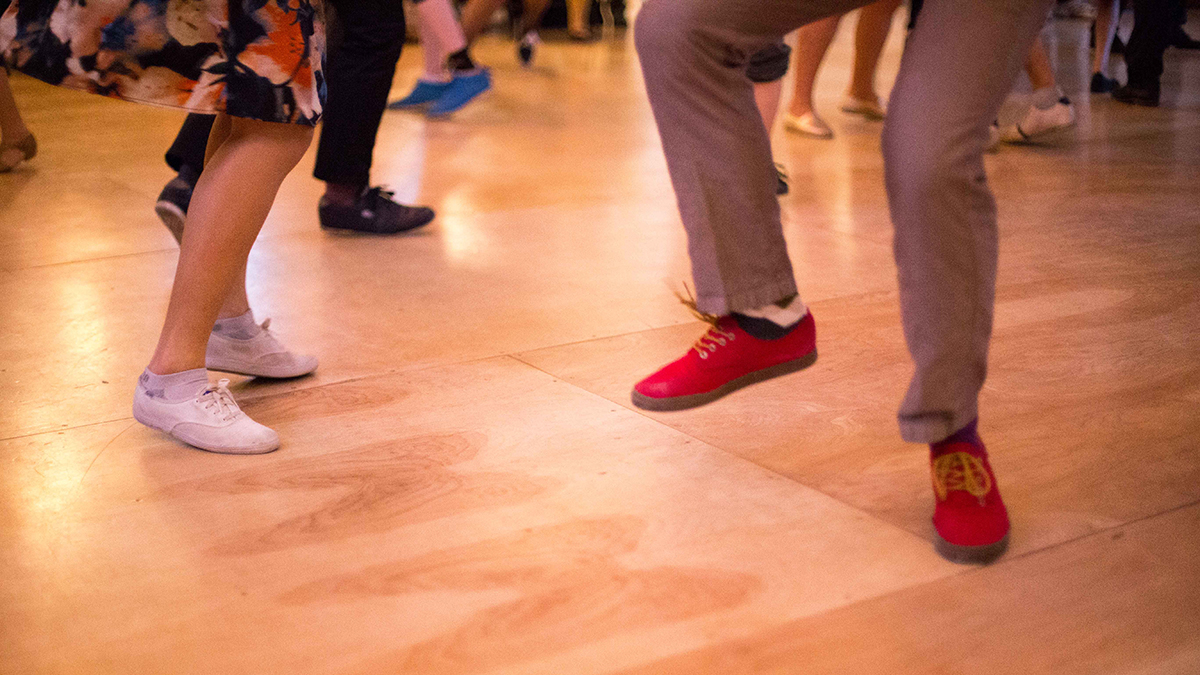 Just off Whyte Ave, the retro vibes and swingin' jives of the Sugar Swing Ballroom can't be contained.
Every Friday and Saturday evening — and some Thursdays — the dance hall, located at 10019 80 ave, hosts a weekly social dance that transports its patrons back to the "Swing Era." Dancers flock to the hall, often numbering 100 or more, many dressed head-to-toe in vintage styles of the 1920s, '30s and '40s. And they come with one goal: to swing out.
Sugar Swing, the organization that hosts dances at the ballroom, is one of several clubs in the city that exist to promote the family of traditional dances that make up "swing." Foremost among these is the Lindy Hop, which originated in Harlem, New York in the 1920s and '30s.
"It came about through sort of a mix between jazz music, African culture, and European culture all fusing together," says Birkley Wisniewski, founder and director of the Sugar Swing dance club.
"We try to keep to the tradition of the old steps, just because there's such a big wealth of art and knowledge that we haven't really quite rediscovered fully."
Lindy Hop is a partner dance between a lead and a follow, characterized by a "pulse" of up and down movement. It includes six and eight-count steps, with footwork borrowed from its predecessors, Charleston and Tap. The dance was named by one of its earliest dancers, George "Shorty" Snowden, after a reporter asked what he called his fancy footwork. "Why, it's the Lindy Hop," Snowden replied, and the name stuck.
Early Lindy Hop dancers contributed scores of original moves, creating a diverse repertoire for future dancers to draw on and personalize. Of all the original swing-era Lindy Hoppers, the most well-recognized name in the swing community today is undoubtedly Frankie Manning.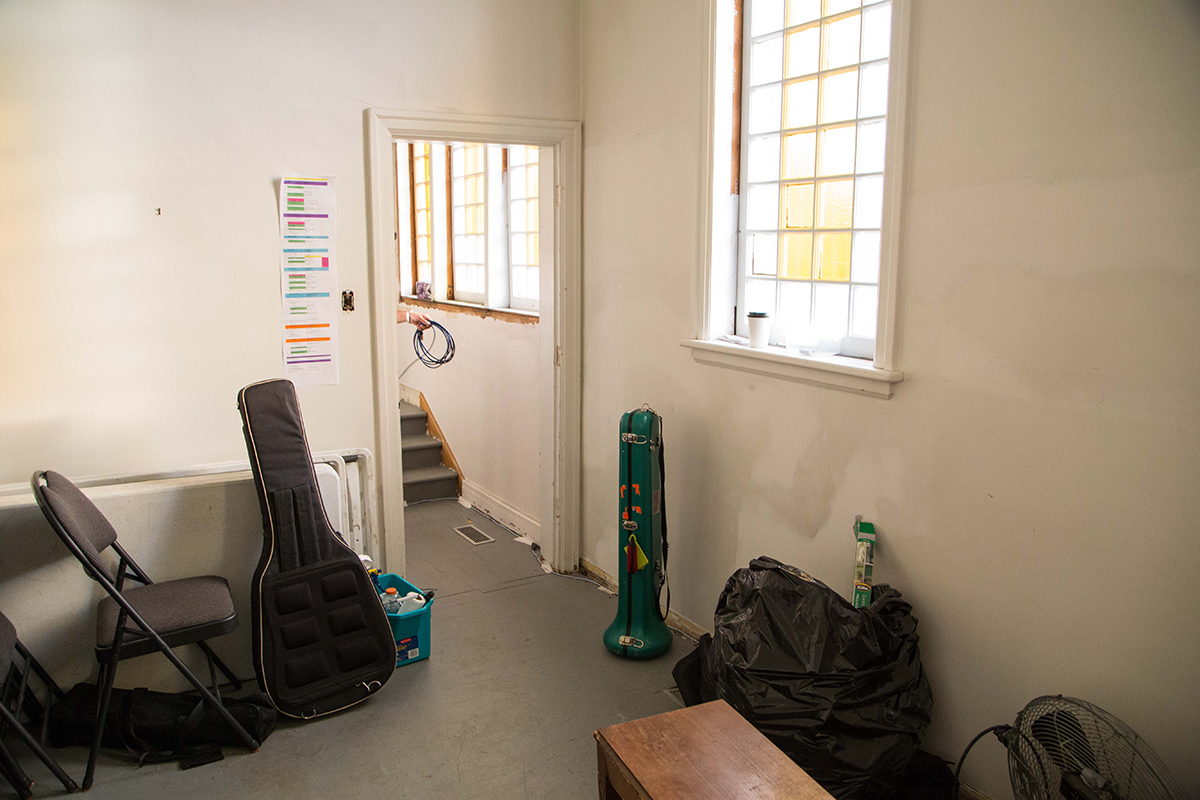 Manning, considered one of Lindy Hop's founders, was highly influential during the dance's formative years at the Savoy ballroom. Though there were several destinations for dancers to get their swing on in 1920s Harlem, the Savoy ballroom dominated due to its spacious dance floor and — perhaps most importantly — its status as one of the few racially integrated ballrooms in NYC.
Read Fenton, founder of Let's Swing Edmonton, explains that Lindy Hop is rooted in a culture of inclusivity.
"When the dance started in Harlem, New York in the '20s and '30s, segregation was still going strong. However, at the Savoy Ballroom, the home of the Lindy Hop, anyone could dance with anyone and all were welcome."
The sense of community that is the foundation of Lindy Hop has lasted through the decades. When you step into nearly any social swing dance event in the city, the warm and inviting atmosphere is immediately apparent.
Heather and Cameron Yule are regulars at Sugar Swing, and they fell in love with the community aspect of swing dancing.
"What we like about it is that it's a very inclusive community — everybody's welcome, and there's no restrictions on age so we never feel like we're old people here," says Heather Yule. "Everybody dances with everybody."
One uniting factor of Lindy Hop was its status as a street dance. As opposed to the stiff, upright ballroom styles popular among upper class white society, swing dancing is about getting loose, low, and even downright goofy.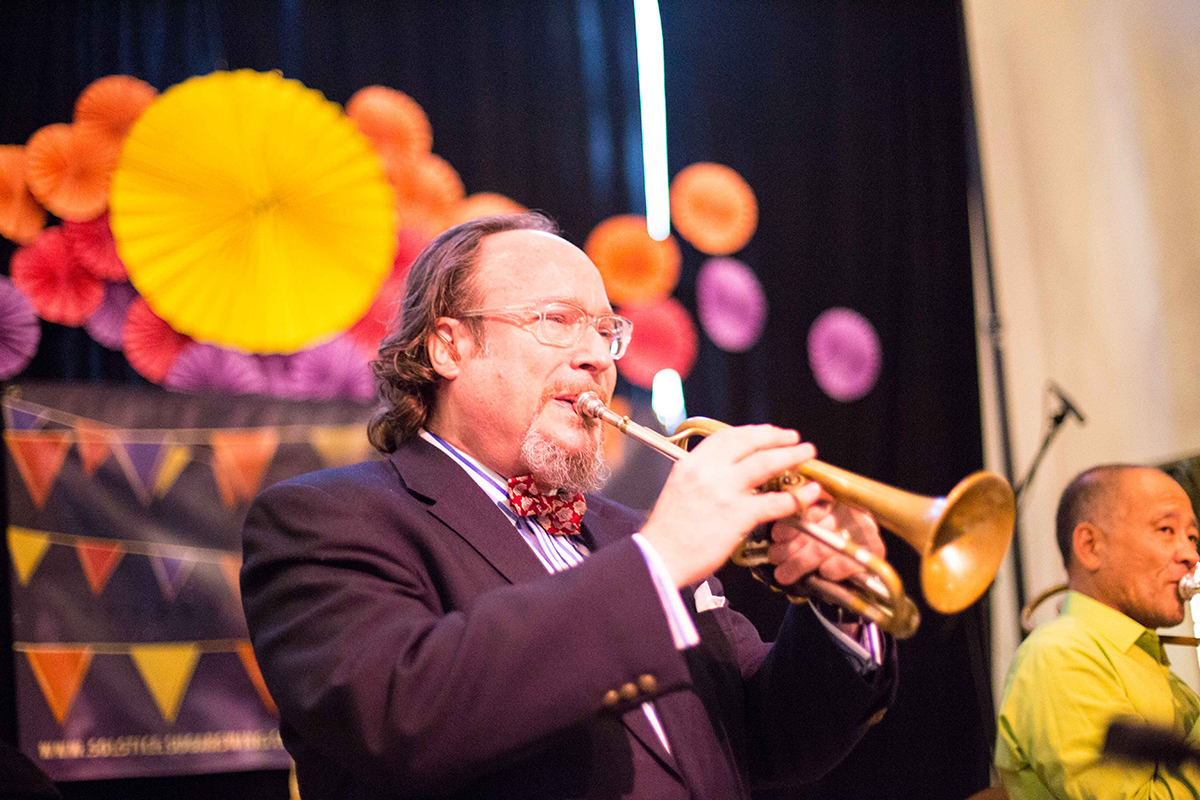 Swing music is a genre of jazz that inspired its namesake dance. The signature swing beat, strong rhythm, and unique energy combine to create a style of music that, for many, begs to be danced to.
"We dance to folk like Louis Armstrong, Ella Fitzgerald, Count Basie and Duke Ellington all night and that will make anyone happy," says Fenton. "The melody is always really catchy and you can understand the jazz. It is a great way to start learning about jazz and how music can inform your dancing."
Like any art form, swing dance is all about individual expression and creativity. Turlough Myers, a swing instructor, has been dancing for most of his life. "I like the fact that we get to fully express ourselves no matter what the emotion through jazz music in a really special and profound way, especially when the music is live," he says. "We're able to share a special bond and connection between partners and music."
Though the dance originally evolved in the early to mid-20th century, Lindy Hop has experienced several revivals over the years. The most notable of these occurred during the late 1990s, when popular interest in the dance was renewed as several swing revival bands began to emerge.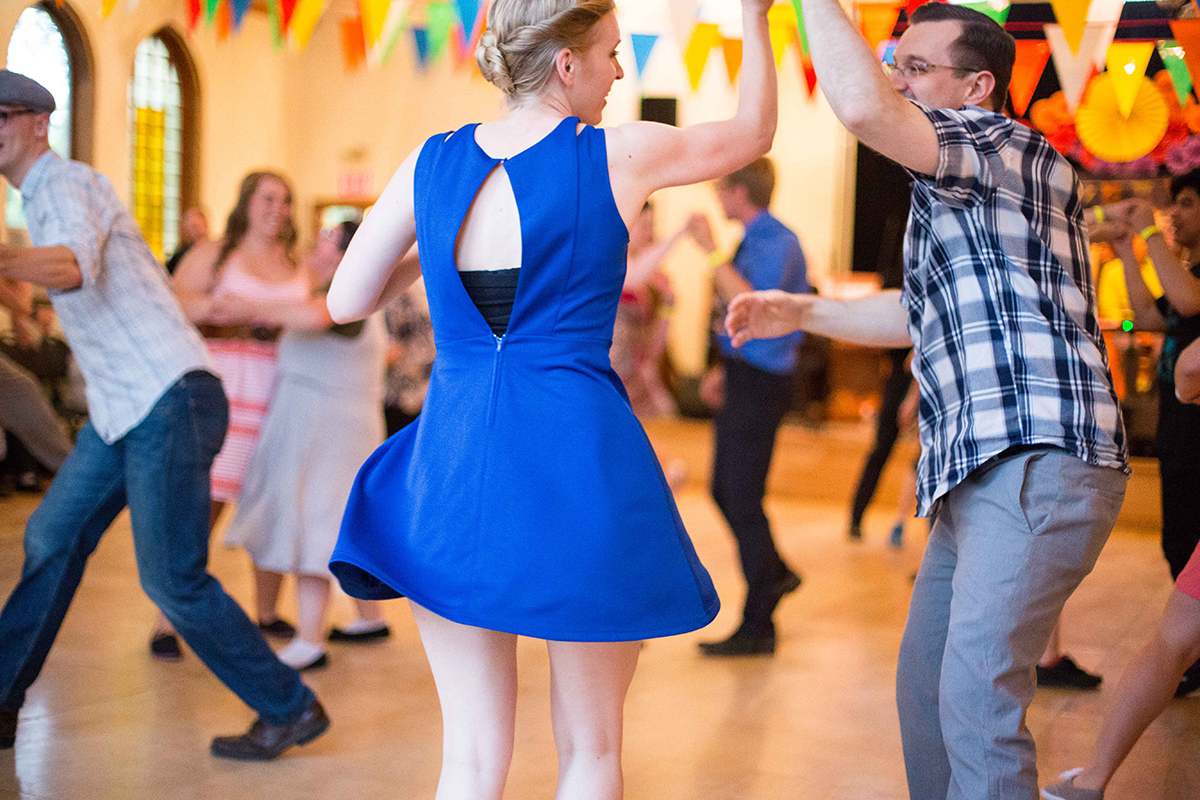 One of the first swing dance clubs in Edmonton was Swing-Out Edmonton, a combination dance club and student group at the University of Alberta. According to Caitlin Bullerkist, the club's current president, Swing-Out Edmonton started in 2001, about three years after the '90s swing revival had entered the mainstream.
"Swing dancing is really attractive to university students because it is an activity that is both physical and really social," Bullerkist explains. "It is the perfect opportunity to come out and get some exercise, but also make friends and socialize."
In 2005, Birkley Wisniewski was a recent University of Alberta graduate who had served as both VP and president of Swing-Out Edmonton. He was eager to expand the swing dance community in Edmonton beyond the university campus.
"I still wanted to swing dance," says Wisniewski of his thoughts at the time. "I still wanted to be involved in it, I still wanted to organize, and very importantly I wanted to see all of Edmonton exposed to this dance. So I started up Sugar Swing to really grow the scene in Edmonton so more people can learn about it."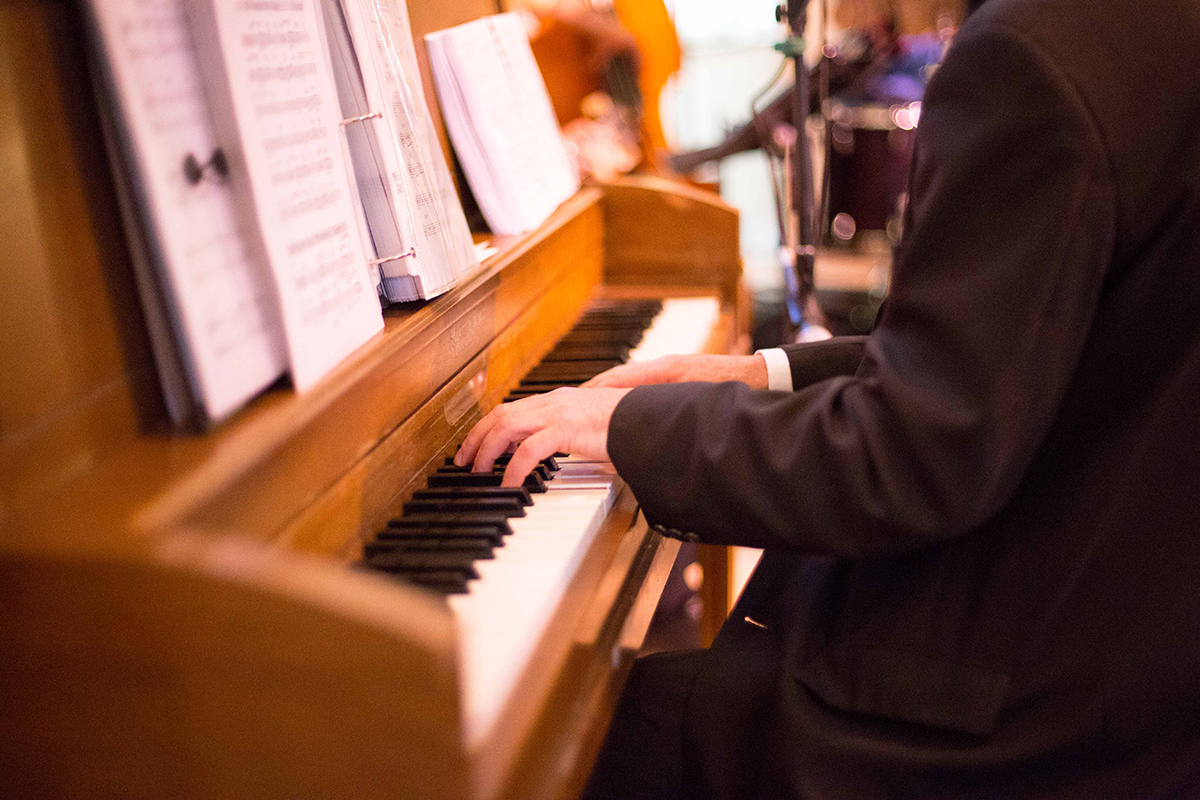 Since then, several other dance clubs have popped up across the city. Grant MacEwan and King's University have jumped on the campus swing bandwagon, along with independent dance schools and non-profits such as Let's Swing Edmonton and Hit That Jive Productions. As the scene has grown, Wisniewski has noticed many changes in the Edmonton swing community.
"It has grown a lot in terms of the numbers, but also in terms of the quality of dancing … now you have more dancers dancing, so the quality of dancing is better.
"I think another really good thing about our scene is our DJs are actually really good, so often times, say at out-of-town events, our DJs are very well-represented compared to any other scene in Canada."
Read Fenton began Let's Swing after seven years of teaching at Swing-Out Edmonton. Like Wisniewski, he had a desire to continue to expand the dance beyond campus borders.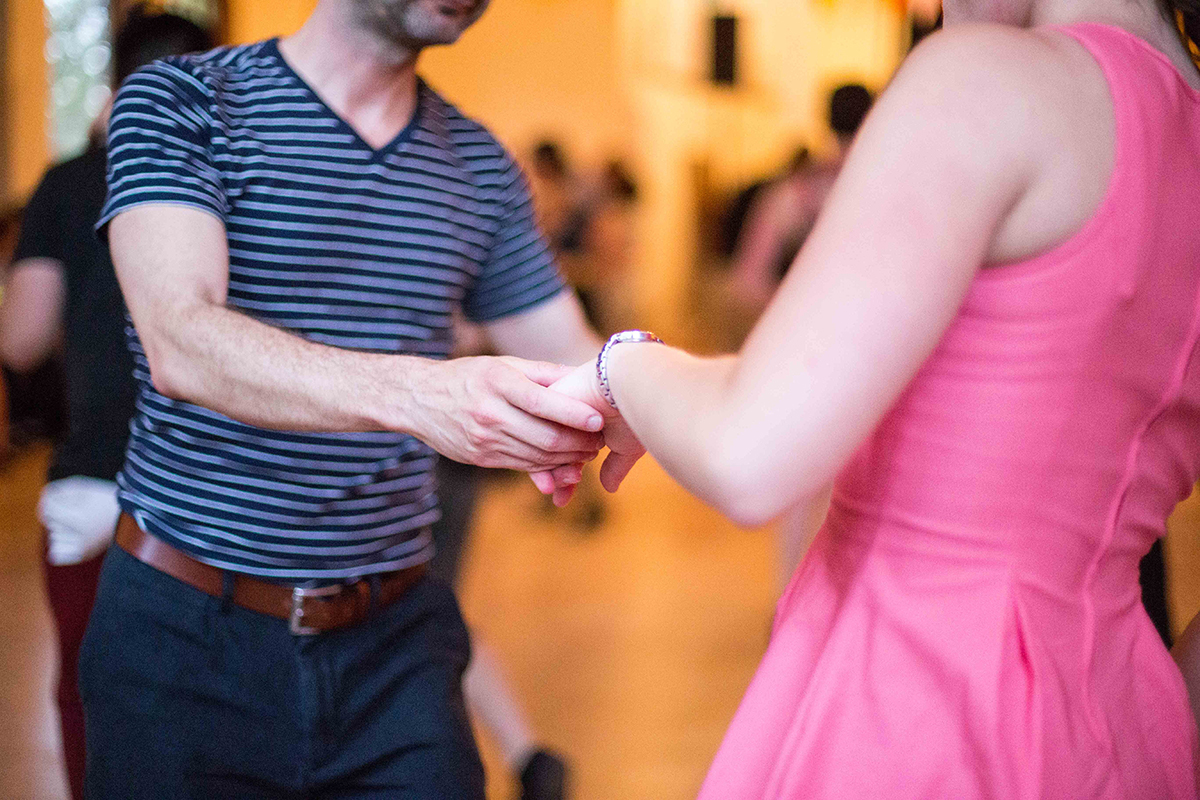 "I wanted my own platform to experiment and build something great off-campus that espoused the same values. While finishing my MBA at the University of Alberta School of Business, I decided now would be a great time to start something new and start sharing this great energy, community, and inclusive culture with a wider audience."
In addition to the social dancing community, performance and competitive swing dance are staples of Edmonton's swing scene. There are many opportunities to watch or participate in shows and competitions in Edmonton. The prairies are home to several annual workshops and dance festivals, where dancers congregate to learn from world-renowned instructors, showcase their moves in performances and competitions, and generally share the love of swing dance.
One such event is Sugar Swing's Summer Solstice swing dance festival, essentially a three day non-stop dance party, with dancing until 5:00 a.m. every night. Also known as a dance exchange, this festival attracts dancers from across the prairies, and even other parts of Canada and the United States.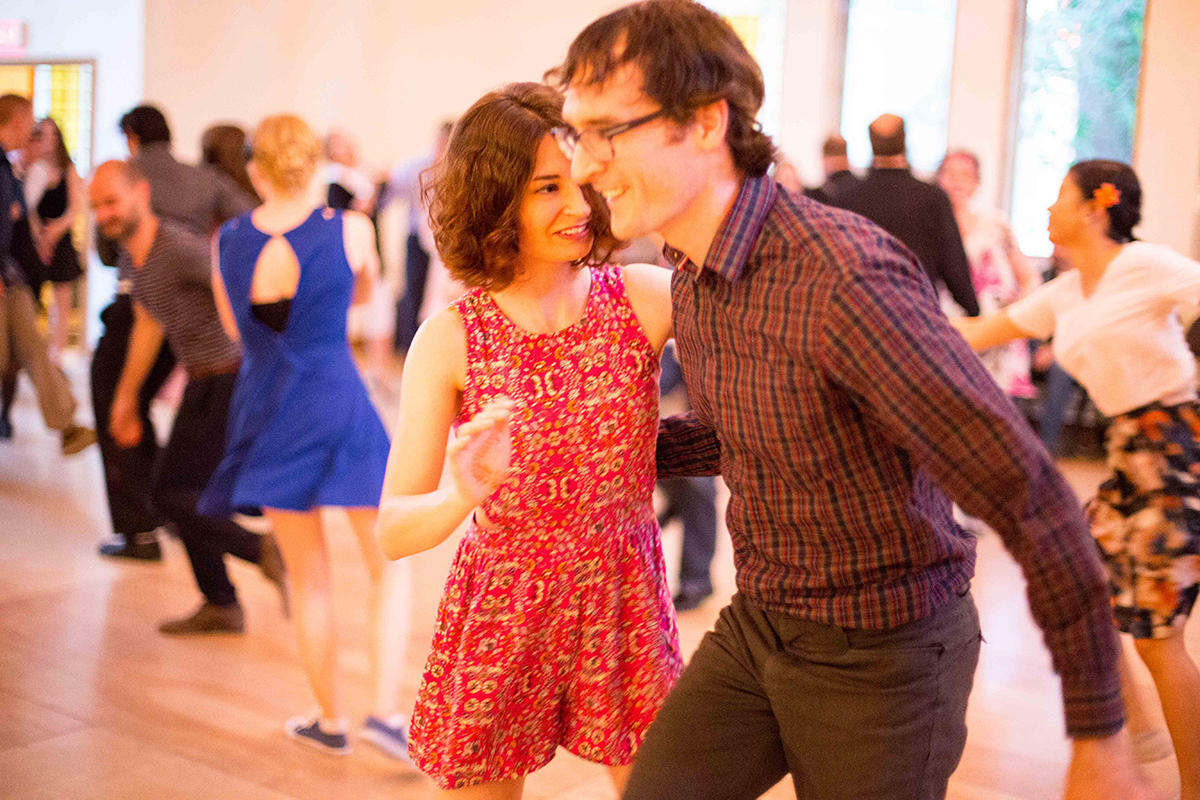 Jesse Taylor is a veteran of the festival, which takes place every June around the actual solstice.
"It's my favourite exchange. I love it so much because it's the perfect storm of amazing people, friendly inviting atmosphere, crazy awesome music, and it goes for days!"
Summer Solstice offers a variety of activities throughout the weekend, including outdoor dances, live music, competitions and performances.
"What contests there are, are super inclusive and entertaining to watch. It's hard to describe it succinctly but it's always been an amazingly good time for me."
For those interested in learning to swing dance, there are plenty of options. Sugar Swing offers a variety of lessons almost every day of the week, incorporating several dance styles and levels. There is also a beginner lesson at 8:00 pm every Friday and Saturday before the social dance.
And if you are a beginner, you can rest assured that you'll be welcomed into the community with open arms. Wisniewski advises novices to "remember to socialize, remember to have fun with the music, and get out there and party!"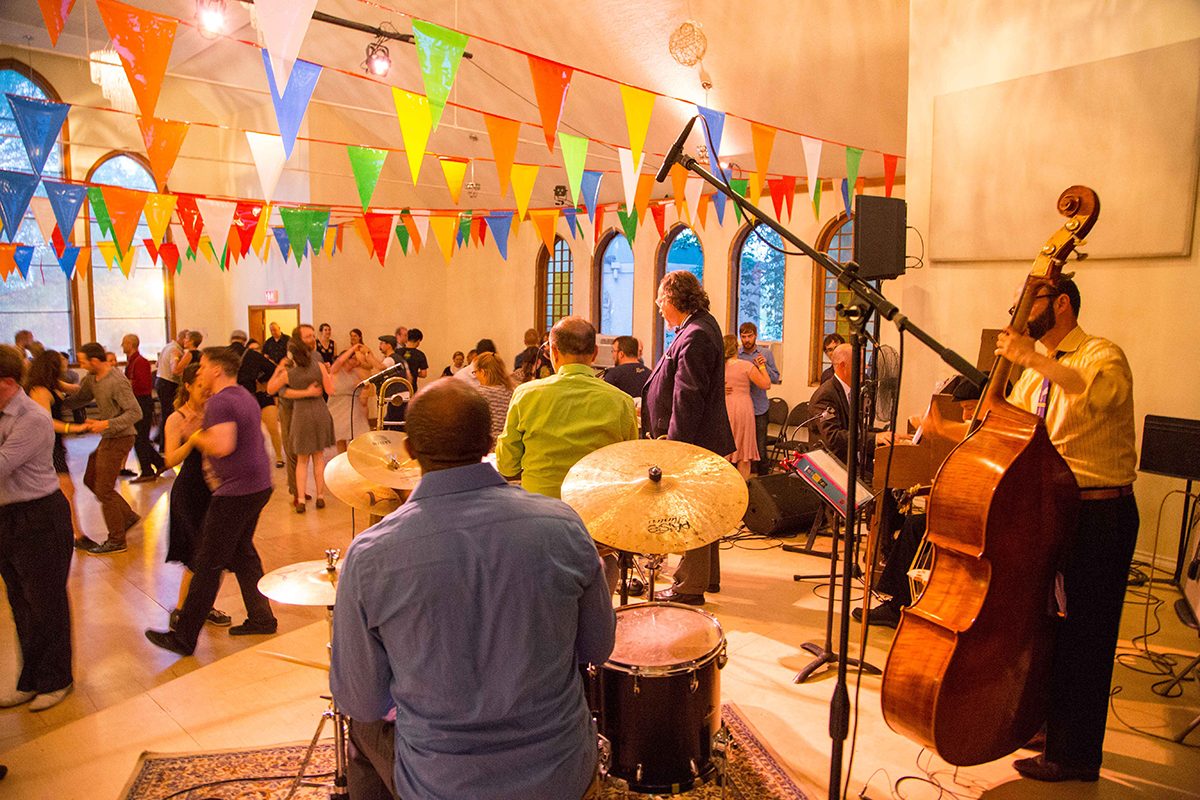 Let's Swing Edmonton also offers beginner swing lessons at Foot Notes Dance Studio.
Class information and schedules can be found on the Let's Swing and Sugar Swing websites:
Let's Swing: http://letsswing.ca/
Sugar Swing: http://www.sugarswing.com
Of course, if you're at the U of A, MacEwan or King's, you can always join your university club for benefits like on-campus dances and student discounts.
University of Alberta: http://www.swingoutedmonton.com/
Grant MacEwan University: https://www.facebook.com/MacEwanUniversitySwingDanceClub/
King's University: https://www.facebook.com/groups/480363255316489/