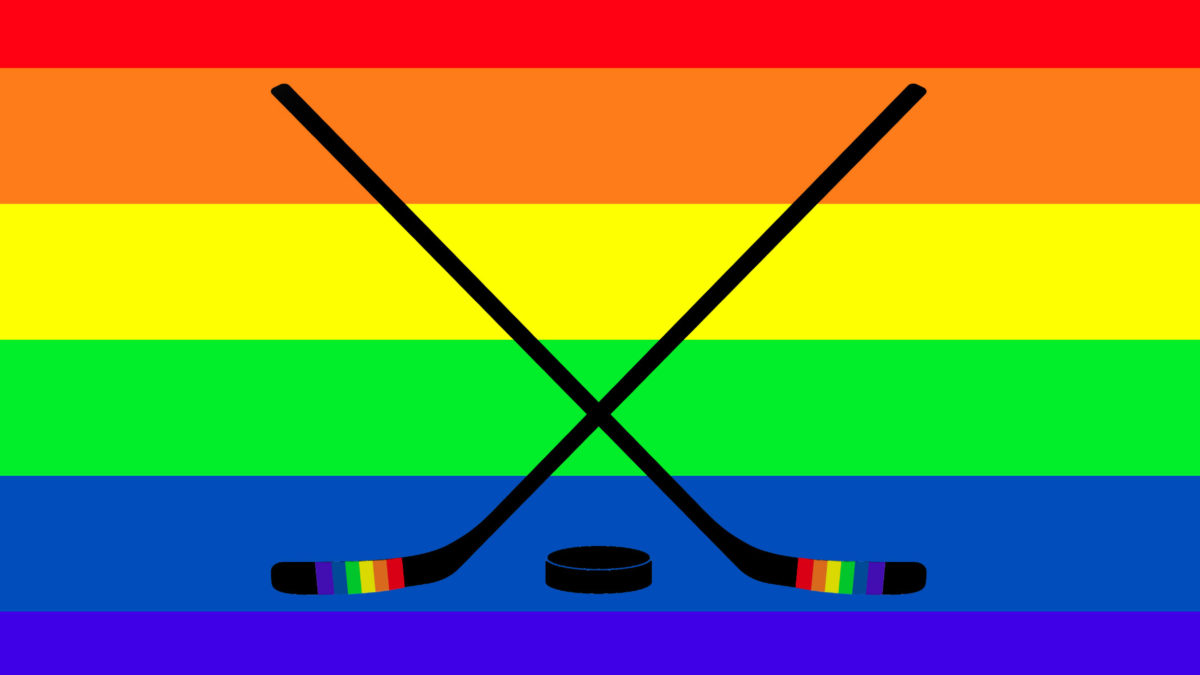 Lifelong hockey player Andy King was always the "quiet person who doesn't say anything" on the team. Now, as captain of the University of Alberta's LGBTQ hockey team, they feel more like a part of the team than ever before.
"(Playing on the LGBTQ team has) a reduction of the sort of bitter competition in sports, which is really nice," King said. "It's more about fostering teamwork and trying our best and that it's okay if the best isn't winning."
Coordinated by Parker Leflar and Colleen Pirie of The Landing, the U of A's student support service for gender and sexual diversity, the team is home to LGBTQ students and their supporters. It was created after the Ministry of Human Services awarded The Landing a Family Community Safety grant in September 2015, which was used to sponsor the team and provide equipment to members. Students began joining and playing intramural games regularly in September 2016.
The intramural team is intended to foster a supportive, safe environment on the ice where all students, staff, and alumni can feel comfortable — particularly those who identify as gender or sexual minorities who may have felt uncomfortable playing on hockey teams emphasizing binary genders. The team currently has 35 members on its roster. All games are open to spectators. Schedules for the intramural hockey games can be found on the IMLeagues website.
Though The Landing's team plays in the university's intramural men's recreational hockey league, it's open to all genders and all abilities. About three-quarters of the team hasn't played hockey before, making its progression "really cool" to watch.
"Everyone's super encouraging of each other," King said. "Everyone passes to everyone — there's not sort of highlighting one person who's the superstar trying to get all the goals. The goal isn't goals."
Sociologist and postdoctoral researcher Cheryl MacDonald from the university's Institute for Sexual Minority Studies and Services said it's "very cool" that the LGBTQ team is in a league with teams that don't necessarily identify the same way.
"In gay hockey leagues, it's fantastic that people have found a safe place where they can participate in their sport," said MacDonald, whose research focuses on making men's hockey more inclusive for sexual and gender minorities. "But at the same time there's that segregation where they're still separate from other populations."
The team has been well received by the rest of the intramural league. They have been praised for their inclusive objective and passion for the game.
MacDonald wants to see changes in LGBTQ presence in hockey — right now, the world of hockey mostly understands gender and sexuality as binaries and she wants to see that shift to a broader spectrum.
"We're focusing a lot just on homosexuality right now and while that is very important, I'm hoping that we will also expand to people who identify otherwise," MacDonald said. "Not just in keeping with that binary of 'You're either gay or straight.'"
King feels that hockey is still male-dominated, and should be more co-ed and open to everyone.
"I wonder how much it is necessary to split it up into the binary genders, especially because that leaves a lot of people out," King said. "At this level it needs to be more open … just opening it up to everyone regardless of how they identify."
King hopes more members will continue to join The Landing's team. The team's guidelines make sure that every player feels comfortable.