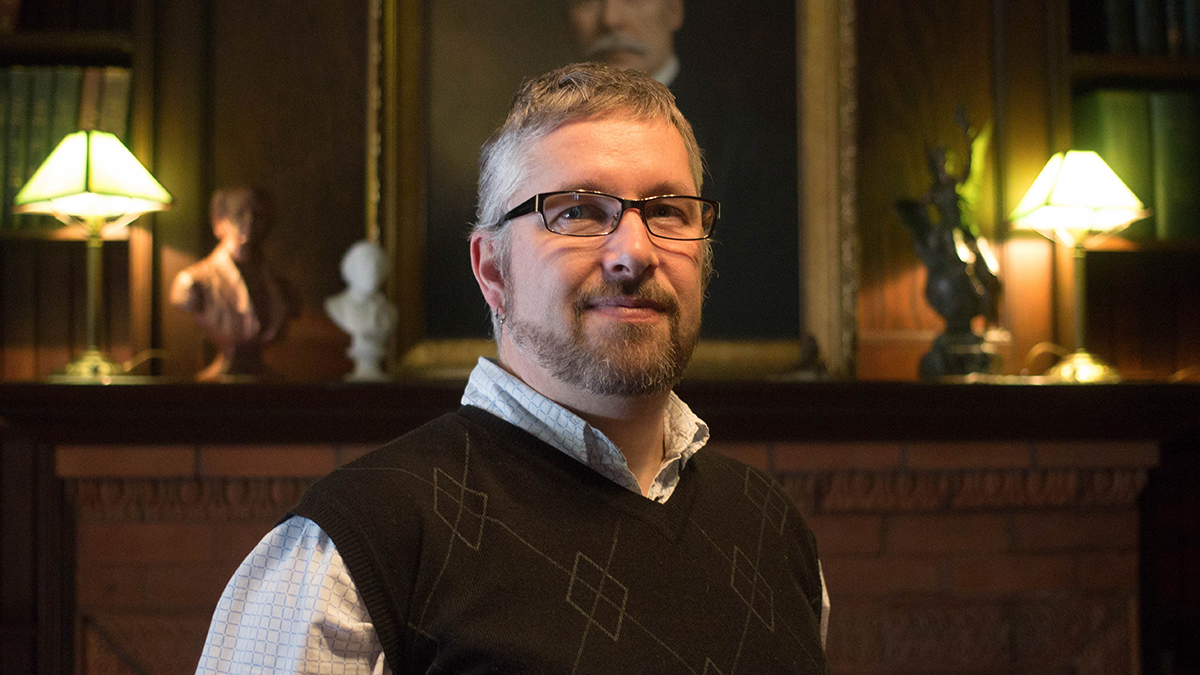 The Edwardian-era mansion sitting on the corner of Saskatchewan Drive is dwarfed by its colossal modern neighbour, HUB Mall. However, long before the eclectic residence/food court, Saskatchewan Drive, or even the University of Alberta campus existed on this land, Rutherford House was the stately brick home of Alexander Cameron Rutherford.
Rutherford House, or Achnacarry as it was referred to by the Rutherford family, was the personal residence of Alexander Rutherford from 1911 to 1940. He was the first premier of Alberta, and was instrumental in the origins of the U of A. Today, as a Provincial Historic Site, his former home offers Albertans, Edmontonians, students, and anyone with a lust for the past, the opportunity to engage with Albertan and U of A history.
8,000 books from Rutherford's collection formed the basis of what would one day become Rutherford Library. But curious visitors to Rutherford House can still experience the tranquility of Rutherford's personal library.
Edward van Vliet, Facility Supervisor of Rutherford House, describes a room full of books with beautiful old bindings from
floor to ceiling and wall to wall. He says the library is one of the rooms visitors respond to the most.
"I think there's a real appeal to (the library), as well as the richness of the furniture, the book cases, the mantel piece, and the stately portrait (of Alexander Rutherford)," says
van Vliet. "There's something about it that really draws people. People wish they had this library."
Van Vliet tells a story of how Rutherford's personal books used to be borrowed by students in the university's formative years, and how he would hide money inside some of them for students to find. Those who found the money would often try to return it to Rutherford, but being a generous person, he would always tell them to keep it, says van Vliet. However, now that Rutherford House has museum status, the books are off limits to those eager to stumble across some extra coffee money.
If it's not the library and collection of old books that elicit a response from first time visitors, it's the kitchen, says van Vliet. "The big stainless steel stove, it's nostalgic," he says, commenting that visitors often fondly remember their grandmother having a similar one.
Though not too many loaves of bread are baked in the old stove these days, a restaurant is something Rutherford House is looking to open sooner rather than later, says van Vliet.
There are many different reasons people visit Rutherford House. Some students simply want to know what the building is and what it's like on the inside, while others are fascinated by the symmetrical architecture, immense use of wood, and peaceful atmosphere of the house, says van Vliet. But even as a relic of the past, one that came long before the contemporary stresses of stats finals and woes of eating Ho Ho's, Rutherford House still has its sights set on the future.
"We are endeavouring to offer more things that might be more appealing to university students," says van Vliet. "That is one of our goals, and we would love input from people for that."