Indigenous languages program receives provincial grant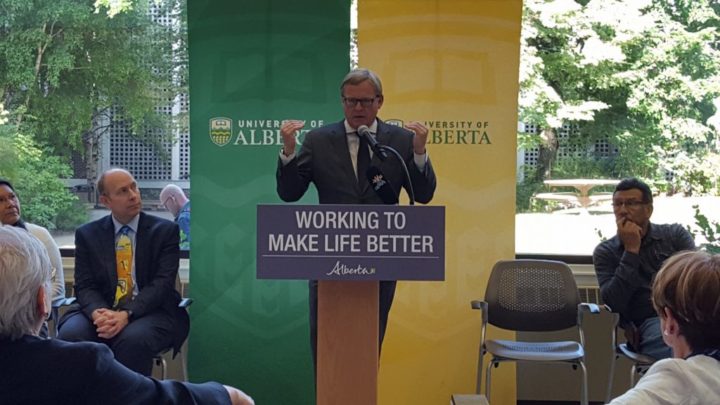 A University of Alberta institute for preserving indigenous languages in Canada has received a $665,000 grant from the Government of Alberta to expand its services.
The Canadian Indigenous Languages and Literacy Development Institute (CILLDI) is an annual summer school where First Nations language educators train to teach and preserve indigenous languages, working with kindergarten to Grade 12 students. Operating since 2000, it is a tri-faculty initiative involving the Faculty of Native Studies, Arts, and Education. CILLDI students work directly with communities while earning credits towards their program.
The new grant was announced in a press conference Tuesday morning, with Minister of Education David Eggen in attendance, as well as the U of A provost, Steven Dew. The money will go to CILLDI over three years.
Details like the number of additional language instructors the grant will fund were not elaborated upon, but Eggen said the new funding represents an expansion of the program.
"We recognize it's a longstanding program that's very popular, but we want more fluent speakers in classrooms, and we want to make sure that is flexible," Eggen said. "It's a good investment dollar in, dollar out. But more importantly, it's an investment in culture."
Eggen also said expanding the program would lead to something similar to French immersion, but it would take a long-term commitment. The news was met with praise from Lubicon Lake Band Chief Billy Joe Laboucan,
"This announcement is a really major step in being able to address the wrongs of education, and also honors our languages but also truth and reconciliation," Laboucan said.
CILLDI co-founder Heather Blair, who also attended the press conference, echoed Laboucan's sentiment.
"These languages are sacred to the elders and speakers, and rejuvenation of them is essential in the rebuilding of the relationship between all nations in the province," Blair said. "These bursaries will go a very long way in assisting current instructors to gain new expertise and to prepare new instructors."