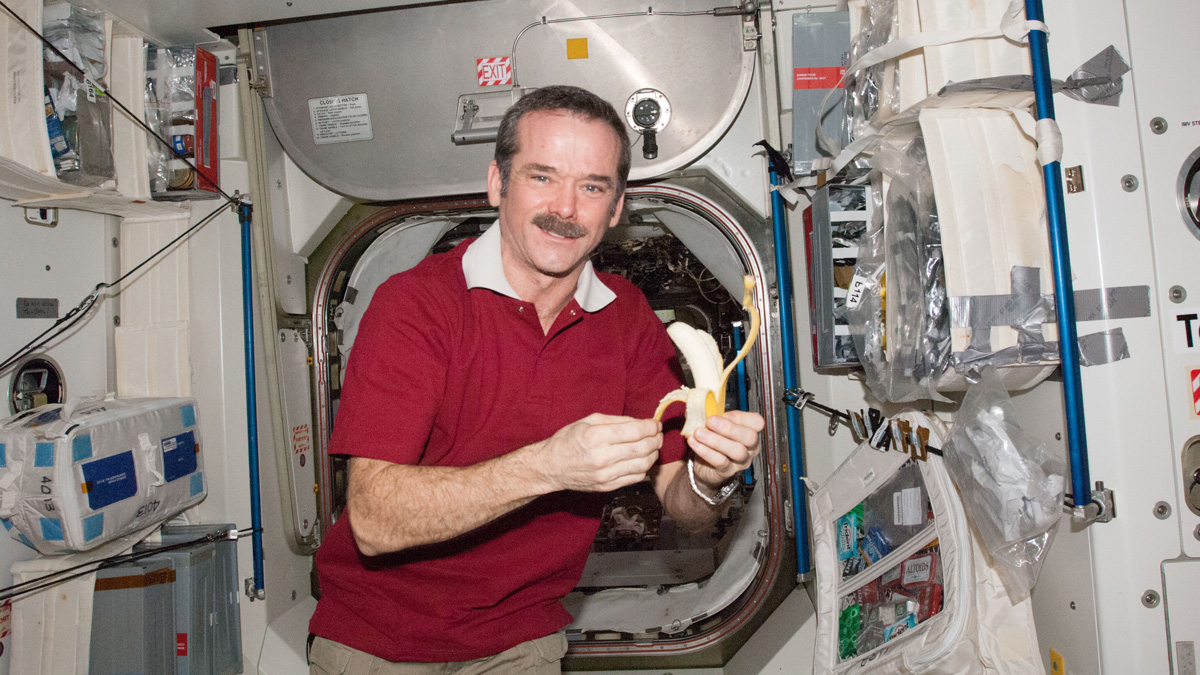 Chris Hadfield, the guitar playing astronaut, the first Canadian to do a spacewalk, and the first Canadian Commander of the International Space Station, is speaking at the Jubilee Auditorium on October 1.
Originally an engineer and Air Force fighter pilot, Colonel Hadfield went on his first space mission in 1995 where he completed the first spacewalk by a Canadian while helping to install the Canadarm2. He went on to do two more trips to space, one in 2001, and the other in 2012 where he took on the role of commander of the International Space Station. He has also served as NASA's chief of robotics, CAPCOM, and NASA's operation in Russia.
Hadfield may be back on earth but he is certainly no less busy. He's gone on to speak to students and adults alike all around the world. He's written books, performed music, and become a major science communicator.
We spoke to Chris this week about his university experience, advice for students, and how the fine arts and sciences connect. This interview is edited for length and clarity, but you can listen to the whole thing here:
The Gateway: What was your university experience like?
Hadfield: I have two university degrees: my undergraduate in mechanical engineering, and my masters in aviation aerospace. I think university is a really interesting and important formative time. I've been a student my whole life, and the 21 years I served as an astronaut was very much me continuing to be a student.
What kind of advice would you give to undergraduate students, particularly ones that are interested in pursuing careers in STEM?
Well a couple things. Number one is focus intently on the core of your area of expertise. You should come out of an engineering or a science degree with a really deep understanding, at least at the undergraduate level, of the core subject that you're studying.
But at the same time universities shouldn't just be about one thing. Universities generally have a huge variety of other things are available on campus like clubs and organizations. Don't just think of university as the black and white bits that lead directly to the one part of your degree. But try and absorb and benefit from the entire experience.
Moving in a different direction with the advice for undergraduates, what would you say to Canadian women and other minorities in the STEM field?
The most experienced woman in the history of human spaceflight in the United States and the chief astronaut for NASA is a woman scientist named Peggy Whitson. The chief of the Johnson Space Centre is a woman named Ellen Ochoa. Suni Williams has commanded the International Space Station. So, I really don't think your chromosomal arrangement matters. What's important to me is your drive and your competence and your ability to do things that you've never done before. So to focus I think on some sort of societal inertia that has led to some sort of set of circumstances, I think that's symptomatic. It's not necessarily the core of what a student should be focusing on.
Your music, writing, and photography have had a major impact on the public's understanding and connection to space exploration. What do you think the importance of fine arts is in STEM?
I think that science and art don't know that they're supposed to be separate. But if you just spent one minute looking at a rainbow or the northern lights, you can see that the two of them are the same. If you think the two of them are independent, then you're just a poor student of reality.
So I think there's incredible complexity and mathematics and science in everything that goes into art and vice versa. And I'm just sort of a weird embodiment of that because I've studied engineering and maths and science my whole life and I have the university degrees to prove it.
But at the same time, I have a great appreciation for the beauty of life around me and how technology can allow us to see it and appreciate it in a way that perhaps you couldn't any other way.
I went on a spacewalk through the Aurora. So it's as technical a thing as a human being could do. Wearing a spacesuit on the outside of a spaceship, building a huge robot onto a space station. But while I was doing that, we flew through the southern lights. And they poured around the ship and flowed past me and between my legs and that was intrinsically artistic and uplifting to the soul as anything could possibly be. So I think you ignore one or the other at your own peril.
There's a lot going on at the University of Alberta this year regarding space exploration. Students and faculty here have created the Ex-Alta 1 satellite that was put into orbit on May 26, 2017. What do you think of organizations like QB50 that are encouraging students to get involved in space research and exploration?
I think the best part of exploration is that it shows your horizons beyond the one that you used to know. And horizons are generally the limit of what we expect of ourselves and what we expect of the world around us. A horizon is the edge of our understanding. The beauty of exploration is that it increases the distance of those horizons. It decreases your myopia, it increases and expands your perception of the universe around you.
Any program like that where you can let people see beyond what they saw before, when you can either physically or metaphorically allow people to look beyond the limitations of the horizon which they were raised with, I think is really important.
The education system in Alberta is I think the most progressive in the country. I've spoken at a lot of schools across Alberta and it's a very bold and almost experimental education system that you have to your benefit.
So I think at the U of A there are some terrific programs and you guys are doing a lot of work. That's part of the reason I'm looking forward to coming and speaking there, is to just be part of that.
Podcast: Play in new window | Download
Subscribe: Apple Podcasts | Android | RSS