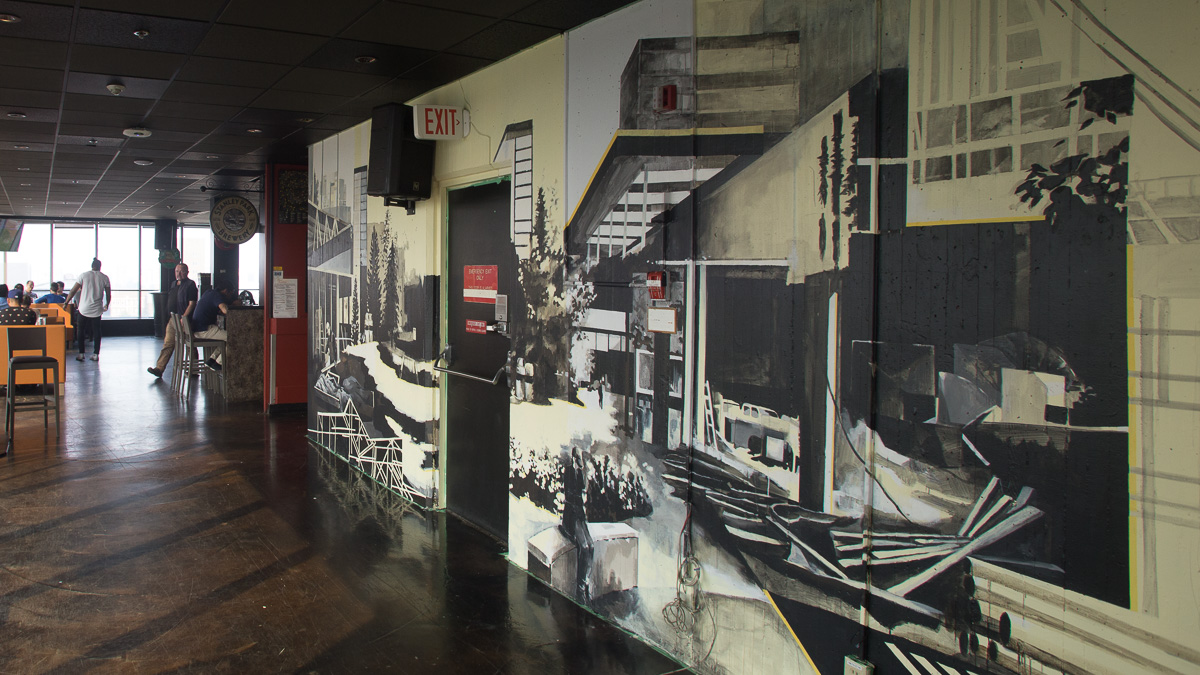 In the middle of the Students' Union Building's 50th anniversary, the Students' Union decided to make some renovations to Room at the Top including new furniture,  paint, electrical outlets and an alumni-made mural. Although the renovations aren't complete yet, The Gateway asked Robyn Paches, the vice-president (operations and finance) of the Students' Union, about what students can expect from RATT this year.
The Gateway: What renovations have been done to RATT so far?
Paches: We have all new furniture, new tables, new chairs, and booths all around the space. We also did some paint work too; we repainted the ceiling, we changed the colour to a matte grey instead of the glossy black we had. Also, we installed electrical outlets because a lot of students were using the space to study, now they can plug in their laptops and phones. Finally, we commissioned a student mural which was done by Michelle Paterok and Agata Garbowska, two recent graduates of the university's visual arts program.
What other renovations do you have planned for RATT?
We have new lighting coming in to provide a warm atmosphere. We're also going to be doing some more minor painting on the pillars, and we're going to make some touch-ups to the bar.
Why did the Students' Union decide to renovate RATT?
Firstly, because students were asking for it. We heard a lot from them that RATT wasn't what they were expecting and that it was starting to become dated. Secondly, because in this kind of place you need to continue to refurbish and refresh yourself so you're new and relevant.
How much will the renovations cost in the end?
I don't have final numbers yet because we're still doing a lot of the work. However, the amount that was budgeted for and approved by Students' Council last year was $75,000, but the actual cost could be below that.
Where is that money coming from?
The money specifically comes from the capital budget, the money that the Students' Union invests into our operations to ensure they continue to be successful. That money comes from where our revenues come from, mostly our business services.
Why did you decide to include a mural?
We wanted something to give the space a personality and something that got people excited to come up and check it out. Also, we wanted the space to have an element of being created by students for students, which is a lot of what we do in Students' Union. I think we had about 12 submissions and we selected the submission that we did and it turned out amazing. It creates a portion of personality on campus. Anytime you incorporate art into a space it just makes the space more beautiful.
Why did you choose the mural submission that you did?
In the request, we asked for something that celebrated the Students' Union, the U of A, and the 50th anniversary of the Students' Union Building. We asked for a current student or a very recent graduate and once we evaluated them, the design that Paterok and Garbowska submitted was the one that fit the best.
How do students like the renovations?
Over the last week I've gone to RATT multiple times and I was asking tables what they thought about the space and pretty much everyone I've talked to said positive things about it. They find it more comfortable, they find it a little more welcoming.
With the renovations are you planning to host more events or activities?
We have a renewed focus this year on taking a priority in student-led events. We've seen a big influx in students groups coming and hosting events above RATT and Dewey's, so yes we anticipate to bring more students groups.