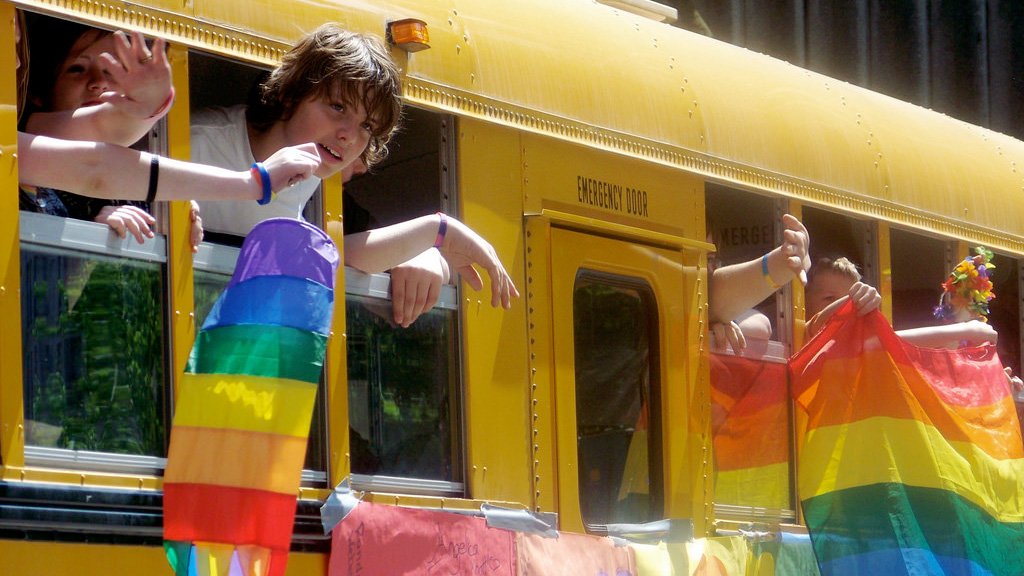 One-fifth of school boards still have not completed LGBTQ policies, so the Alberta government must back up their directives with financial consequences.
In 2015, the Alberta government directed school boards in the province to develop policies regarding gay-straight alliances, washroom access for trans students, and other LGBTQ issues. Despite this, 22 per cent of Alberta school boards have not yet completed their policies.
There are real ramifications for students who attend schools that are not directed by an LGBTQ policy. Although GSAs are written into the School Act and sexual orientation is now protected by the Human Rights Act, other issues remain at the discretion of each school, including washroom access for transgender students and procedures around gender segregation in gym classes or on sports teams. Without a comprehensive policy, LGBTQ students will not know if their schools will respect their identities, and many may be forced to remain in the closet for fear of discrimination from the people who are supposed to educate and support them.
So why aren't school boards taking action? Because the Minister of Education simply hasn't made it worth their while.
In September 2016, the Minister set a deadline of March 31, 2017 for boards to complete their policies. The Baptist Christian Education Society was one of the school boards that stated they would not comply with the directive because it opposed their religious views. In response, the Minister indicated that defunding the board was an option he was considering. At the end of March, the board still had not complied with the directive.
Schools are not complying fully with the government's directive because the Minister has proven that he will not back up his directives with actual consequences.
This government must pressure the school boards that have left their policies incomplete and send out a release explicitly stating that if school boards still have not fully approved their policies by that date, they will be defunded. Full stop.
A common argument against defunding these school boards is that in many areas of the province, students only have one school in their area, and defunding school boards could deny children access to education. This is precisely why school boards must be given an ultimatum.
LGBTQ students in rural areas rarely have the option to change schools if their peers or teachers espouse homophobic or transphobic attitudes. And schools espousing those attitudes are not unheard of. Pastor Brian Coldwell, the chair of the Baptist Christian Education Society and one of the fiercest opponents of gay-straight alliances in schools, has characterized what he calls "gay activists" as "hostile" forces who will "corrupt" his students. This board, and boards who have refused to develop policies across the province, have proven to not care about LGBTQ students' human rights, and therefore cannot be expected to protect those students without it being written into policy.
Alberta NDP representatives are regular attendees of pride festivals across the province. They ran the province's first three LGBTQ MLAs. So why is the government refusing to enforce this legislation that they have worked towards for years? Despite a myriad of letters, inquests, and directives from the Minister to school boards, we have seen no concrete action by this government to force the hands of school boards who refuse to drag themselves into the 21st century.
To the students at these schools where they are shunned and forced to remain in the closet by the people who should be their support system: Minister Eggen told you in 2015 that you have the right to feel safe at your schools, to establish GSAs, and to use whatever washroom fits your identity. Let's hope he starts putting those words into action.