Students can live in a senior's home near the university for $700/month
Nathan Fung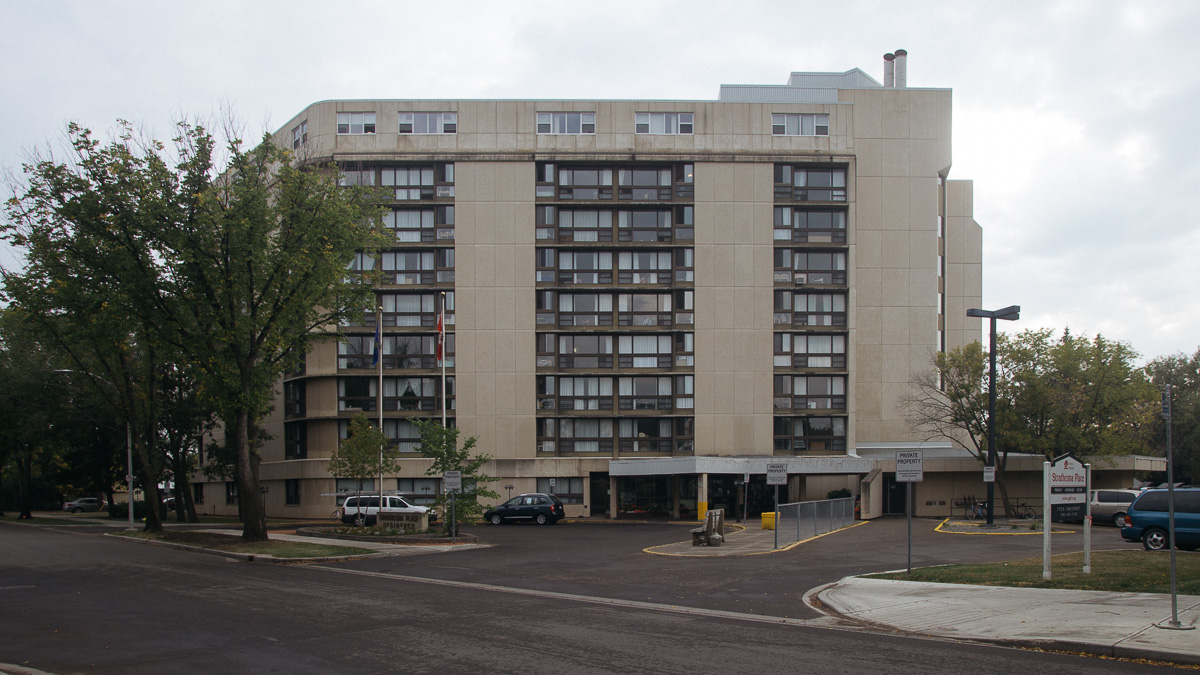 It was a last minute change of plans that saw Ashley Daigle living at the Strathcona Place Senior Centre.
The building, located about two kilometers away from the University of Alberta, provides subsidized housing for seniors. When Strathcona Place found that they had about 80 vacant bachelor suites, the building's management began to rent them to students in 2013 as a way to regain lost revenue. They rent up to 25 suites to students a year.
Daigle, a second-year arts student, had originally planned to live with two other roommates while paying around $500 a month for rent. But that plan fell through, so she turned to renting a suite at Strathcona Place, where a friend had lived there the year before. While rent there is $700 for 325 square feet, including all utilities and basic cable, Daigle said she doesn't mind the extra cost.
"It would've been cheaper to live with roommates but I'm a pretty private person, so I figured that I could have the best of both worlds in a place that did a little bit of both," she said.
This is the first time Daigle is living on her own. During her first year at the U of A, she still lived at home in Gibbons, a town of about 3,100 people, and commuting to campus took about an hour every day, which was something she didn't want to put up with in her second year. So far, her stay at Strathcona Place and her experiences with the seniors who live there has been positive, she compared it to a typical apartment but where everyone else is 50 years older than her.
"Everyone is very friendly," she said. "There will be a group of seniors and they would sit at the foot of the stairs at the elevator, and every time you come down they'll say, 'Hey how are you?' It's a lot more sociable and community oriented."
Daigle said that living at Strathcona Place lets her keep the peace and quiet of home while still being able to have a few guests around.
"It's very quiet but you still have enough space to have people over in the evenings, but not to throw ragers or anything," she said.
With the positive experience that she's had so far, Daigle said she's open to staying there another year. However, she does think that there's one other thing students ought to know before thinking of living there.
"I would warn potential students to come in there knowing that they need an air conditioner, because it's pretty hot. But that's the only thing," she said.