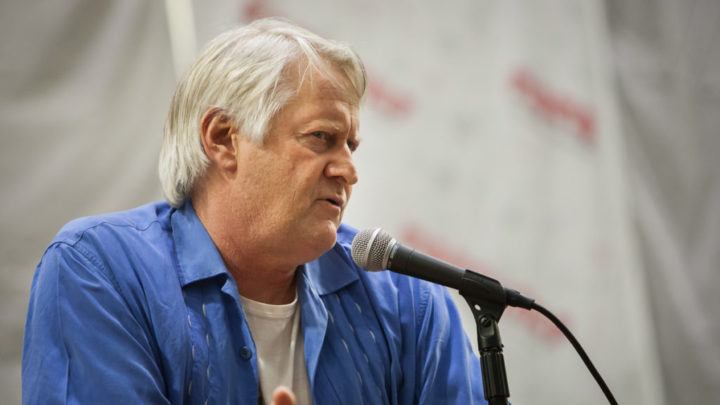 When Charles Martinet crashed a voice acting audition back in 1990, he never expected he'd be voicing Mario of the beloved Super Mario series and having an impact on kids' lives worldwide for decades to come.
Martinet, who is a classically trained actor, came up with the iconic voice after some trial and error.
"My first instinct when they told me (at the audition), 'Okay, you're an Italian plumber from Brooklyn,' make up a character, start talking, and when you stop talking, that's your audition, that's when my initial instinct was to (do a heavily Italian-accented voice)," Martinet says. "But I thought, 'I don't want to do a character that is gruff and coarse talking to (potential children) — I have a principle, too, that comedy shouldn't be hurtful to anybody and sharp-edged. I thought then that I could do this other voice, and what I chose was this younger version of the character I played (when I was acting in) The Taming of the Shrew."
That voice ended up being the one that has so famously rung through the level endings of countless Mario games.
Martinet, who also voices characters in the Super Mario series like Baby Mario, Luigi, Baby Luigi, Wario, Waluigi, and Toadsworth, says the celebrity that came with voicing the eponymous character was surreal.
"One day (at an industry trade show) … I was walking along and someone said,, 'Hi! Are you Charles Martinet? Could you autograph something for me?' and I thought, 'Autograph? Well, I could, but I don't have a pen or paper!'" he says. "He pulled a copy of the game up, pulled a pen up, and I stood there signing his copy of the game, and by the time I looked up, there were 20 people standing behind him. That was a total surprise."
Martinet is in town this year for the 2017 Edmonton Expo at Northlands. "It's such a privilege to meet fans of Mario (at places like the Edmonton) Expo; people who enjoy the games and the characters that I enjoy doing. It's such an honour and such a joy."
Conventions and meet-and-greets with fans are as incredible for Martinet as they are for the fans. "I'm a Mario fan, too, and when I go to the Edmonton Expo and I get to meet more Mario fans, there's a certain level of magic to it. I love the Comic Con, Expo model of creating a wonderful safe place for people to express themselves, to dress in their favourite characters, just go out and just have a great time meeting people who share their passions; share their joys," Martinet says.
Some final words from the legend himself? "Life's short. You've got to be doing what you love to be doing in it."
Words to live by.