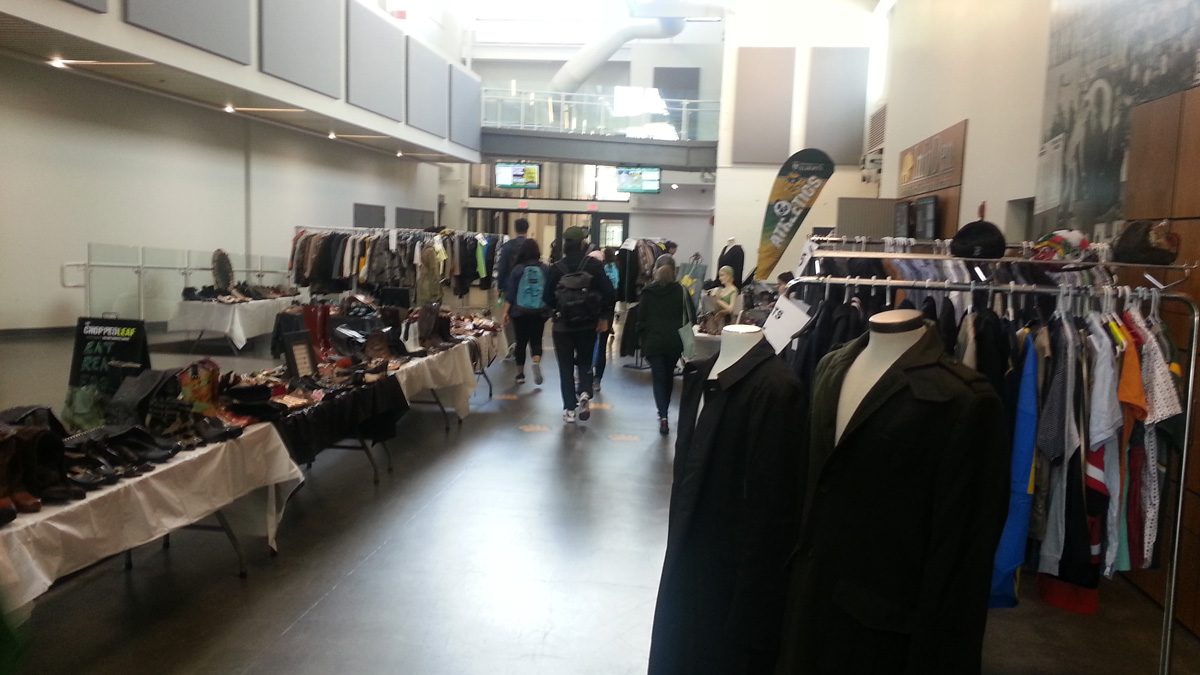 What: Thriftology
When: September 25 – 29; 10 a.m. – 3 p.m.
Where: Van Vliet Centre
---
Like many people, I pride myself on my thrift shop finds, like getting what was once an $1,000 suit jacket for $15. Sometimes, though, the task of sifting through the mountains of bad stuff looking for one gem can be daunting. You could go to a curated secondhand store, but the prices are dramatically higher. Wouldn't it be nice if there was a thrift shop that was the best of both worlds? There is. Thriftology. It's the best thrift shop in Edmonton, and it's in the Van Vliet Centre! It's curated, it's cheap, and best of all, the proceeds go to a great cause.
Every day this week from 10 a.m. to 3 p.m., Coach Terry Danyluk and a handful of volunteers set up the best little shop that the main thoroughfare of Van Vliet can muster. Where do the clothes come from? The coach himself goes once a week to his favourite thrift stores and buys only the best (and least smelly) clothes. There's nothing at the tables above $40, and most items settle in around that delightful $15 mark. And when I say the best, I mean it. Hugo Boss, Henry Singer, G-star Raw, Naked & Famous, Diesel, even some local and Canadian made stuff: Coach Danyluk has it all (he might even have Coach). There's something for everyone there.
"I try to pick all sizes and styles, some stuff for men, but mostly for women. I always look for good quality first, and then look up the brands later," Danyluk says.
A pop-up thrift shop in a sports complex seems so random, but perhaps serendipitous would be a better word for it. "It all started with Pastiche (the annual Golden Bears art auction fundraiser my wife and I arrange)," Danyluk says. "Then I thought: what if we started using recycled art?"
His eye for quality clothing is sharp, but Danyluk doesn't have a formal textile background. "I just like clothes," he says.
The passion shows — he'll guide you through his wares and help you pick out something you like. While I was trying on a custom blazer from an expensive local tailor (which, yes, was $15 there and $1000 originally), Danyluk held up a mirror and commented on the correct fit. Such care and knowledge are scarce in even the best retail environments. It's rare you meet a salesman of his caliber, but it's even more rare that you find one for whom sales isn't their day job.  
After each day, Danyluk and his team pack up the shop at 3 p.m. and still get to evening practice on time. If he brings even half the dedication to volleyball as he does to fashion, then the Golden Bears are in for a big season. That said, if the bottom ever falls out of this volleyball thing, he'd probably make a pretty good style coach too.
The shop is only open until Friday, September 29th. It's in the Van Vliet Centre, right beside the Hall of Fame. You can support your U of A volleyball, show your school pride, and get a sweet new outfit for less than the price of an Aramark lunch. Get over there. It's, like, a minute from SUB. Don't miss it.