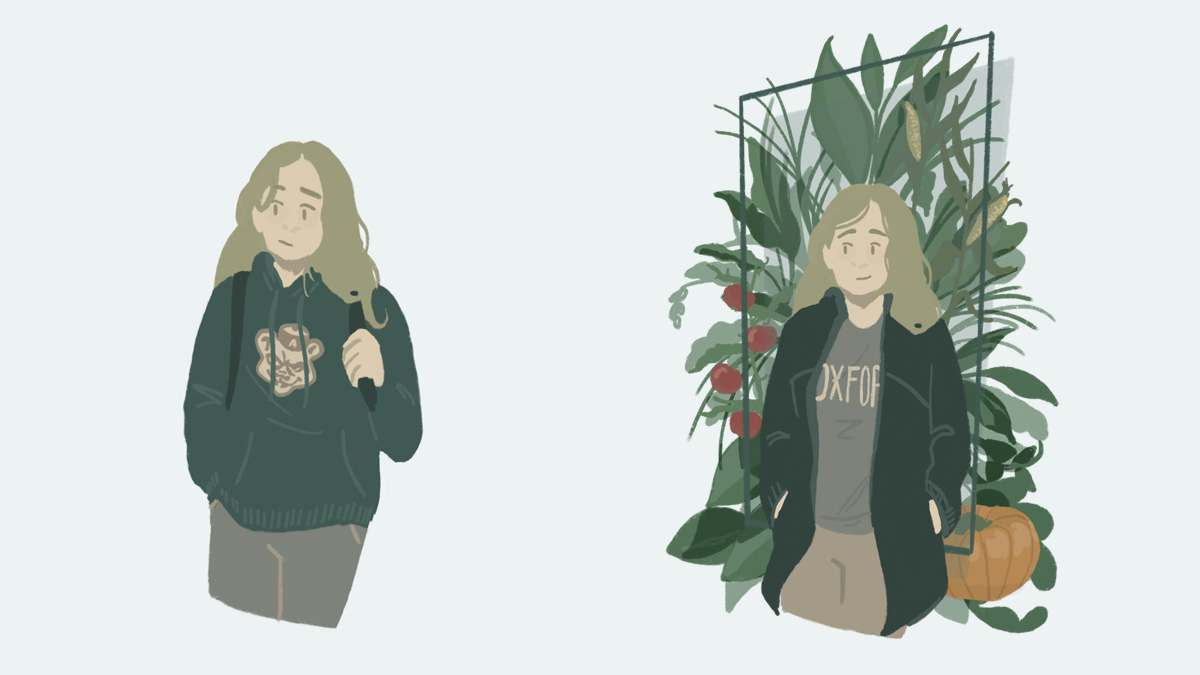 As a first-year linguistics student, Carley-Jane Stanton could have never predicted that she'd end up researching in India and studying at Oxford. Despite going through a number of academic redirections to get to her current pursuit of environmental ethnography, she wouldn't change a thing.
Stanton enrolled at the University of Alberta to study linguistics, with the goal of becoming a speech pathologist. After volunteering in a speech pathology lab, she wasn't so sure.
In the fall of her second year, Stanton took AREC 173 (The Plate, the Planet and Society) in the Faculty of Agriculture, Life, and Environmental Studies (ALES), which she found academically exciting. Stanton worked hard in the class; after the semester's end, her professor, environmental economist Brent Swallow, advised her to switch into ALES and become his research assistant.
"I knew it would be a big transfer in my university career by adding time and money onto my degree," she says. "I'd also completely change my path where I'd be going into something interesting, but didn't have a background in. But I felt excited about the food aspect, so I took the plunge."
By January of her third year, Stanton switched into the faculty and began working as a research assistant with human ecologist Rhonda Breitkreuz. With Breitkreuz, Stanton reviewed policy in rural communities in India during the year, and travelled there in the summer to conduct focus groups to determine how lived experience lined up with the government's intentions. The idea behind the project was to find out why, in areas of India that supported a diverse group of crops, were people still living in poverty.
That summer, she had started working for Riverbed Gardens to the northeast of Edmonton as well.
"It was a whirlwind," she says. "I go back to that email where Brent emailed me to switch programs. As soon as I switched, everything snowballed in a really good way."
Between her research and her work at Riverbed Gardens, Stanton used her fourth year to fill out an application for the world's most prestigious scholarships: the Rhodes Scholarship. The process was challenging, and made Stanton think about where she wanted to apply her studies next.
Stanton was accepted and welcomed to Oxford, though she wasn't accepted to her program of choice — a Master's of Philosophy in social and economic history. She was instead selected for a Master's of Philosophy in environmental change and management, of which she's completed one year.
The teaching quality at Oxford is about the same as the U of A, but as a Rhodes scholar, Stanton says she's able to take "outrageous risks," such as taking a humanities approach to scientific work. At Oxford, she's beginning her dissertation on mushroom foraging around Fort McMurray post-wildfire to study the northern Albertan community.
"I am still an economist, I am someone who works in agriculture, I am someone who knows policy," Stanton says. "But I am also someone who values literature, visual arts, and that type of analysis. It's been super generative to look at all these types of knowledge that I've gained through my absolutely strange path at the U of A, and weave it into a really cool project."
---
Correction: A previous version of this article erroneously stated that Stanton was a Master's of Science student. Stanton is a Master's of Philosophy student; the article has been updated to reflect this. Brent Swallow was also previously titled as an environmental sociologist but this has been corrected to state he is an environmental economist.