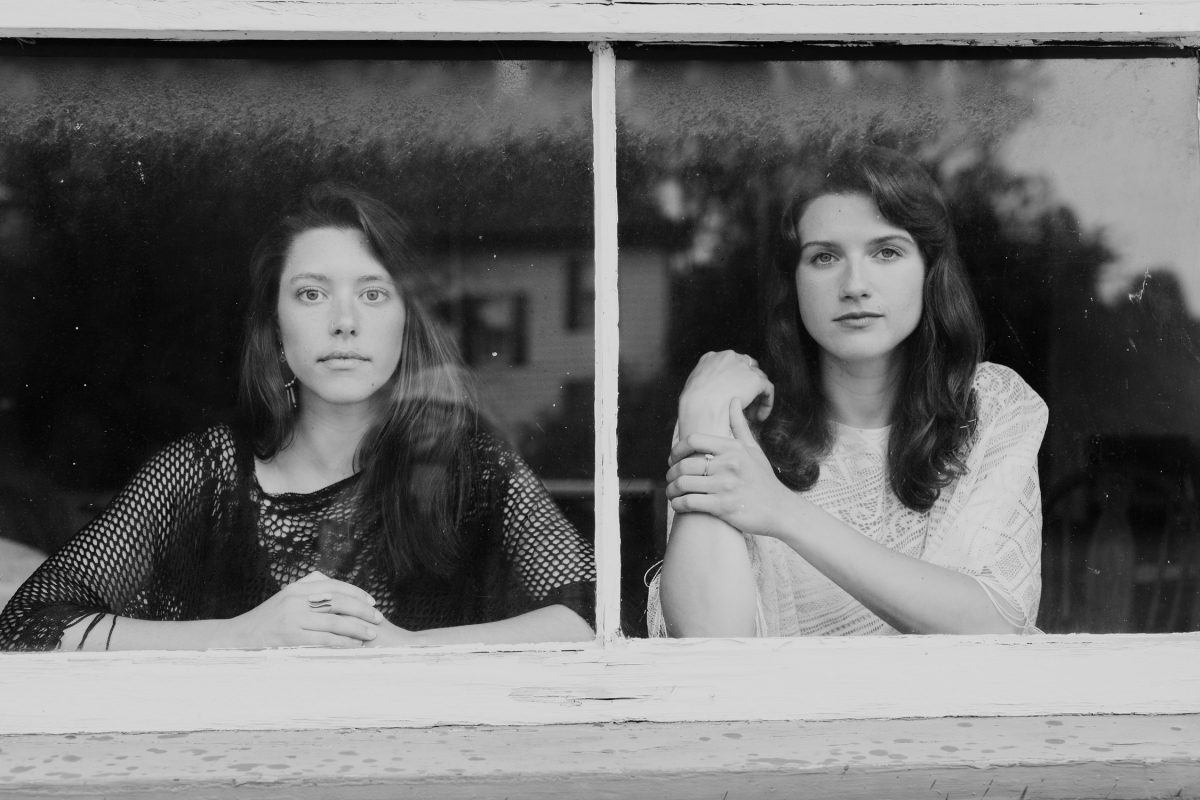 If you're searching for a unique concert experience, look no further than Vancouver's Twin Bandit. At their latest Edmonton show at The Blue Chair in September, the girls invited the audience to take a shot of bourbon with them after the set — an invitation even my timid mother pauses from her bite of peach pie to hoot at in agreement.
Hannah Walker and Jamie Elliott are the names behind the angelic harmonies and piercingly honest lyrics that have made Twin Bandit one of the hottest and most likeable up-and-coming folk duos in Canada and beyond. The girls seem to coordinate everything, from their outfits (in September, while playing a show under the multi-coloured roof of The Blue Chair, they wore similar 80s style Canadian tuxedos) to their warm grins that only emerge once the song is over. While singing, the girls fall into a trance — communicating emotions from another time and place with every harmony — but between sets, they joke and share stories as if the audience were longtime friends.
This warmth is likely due to the bond Hannah and Jamie share between themselves, which is obvious on stage and off. "Touring with your best friend is so much fun and these days we don't live in the same city so we really value the time together," Walker says of Elliott. It's obvious their friendship was fated from the beginning: the two artists first connected at St. James Music Academy through an impromptu round of The Good Old Way.
"Within a couple months of having met, we wrote our first song, 'The Waltz' while cooking for the kids at the Music Academy," Walker recounts. "Our musical chemistry was so compelling; we knew this was a really important moment in our lives and that was the beginning of Twin Bandit!"
The duo's passion for their music has infected audiences around the globe, taking them on two tours of Europe, earning them spots at the hottest festivals this summer (Rifflandia, Gabriola, and Vancouver Folk Fest, to name a few), and introducing them to fellow artists, like Daniel Lanois.
"He's been pretty influential for me — his musical sensibility is a wonder and it was a dream to share the same bill," Walker says when recounting how Twin Bandit opened for Lanois at the Commodore Ballroom in Vancouver.
The girls don't show signs of slowing down anytime soon; their newest album, Full Circle, will be released in early October, and they couldn't be more excited for their audience to hear it. "We want Full Circle to be relatable and moving for anyone who hears it. That's the dream," Walker says.
The group's newest songs tell stories of heartache, love, and triumph while remaining lighthearted and easy to listen to. Not sure where to start? The girls have some suggestions.
"I think 'Hard To Know' is one of my favourites on the new album. It speaks to growing up, the challenge of making those hard decisions, the ones that are good for the soul and maybe even the world but require some struggle on your part. It's honest and I think it's relatable too," Walker says. "I like 'Never Quite The Same' because it's fun to play and the chorus is really groovy," Elliott adds.
With so much on the go, it's no wonder the group will be keeping busy in the coming months. "I hope our music takes us around the world — travelling to places we've never been before has been an amazing aspect of Twin Bandit," Walker says. "Continuing to play our music in new places is an inspiring goal."