UAlberta Pro-Life group loses case against the university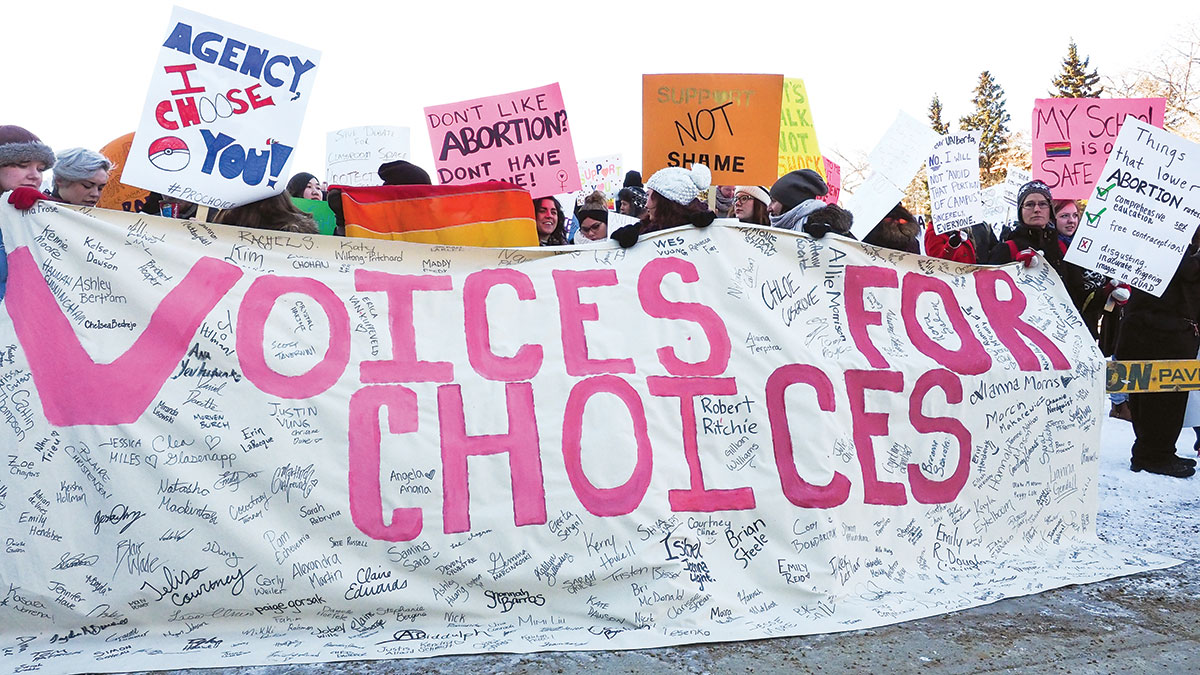 A judge's ruling that the University of Alberta did nothing wrong in imposing a $17,500 security fee on a pro-life campus group's event is getting mixed reactions from students.
On October 11, Justice Bonnie Bokenfohr of the Court of Queen's Bench dismissed the complaint filed by UAlberta Pro-Life against the university. Working with lawyers from the Justice Centre for Constitutional Freedoms, the club filed their complaint in April 2016. They argued they had been mistreated during their event in March 2015, a display on main quad that contained pictures of dismembered fetuses, when counter-protesters disrupted it and the university failed to punish them.
When the group submitted their application to repeat the event in 2016, the university's security assessment deemed that it was a high-risk event based off what happened in the year before, and that the group would need to pay $17,500 for the presence of University of Alberta Protective Services and Edmonton Police Service personnel, as well as for the fencing that was to protect the group's display.
In court, the pro-life club argued that the security fee prevented them from holding the event, and violated their freedom of speech. However, the judge ruled that the group was treated fairly and was not singled out by the university when they were charged with the security fee. Amberlee Nicol, the former president of the pro-life club says that having them pay the fee was unfair.
"The problem with this is that we were being penalized for other people's rule breaking even though the university had done nothing to stop people from breaking the rules," she said.
Nicol said that while she would've liked to see the counter-protesters charged and investigated, it might not be practical to do that now as many of those who participated have graduated and moved on, calling it "too little too late." Despite that, she'd still like to see the university improve its conduct on similar events in the future instead of punishing those being silenced.
"What I would like to see the university do is recommit to the concept of free expression on campus and make it clear not only with words but with actions," she said.
While Nicol is disappointed with the decision, Stephanie Ibsen, a PhD student who participated in the 2015 counter-protest, said she thinks the judge made the right call and that the security fee was reasonable for such an event.
"If you choose to have an event that's extremely polarizing, don't be surprised if there's going to be people that decide to stand up and have a different opinion," she said.
Ibsen, who is vocal about her own experience of getting an abortion when she was 24, said that she has no problem with people holding pro-life opinions, and that the club should've looked into alternatives for their 2016 events, such as hosting it in a less pedestrian-heavy location, that would have reduced the costs for their event.
"They have to decide what is more important, having their event and getting their message out or making themselves the martyr," she said. "And they've chosen to make themselves the martyr."
However, Nicol said that such alternatives meant compromising their voice on the matter, which she sees as a human rights issue.
"If abortion does kill an innocent human being, we feel we have the obligation to make that known to the public and not be content with talking amongst ourselves," she said.
Ibsen also objected to Nicol calling the counter-protest a "mob" saying that the counter-protest was there to offer support for people who may have been triggered by the display, as they may have recently undergone an abortion.
"I think they need to look up the definition of a mob because I have never seen a mob that's offering free hugs, I have never seen a mob that is cheering and laughing," she said.
In response, Nicol said that the issue isn't about her, but about her and other people's ability to be vocal about human rights issues.
"They could mistreat me, they can talk poorly about me and I wouldn't care," Nicol said. "It's not about me and how I'm treated, it's about whether or not I can bring this message to people and the university is going to be complicit in the silencing of my attempts to help save those lives."
UAlberta Pro-Life is planning to appeal the decision.