Farewell old friend: Ruby the science dog retires
Calvin Chan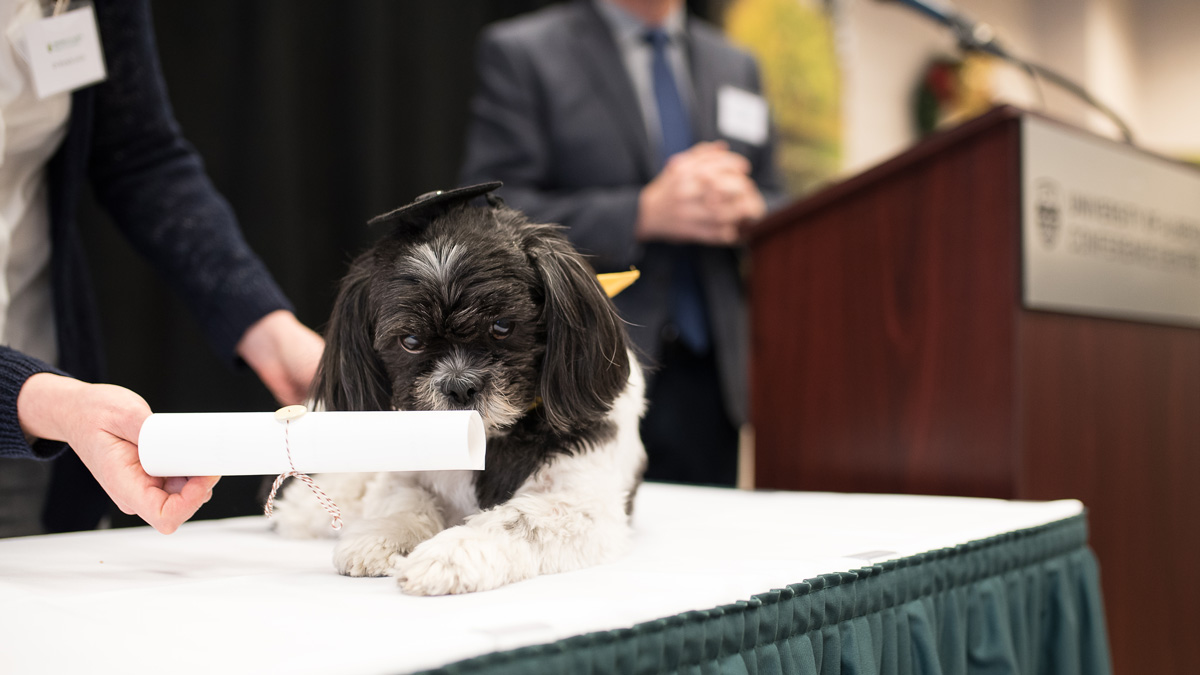 On November 21, Ruby retired from her position as the Faculty of Science's official dog after three and half years of service.
Many will know Ruby as the black and white Cock-A-Tzu that takes over the faculty's student services office most Friday afternoons. Ruby first joined the faculty as a wellness dog in the fall of 2014, to provide stress relief for science students across campus. But now at the age of 12, Ruby has retired for health reasons according to her "mom" and previous associate dean of science, Brenda Leskiw.
"She loved this work in a way that I can't describe," Leskiw said. "But she's aging now, so she just doesn't have the energy for it anymore."
For her years of dedicated service, the Faculty of Science awarded Ruby an honorary "dog"-ree at the Fall 2017 convocation ceremony. Ruby's parchment was modeled after a formal honorary Doctor of Science degree and was even signed by the Dean of Science, Jonathan Schaeffer.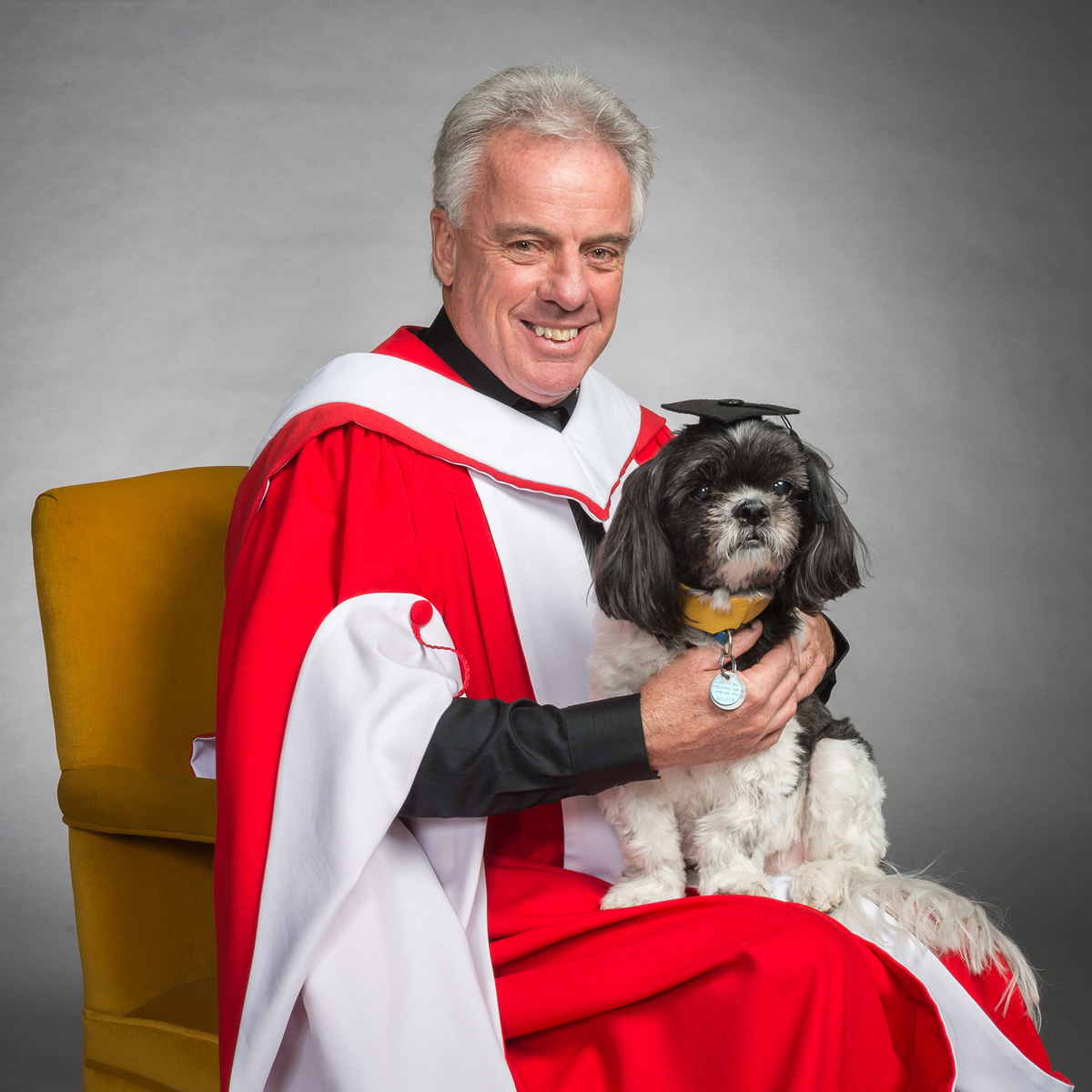 Prior to her position as the U of A's science dog, Ruby was originally named Armani and was a stray rescued by the Edmonton Humane Society. Upon adopting her, Leskiw's family renamed her Ruby because of her gentle yet cheerful personality. It was Ruby's love of people that would later inspire Leskiw to have her registered as a wellness dog.
"I had been working as the associate dean for quite a long time, dealing with very stressed students and having what are often difficult conversations," she said. "But because Ruby is so calm, gentle, and just gravitates towards anyone who seems upset, I realized pretty quickly that she would be very good in a role helping stressed students."
Leskiw explained that for large faculties like science, students can often feel isolated and lost in the crowd. But Ruby's charming personality not only helped students destress, but also united science students in a way Leskiw never expected. She recalls seeing many students coming into the student services office as strangers and leaving as friends after bonding with Ruby.
"I remember this one time a student came up and said, I haven't even touched this dog but I already feel better, that's when I knew that this was worth doing," Leskiw said. "Ruby not only provided comfort and stress relief, but also an avenue for science students to connect and come together."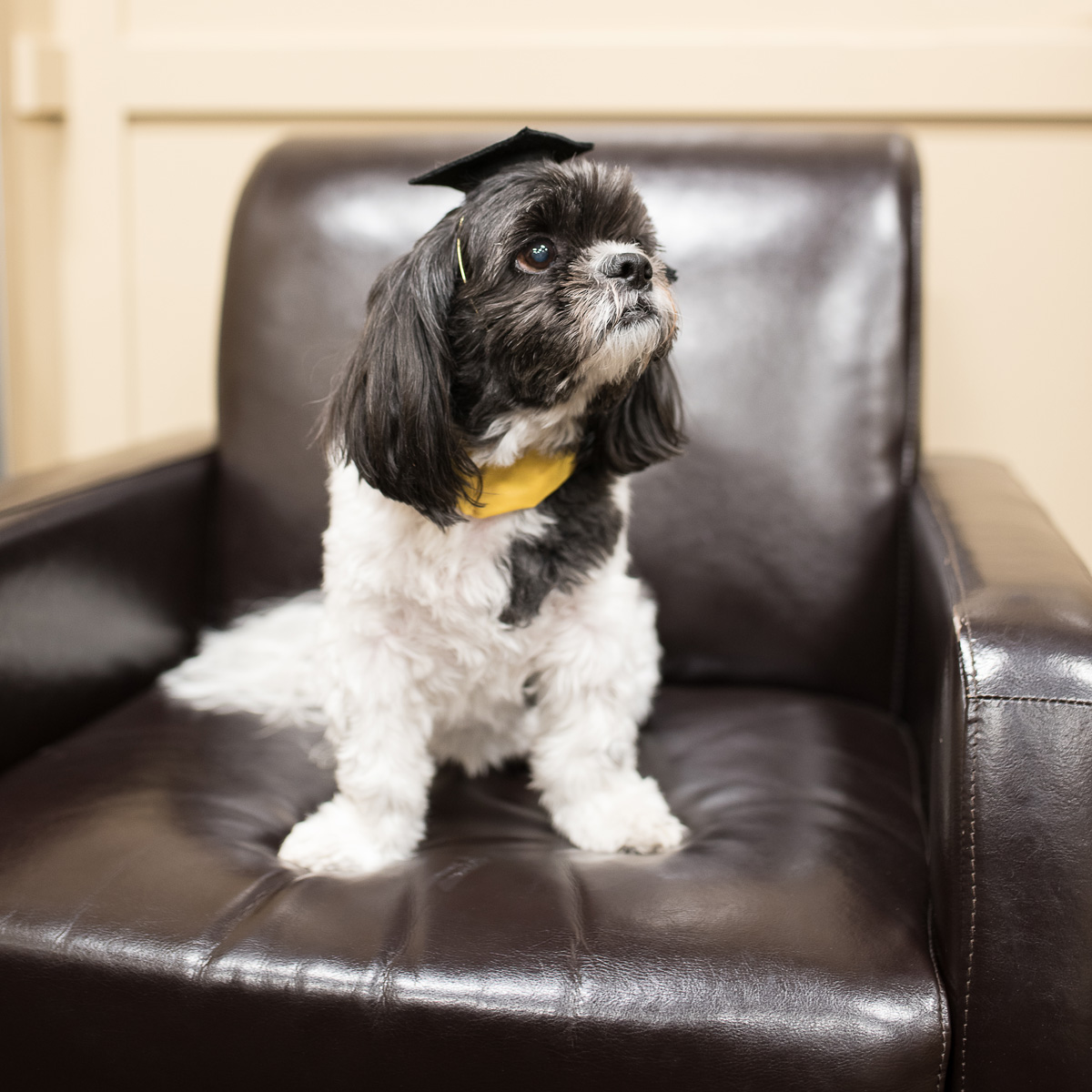 Since her retirement, Ruby now spends most of her time at home with Leskiw, who is also recently retired herself. Leskiw takes Ruby out on short walks three times a day and occasionally treats her to bike rides when the weather permits. Otherwise, Ruby can usually be found next to the fireplace working on her napping skills.
"I know she really misses being with the students," Leskiw said. "Whenever I pull out her bandana, she would think that we were coming to campus and start doing this dance with her front feet where she stomps and taps, it's incredibly cute."
Currently, the faculty has no plans to appoint a new science dog. Science students looking for pet-assisted wellness therapy can attend the Furry Friends events hosted at Cameron Library each month.
"Ruby loved her work more than anything, I think it happened at a point in her life where she needed that, she got as much from the experience as she gave," Leskiw said. "Even though she's not on campus anymore I think she'd want students to remember to take care of each other, if humans behaved more like dogs sometimes we could make a kinder world."