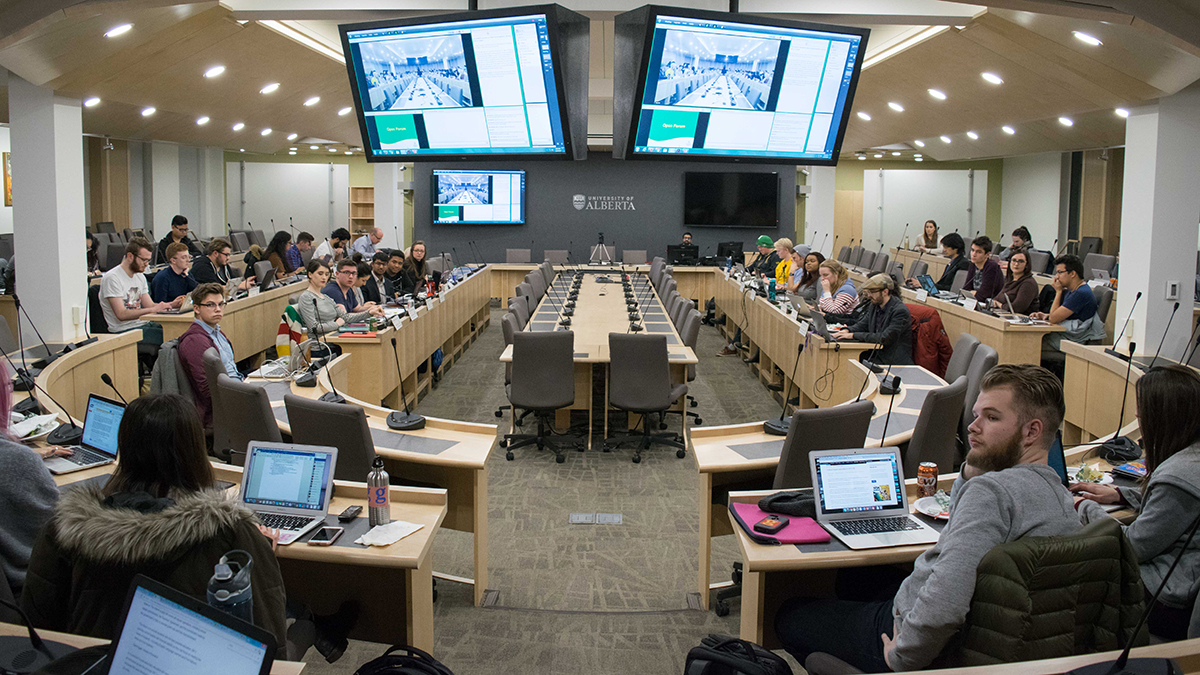 Arts, education, and Faculté Saint-Jean students may see the establishment of faculty association membership fees (FAMF) for the first time.
The faculty associations representing Arts, Education and FSJ students presented their fee proposals at Student's Council on January 8 and 9. If approved by Council later this month, students in those faculties will vote on the creation of those fees in a referendum in March. Only students enrolled in those programs will be required to pay the fee should they be approved, and students would be able to opt out. The proposals are as follows:
The Organization for Arts Students and Interdisciplinary Studies (OASIS) FAMF is proposed to be $2.50 per term for Arts students and would only be charged until the end of Winter term in 2020.

The Education Students' Association (ESA) FAMF would replace the current opt-in $10 membership fee with an $8 opt-outable fee collected only in the Fall term, and would apply to both part-time and full-time students.

L'Association des Universitaires de la Faculté Saint-Jean (AUFSJ) proposed a $5 per semester fee for all undergraduate and attending college program students at Faculté Saint-Jean (FSJ).
Arts Fee
According to OASIS president Ben Angus and vice-president (finance) Azan Esmail, the $2.50 per semester fee would bring approximately $27,500 in new funding to the yearly OASIS budget. Of the funding, 50 per cent would be allocated to student grants, 30 per cent to student outreach through subsidizing of events like the Arts Gala, and 20 per cent would be used to create an OASIS student discount card. The fee would affect over 6,000 students.
An online student survey was conducted by OASIS over the winter break to gauge response to the proposed fee. The survey had 75 respondents, representing about 0.01 per cent of the Arts population, with the majority of respondents saying they would support the fee. OASIS is also holding a town hall on January 17 at 4 p.m. in the Humanities Fishbowl to gather more input.
Students' Union vice-president (external) Reed Larsen expressed concern about OASIS' desire to pursue a FAMF. He said that other large faculty associations such as the Engineering Students' Society and the Interdepartmental Science Students' Society have greater accountability for their finances through separate finance committees and audits, as well as well-established alternative revenue streams beyond their FAMFs.
"There are certain things that I'm not seeing in OASIS, things I haven't seen from them in years," Larsen said. "I would love to see some sort of financial oversight… just the executive doing that direct granting procedure can get a little fishy."
Education Fee
The proposed $8 opt-outable fee education FAMF would replace the current opt-in $10 membership fee. One dollar of the fee would go towards payment for student membership in the Alberta Teachers' Association, meaning that education students who pay the fee would gain access to the services provided by both organizations.
The ESA projected that with the implementation of the fee, their total revenue would increase from $8,000 to around $20,000. The amount of money spent on events would remain proportional with the budget increase, allowing the ESA to hold high-cost events such as nonviolent crisis intervention training at little to no cost to students. The ESA said they would also be able to diversify the types of professional development events they offer.
An online student survey was also conducted by the ESA, which received 69 respondents. Of thse respondents, 67 per cent supported the implementation of a FAMF. The ESA also held a general meeting on December 14, where the fee was endorsed unanimously.
Council's reception towards the FAMF was positive. Education councillors James Thibedeau and Kara Farris supported the fee.
"We have seen wild fluctuations (in membership) from about 700 members to 1,200 members," said Thibedeau. "Because of this, we are having difficulties, year over year, being able to plan and sustain professional development opportunities… with a FAMF, with would have a stability in funding."
Faculté Saint-Jean
The AUFSJ also proposed a fee of $5 per semester, affecting over 600 students.
Jesse Benoit, AUFSJ vice president (operations & finance), said the fee would be used to secure better funding for clubs, create $75 subsidies for students to attend conferences, and establish two $1,200 scholarships for international students enrolled at FSJ.
"All of our demand for club funding has been overwhelmed," Benoit said. "Our clubs are suffering right now."
Some councillors and FSJ students expressed doubts to the necessity for the creation of a fee. Former AUFSJ president Thomas Pomerleau said not enough has been done to consult with former AUFSJ executives, and criticized the idea of a FAMF in general.
"It would be a marginal amount of students' receiving the funding from this… while it would be charged to all students," he said.
Another criticism came from Students' Union vice-president (operations & finance) Robyn Paches who found fault with AUFSJ's lack of effort in research for alternative revenue models.
"We take our taxation rights here at the Students' Union very seriously," Paches said. "I personally only believe in taxation after every single funding unit has been explored.  I apologize, but I do not think every unit has been explored."