SU Exec Report Cards 2017-18: Vice-President (Academic)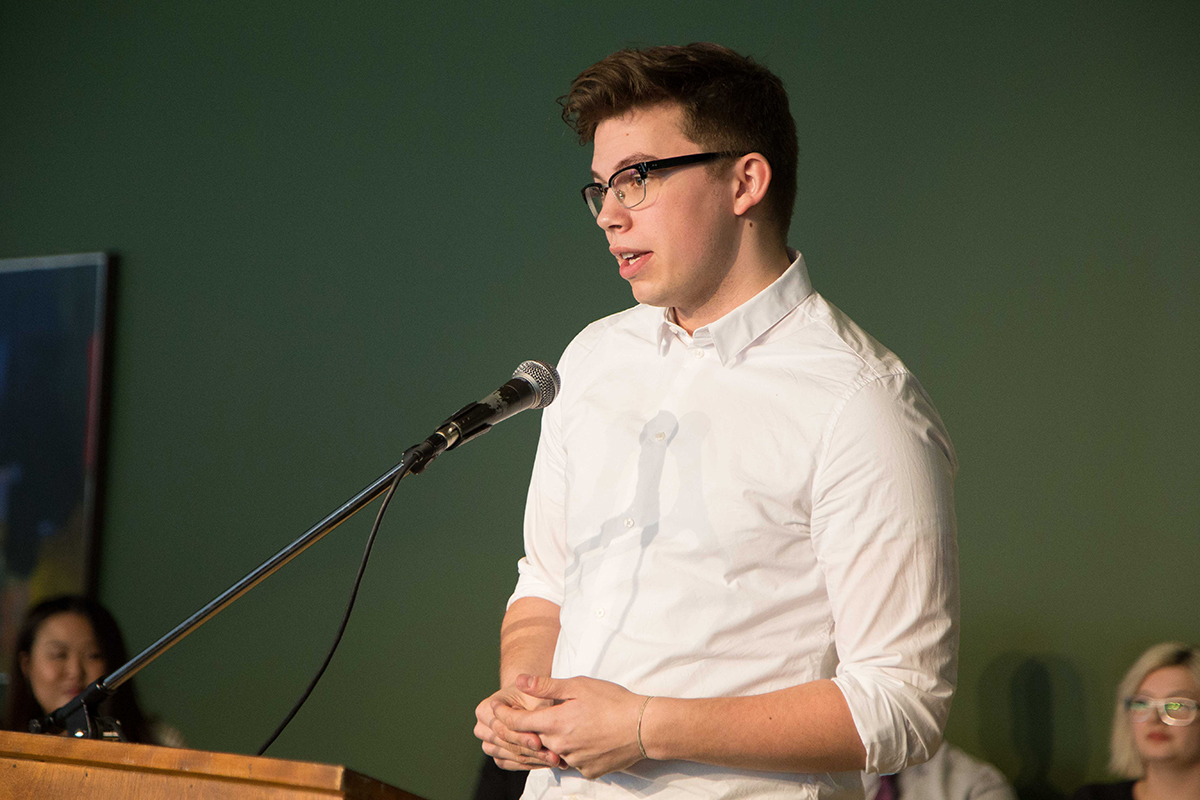 Each year, The Gateway publishes an evaluation of the Students' Union executive and the Board of Governors representative. It is impossible to discuss every aspect of their tenures, so these reports are largely based on the major components of the platform each executive campaigned on, and the most significant responsibilities of their respective positions. These evaluations were informed both by interviews with the executives themselves, as well as a survey of student councillors. The grading rubric can be found below. And if you're short for time, check out our TLDR for a bite-sized breakdown.
---
Shane Scott: B-
The day-to-day work of a VP Academic is largely monotonous. There are a lot of meetings, boards to sit on, and committees to be a part of. In Scott's time as VPA, he has kept the ship afloat and has initiated important projects, but hasn't made a lot of the significant changes he ran on last year.
A big part of Scott's platform was to support diversity on campus, both within student governance and more broadly amongst the student population. The UASU Got This campaign has been a cornerstone of this effort, and the campaign is a start in promoting conversations about representation. That being said, posters and some tabling aren't particularly ambitious strategies, and a much more concerted effort will have to be made to reach students, especially the apathetic or the ignorant. In its current form, the UASU Got This campaign is much more likely to reach the same people who are already involved in student governance issues, rather than changing the minds of those who actually need a perspective shift.
The Identity Matters research that Scott was involved with, however, does deserve high praise. Identifying the ways that the experiences of student leaders are shaped by their demographics, and inspiring other universities to conduct similar research, is a crucial part of any initiative to promote diversity. Having concrete data upon which to base future projects is the most important step. On that same basis, Scott promised to initiate widespread demographic data collection from students, in order to measure the success of equity initiatives. He gets some credit for bringing the idea forward, but there has been virtually no progress on this so far in Scott's tenure.
Scott also ran on a promise to increase students' access to syllabi in advance of the semester starting, which is a great idea that is mired in concerns from administration and faculty about everything from intellectual property to academic freedom. None of those things are within Scott's control, but it was unwise to base such a major part of his platform on this issue without consulting the involved parties enough to recognize how difficult it would be. This means that by the end of Scott's term, there will likely have been almost no progress at all in terms of advance access to course content.
Finally, one of Scott's biggest accomplishments this year, in his own words, was organizing a faculty leadership summit where Faculty Association presidents and deans, which is a good step, but it is much more striking that relationships between those stakeholders didn't exist previously, and so getting them in a room together isn't so much a shining accomplishment as it is establishing a bare minimum.
TLDR: Scott has done a decent job maintaining the basics of the role of VPA this year, and has lots of good ideas, particularly in regards to improving the data the university uses to make decisions that affect students. Many of his proposals were very good ones, they just haven't shown the kind of results that were needed in Scott's time as VPA.
---
Rubric:
A-range: This person has fulfilled the promises they campaigned on, has created tangible change during their tenure, and has shown a commitment to improving the lives of students. Their GPA is looking good.
B-range: This person has done their job consistently well, but has not made any remarkable changes, or has fallen short on important goals they set out in their platforms. They're doing fine, but it's nothing to phone home about.
C-range: This person has done their job sufficiently, but has failed to make significant progress in the areas most relevant to their portfolio, or has essentially abandoned a major part of their platform. They're still passing with a safe buffer though, and Cs get degrees!
D-range: This person has done a very lacklustre job, and has not sufficiently fulfilled their campaign promises or the responsibilities of their position.
F-range: This person has not done their job, has not represented students, and has not fulfilled their campaign promises whatsoever.