SU Exec Report Cards 2017-18: Vice-President (External)
Emma Jones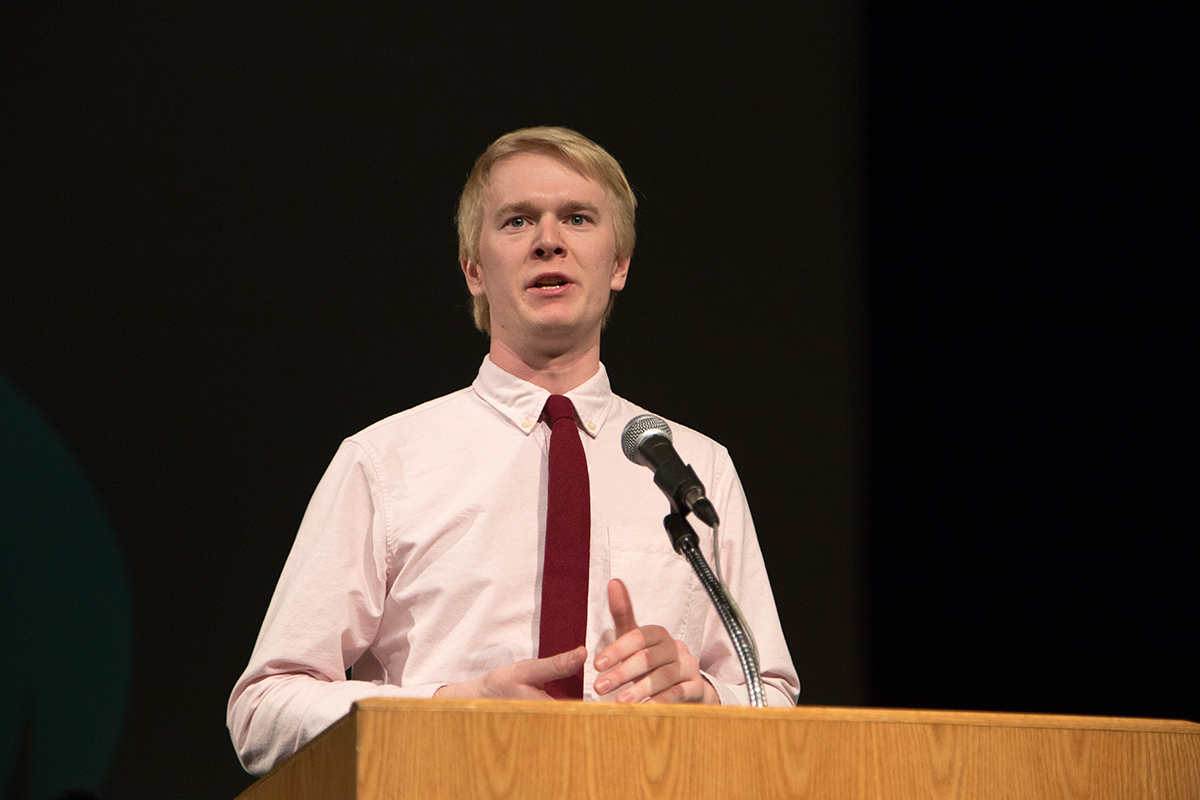 Each year, The Gateway publishes an evaluation of the Students' Union executive and the Board of Governors representative. It is impossible to discuss every aspect of their tenures, so these reports are largely based on the major components of the platform each executive campaigned on, and the most significant responsibilities of their respective positions. These evaluations were informed both by interviews with the executives themselves, as well as a survey of student councillors. The grading rubric can be found below. And if you're short for time, check out our TLDR for a bite-sized breakdown.
---
Reed Larsen: B
In some ways it is difficult to quantify the successes of a VP External, because so much of their work is dependent on decisions made by governments that are almost entirely out of their control. That being said, it's still important to hold Larsen accountable for the promises he made to students last year. As the chair of the Canadian Alliance of University Students (CAUS), Larsen gets a lot of credit for some fairly major progress on issues like tuition, but leaves a lot to be desired in regards to housing and employment for students. He is a skilled politician who has made progress building relationships in various levels of government, but has not followed through on all the results promised in his platform.
Tuition is almost always the number one priority of the VP External, and so securing backfill funding alongside the extension of the provincial government's tuition freeze is a big win for Larsen. Backfill funding helps ensure that the University doesn't have to make deep cuts to compensate for lost tuition money, and it has been pretty central to the work of many student advocates for many years. A larger funding framework has yet to be released by the provincial government, so any long-term changes to tuition are undetermined for now.
Students have remarkably insufficient rights when it comes to housing on campus. University residences are not covered under the Tenants Act, which means that basic rights to privacy, protection from eviction, and guarantees on deposits don't apply to students living on campus. Larsen rightfully pointed out how big of a problem this is during his campaign, but there has been little visible movement to modify the Tenants Act or create new legislation. To be fair, alteration of government policy does take time, but the fact remains that little has changed. Larsen also hasn't made a concerted effort to inform students about these gaps in legislation, which he campaigned on.
The other focus of Larsen's campaign was employment for students. He ran on improving the Summer Temporary Employment Program (STEP), as well as increasing work opportunities for international students. Only moderate progress has been made on employment. The STEP program opened earlier and will run longer this year, and CAUS has produced documents outlining exactly what an ideal STEP program would look like (including making STEP placements more relevant to students' areas of study), which will hopefully be used as a basis for future changes. Little has changed for international students, but Larsen, as part of the Canadian Alliance of Student Associations (CASA), is advocating for access to a wider diversity of jobs, better hours, and improvements to the co-op system—currently co-ops and internships can't be completed under a student visa.
TLDR: Larsen has likely laid important groundwork for future advocacy by building relationships with members of various parties at various levels of government, and he has done some important advocacy work as the chair of CAUS and a member of CASA. However, there are still many deliverables that students were promised in Larsen's campaign that have yet to come to fruition.
---
Rubric:
A-range: This person has fulfilled the promises they campaigned on, has created tangible change during their tenure, and has shown a commitment to improving the lives of students. Their GPA is looking good.
B-range: This person has done their job consistently well, but has not made any remarkable changes, or has fallen short on important goals they set out in their platforms. They're doing fine, but it's nothing to phone home about.
C-range: This person has done their job sufficiently, but has failed to make significant progress in the areas most relevant to their portfolio, or has essentially abandoned a major part of their platform. They're still passing with a safe buffer though, and Cs get degrees!
D-range: This person has done a very lacklustre job, and has not sufficiently fulfilled their campaign promises or the responsibilities of their position.
F-range: This person has not done their job, has not represented students, and has not fulfilled their campaign promises whatsoever.