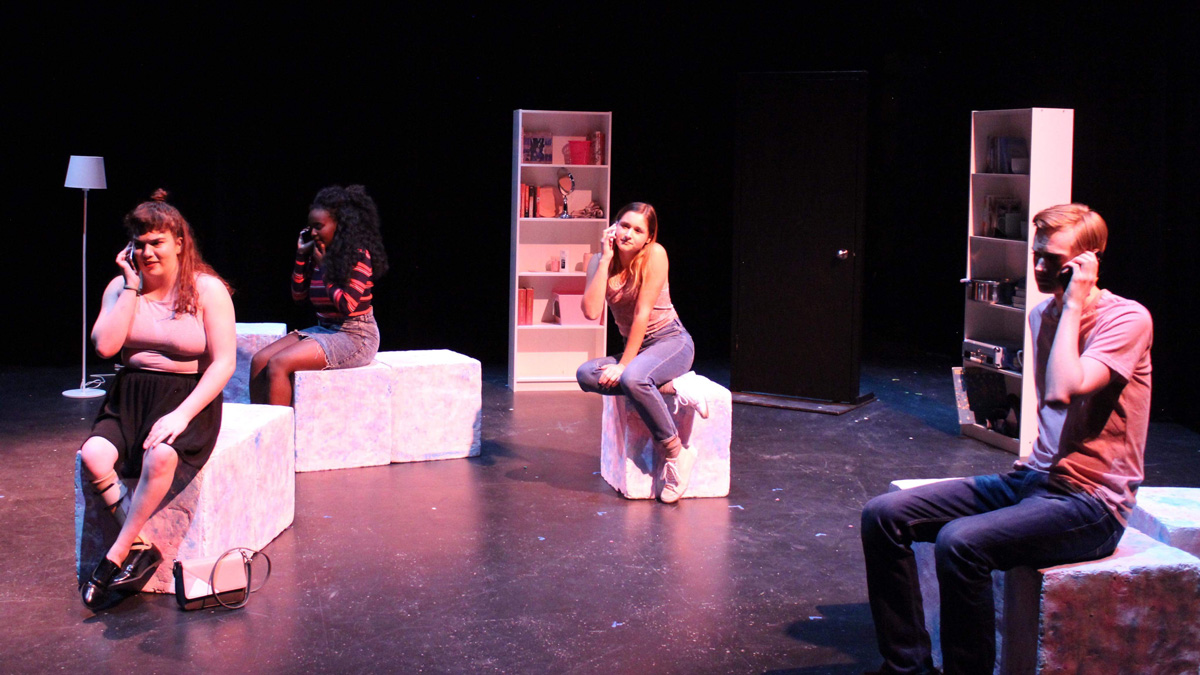 What: U of A New Works Festival
Where:Timms Centre for the Arts 
When: February 6 – 11, 2018
More info: http:/www.ualberta.ca/drama/about-drama/student-festivals-and-productions/new-works-festival
---
Every year, New Works produces four new plays from emerging playwrights, giving them an opportunity to workshop their writing and see it through the production process. The plays are performed, directed, produced, and designed by University of Alberta drama students. Here are reviews for two in the lineup:
SHADOWLANDS
(by Savanna Harvey, directed by Julia Murphy)
This play is weird. Like, you walk into the theatre to a recording of sex noises type of weird. But in just over an hour, the weirdness of Shadowlands gives way to a story which is heartwarming, thought-provoking, and devastating.
Ana Mulino (Scientist) and Kathleen Steil (Ghost) are far and away the best part of Shadowlands. Their performances are riveting. And while the two actresses perform separately for the majority of the play, when they come together in its final scenes, they work perfectly together. While all the performers are strong, these two stole the show.
Savanna Harvey's script is poetic. It focuses largely on themes of life and death, motherhood and reproduction. However, while the writing is incredibly solid most of the way through, it falters in a few places. Perhaps because of the "workshopped" nature of New Works, the script would likely have benefited from more editing. Despite this, it manages to take characters who initially seem unrelated, and interweave their stories masterfully into one narrative.
In terms of production, the set and lighting of Shadowlands are solid. The "lab" setting, made up of geometric grey shapes and various lab props work well as a thematic backdrop for the script.
My main issue was that, in a play so interested in motherhood, Julia Murphy chose to cast three men (Dylan Maguire, David Parr, and Kent Kobylka) as the "Cells" — a chorus group. Despite good performances, something rang false about hearing men perform lines about mothers begetting daughters. While they worked well as a unit, I have to question the choice of not casting women.
Shadowlands is avant-garde, but narrative enough to appeal to those who aren't so interested in experimental art. It's a performance that truly draws in the audience.
FAWN
(by Ashleigh Hicks, directed by Evelyn Scheibli)
fawn follows two sets of siblings living without parental figures and working through the traumas that left them fending for themselves. Concerned largely with themes of family and with a serious "coming of age" feeling, the script is somehow both tender and heart-wrenching.
Cassie James (Cora) and Eunice Gatama (Maison), who play two sisters whose parents have abandoned them, have incredible onstage chemistry. They play off each other, with each one strengthening the other's performance. Although all four of the play's characters interact, scenes between these two were the most raw and authentic in a play filled with raw, authentic moments. Asia Weinkauf also gives an impressive performance as Adele.
That said, line delivery and character interaction does struggle at times in fawn. Whether due to clunky writing or simply a lack of chemistry, scenes between Gatama and Connor Meeker (Gerard) sometimes fell flat, generating feelings of falseness rather than intimacy. Like Shadowlands, fawn's exchanges could have been strengthened to feel more "real" with another once-over by an editor.
The most impressive part of the show was the use of set (designed by Aria Kraushar) to manipulate time and space. The script often has characters speak over one another; the set allows this to draw attention to parallels, without being confusing. The set's pink and blue theme and its manipulability are visually stunning, and give a charming "timelessness."
fawn is fascinating and touching because of how it portrays the consequences of relationships so believably. In the words of Cora, "people are always going to hurt other people," a fact that fawn explores with impressive depth and wisdom.
Although I've been informed by a reliable source that there are people who would "skin me alive" for saying so, the arts, and especially theatre, are first and foremost an experience for an audience. Luckily, New Works Festival Night A is an incredibly enjoyable one.