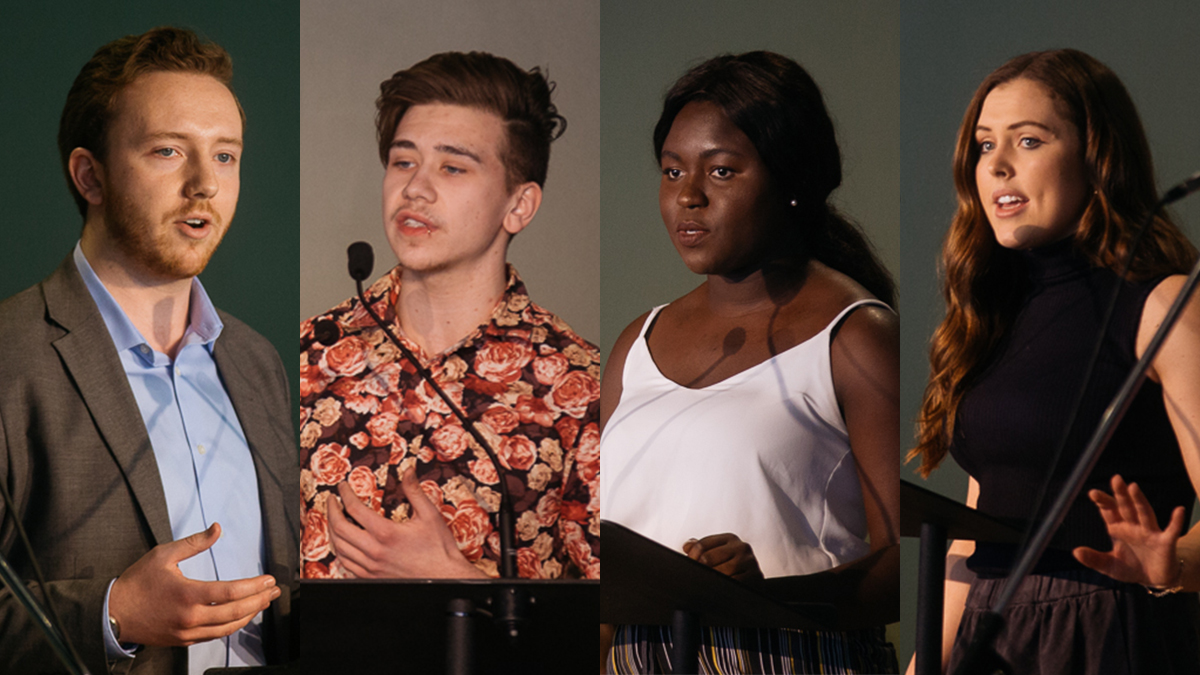 Vice-president (operations & finance): Same shit different year 
The vice-president (operations & finance) race kicked into gear today in a familiar manner with only one of the two candidates attending.
The joke candidate, Francophone advocate Donald Stroump (Jessie Benoit), was absent, but did tweet this prior to the forum's start. Another year, another absentee VPOF candidate who is kind of a joke. So it goes.
The other candidate, Emma Ripka, focused on her platform point of building a campus skill-sharing network, which is the most questionable part of her otherwise standard platform for two reasons: it's an incredibly ambitious project that would likely go beyond her term, and it does not seem like it belongs in the VPOF portfolio.
Ripka was also asked two questions: the first regarding her experience with budgeting, and the second on what items she will continue or discontinue from outgoing VOPF Robyn Paches' portfolio.
For the former, she cited her education as a business student and experience running her own business. The latter she answered by stating that Robyn Paches has been a role model to her and that she would be continuing all of his initiatives with the exception of deferred maintenance, which she says should be in the vice-president (external)'s portfolio instead.
Ripka is setting herself up as a successor to Robyn Paches, which is a smart move. Paches has done well as VPOF and was elected to the position twice. That being said, it is also a safe move. Maintaining a popular status quo when you're running effectively unopposed (sorry Donald) is a path to an easy election win, and I can hardly blame Ripka for running her campaign in this way.
Whether or not Ripka will be a good fit for the position remains to be seen. This forum has shown her to be a capable candidate, but I'll need to see how she perseveres when things get tougher down the road before I pass judgment.
– Aidan Herron
Vice-president (external): Nothing ventured, nothing gained
From the start of the vice-president (external) portion of the forum, there was a clear divergence in approach. Adam Brown focused on the potential cannabis (marijuana or weed in us laypeople speak) tax for solving issues on campus. James Thibadeau focused on expanding financial supports for students and particularly international students. Esther Thieba didn't really focus on any one issue.  
Candidates first had the chance to ask each other questions. The first question for the candidates was from Thieba, asking for particular plans for mental health initiatives and funding. While Brown's answer of using the cannabis tax revenue to fund mental health initiative was intriguing, beyond "convincing the government" there was not much of an explanation of how it would work.  Thibadeau seemed to understand the issue better when he answered that funding needs to shift to a per-student model to prevent shortfalls from occurring. Thieba provided the most constructive answer, agreeing with Thibadeau that a per-student funding model is necessary, as well as suggesting working with the City of Edmonton to construct complimentary mental health services.
The second question for the candidates was from Brown asking what candidates planned in reaction for upcoming cannabis legislation.  All three candidates unsurprisingly agreed that the most important aspect would be informing students of the changes to law as well as risks of using cannabis, with Brown once again suggesting that somehow we will be able to reinvest the tax revenue from cannabis even though he has yet to explain to us how the Students' Union is gaining control of cannabis tax revenues.
The last candidate question was from Thibadeau, about how the candidates planned to improve student employment opportunities. All three candidates stepped right to suggesting the expansion of STEP (Student Temporary Employment Program) to be a year-long program, with Thieba suggesting the SU host skill-building and workplace knowledge opportunities as well, though I'm unsure how those will assist students in finding jobs that just are not available. Thibadeau suggested partnering with the city to ensure that they have students in mind for the future, and he seems to be implying that will lead to more planned job opportunities with the city.
There were two questions from the audience. For the first, on solutions for deferred maintenance, the candidates answered with different phrases that all boil down to acquiring more government funding.  For the second question, on how to make sure that student, faculty, and department voices get heard, the answers once again were fairly similar. In essence, all three candidates agreed that students and their respective associations should be consulted more and all political parties should be advocated to.
All in all, the forum went smoothly with each candidate giving adequate or appreciable answers, but no one really starting to stand out yet. Aside from Brown's addiction to cannabis tax revenue, that is. 
– Shay Lewis
Student Events Initiative "Yes" Referendum: This is actually just a good idea
The Student Events Initiative (SEI) "Yes" campaign is being expertly handled by Daria Nordell, who answered questions about student consultation and granting at today's SUB stage forum. This project has evolved a lot thanks to the integration of feedback from students, and that was obvious from Nordell's responses today.
She spoke a lot about making it easier for student groups to run events without having to hold bake sales to fundraise for them, which is a very real issue and it is great to see the SU trying to address that. She also addressed a lot of the concerns student groups have around granting right now. And honestly if implementing the SEI means Drake can come to our campus too, I'm voting yes.
– Emma Jones