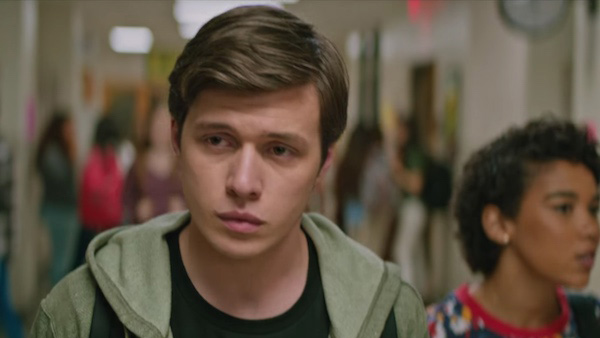 Love, Simon
Directed by: Greg Berlanti
Starring: Nick Robinson, Katherine Langford, Miles Heizer, Keiynan Lonsdale, Josh Duhamel
---
As someone who finds herself rewatching movies like Clueless, Pretty In Pink, and She's All That almost ritually, I was thrilled to see Love, Simon, which appeared to be the coming-of-age rom-com in its purest form. I wasn't wrong.
Here's a glimpse of Simon Spier's perfectly normal life: he has two loving parents, a loyal group of friends, and a beautiful, suburban, upper-middle class home. He also has a stuffy, toxic closet where he hides his only secret from everybody.
Simon's sexual orientation doesn't come as a huge surprise, given the film's predictable exposition and the fact that it's 2018. But his privileged circumstances don't make the albatross any lighter on the neck. We watch Simon go through trials, schemes, and mayhem just to keep his school and family from knowing that he has fallen in love with an anonymous male student via email, You've Got Mail-style.
Like that Tom Hanks and Meg Ryan classic, this film relied on the technology and trends of the current moment to propel its narrative. It probably won't age as well as the former, but Simon and his friends' pop-cultural savvy in their music tastes and cheeky Halloween costumes does its job of appealing to a wide range of audiences if you were worried that the PG rating would mean a bland after-school special for adolescents-and-under. Screenwriters Aptaker and Berger pay a lovely homage to the rom-coms predecessors, balancing its contemporary humour well with the timeless dilemmas of growing up.
There's one thing makes this simple story more engrossing than your average rom-com: the flawless casting. Nick Robinson plays the pressure and anxiety so well. Although unbelievably coordinated in their morning commute, the friend group is a troupe of interesting personalities, with each cast member playing thorough variations of high school archetypes, who by the end don't look like archetypes at all. And as Tony Hale squeezes endless laughs with comedic timing that makes cringe miraculously enjoyable, you might find that most of the comedy relies on him and the drama teacher, played by Natasha Rothwell.
Love is exciting and innocent in this film. Like the threat of Simon's secret spilling out, the possible discovery of Blue's identity lurks at every corner. Viewers could easily be fooled by the twists Simon's quest to find Blue's identity, but it is a little disappointing (and telling) that Blue obviously can't be one of the rounder, less-than-Hollywood attractive students he scopes out in the hallways.
What Love, Simon lacks in its creativity and ability to shake off some tired tropes, it makes up for in its internal philosophy. Voice-overs allow the email correspondence to act better project Simon's values and insecurities, which reminds us how film adaptations can and should enhance their written narratives. Simon soliloquizes important questions. Will he feel free to show his true colours after high school? What does it mean to be gay? Why don't straight people have to come out? These play out in highly entertaining sequences where director Greg Berlanti proves himself inventive.
After all of the chaos, Simon's mother, played honey-sweet by the exquisite Jennifer Garner, delivers a cathartic monologue in the film's best scene. Restorative strings swell while she tells her son, and the audience, to exhale because no change in Simon can tarnish his family's unconditional love.
Was Love, Simon the best romantic comedy of our time? I wouldn't say so. It can't quite escape the human and cinematic aesthetics that mainstream films require, and that a film about a gay youth needs to survive in the box office. Neither can it acknowledge that the "normal" life it portrayed is a fanciful standard. Still, it tells a well-constructed and important story with the same sincerity as, and even more emotional value, than the John Hughes classics.