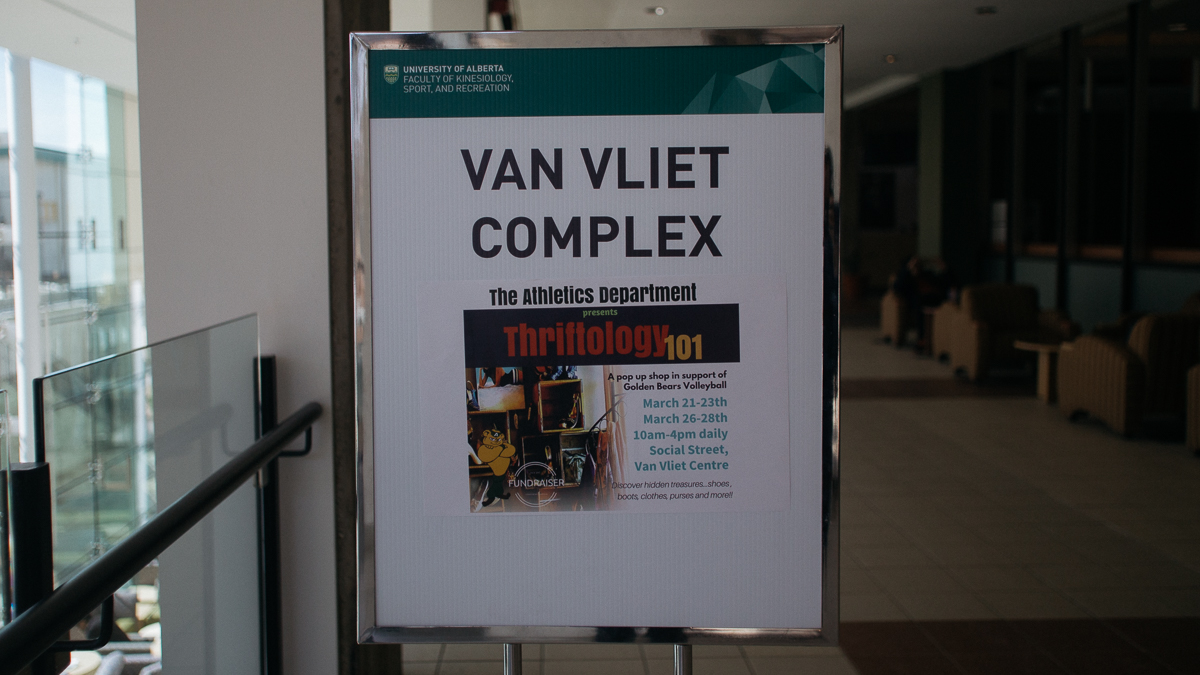 What: Thriftology 101
Where: Van Vliet Centre
When: 10 a.m. – 4:00 p.m. March 21- 23 and March 26 – 28, 2018
---
Edmonton's best thrift shop, Thriftology 101, is back and better than ever.
For those who haven't heard of it yet, Thriftology revolves around the finds that Coach Terry Danyluk of Golden Bears volleyball fame and glory finds from shops around the city.  His natural eye for fashion has him bringing in goods from not only the top brands (Hugo Boss, Fluevog, Naked+Famous, and many more) but occasionally some rare and unique finds smaller designers. He puts a small markup on it, and with a team of volunteers, sets up shop in the Van Vliet Centre. There's usually nothing there above $40, but it's all top quality.
Not sure about thrift shopping, or just not sure about a particular item? Talk to Terry! Coach Danyluk has a talent for fashion, and has done his homework on almost everything in his collection. Stop and talk to him, and see just how much passion this natural-born salesman has for his team, his school, and, of course, style.
They've been open in the Van Vliet Centre Atrium between the hours of 10:00 a.m. and 4:00 p.m. Wednesday Mar 21 – 23, and they'll be back at it again at the start of this week, March 26 – 28.
That's 6 whole days on either side of the weekend and Coach Terry tends to refresh the stock daily as well, so you may want to plan on showing up to at least two of them.
We tracked down a couple of buyers from last season's sale to ask them what they thought of Thriftology 101:
"I picked up four pairs of shoes last time, they were Mephistos, Fluevogs, and a couple other brands I didn't know but were cute. Altogether they would retail for over $1000, but I think I paid like 60 bucks in total. They are now my goto, favourite shoes, and I always get compliments on them. Thanks Terry!" – R.
"I don't feel bad spending money there. It's a fundraiser, right? Yeah. So I got nice things and good feels" – B.
"I didn't know much about suits, but I needed one for an interview. The guy working there seemed like he got it. He was super helpful. It wasn't what I expected it to be when I saw clothes in Van Vliet, but it was cool." – J.
You won't find a better curated thrift shop anywhere, especially not with these prices. Personally, I picked up my favourite suit jacket there, and a brand new pair of skates that had never even been worn (for $25). Coach Danyluk has something for everyone. So if you need a boost in your style, want to show you school spirit, or just like shopping, stop by the Van Vliet Centre. Only until this Wednesday though, so don't wait.
You can also catch the coach at the Pastice 12 (an art fundraiser for the Golden Bears) on April 13. Because yeah, Coach Danyluk collects art as well.