Suffering, growing up, and mending old wounds: Talking with Sheldon Elter about his one-man show, 'Metis Mutt'
Jonah Dunch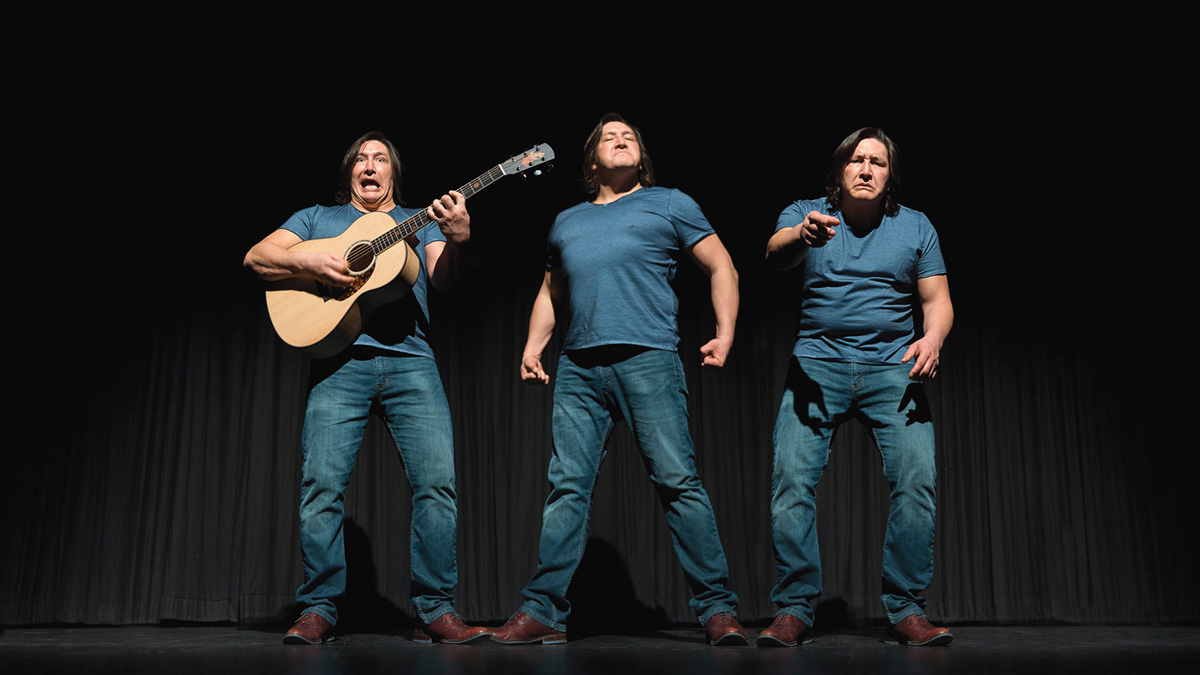 Stories of suffering, growing up, and mending old wounds are abound in Metis Mutt, a one-man show playing at Theatre Network's The Roxy on Gateway Blvd. until March 4.
Written and performed by Edmonton-based actor Sheldon Elter, Metis Mutt tracks problems of racism, domestic and drug abuse, and coming of age as Elter tells his life story in a rapid series of jokes, anecdotes, and testimonials.
A Metis man raised in a rural Indigenous community, Elter first developed the show in a class exercise in 2001 while enrolled in the MacEwan Theatre Arts program. After graduating from MacEwan, Elter presented a full-length version at NextFest, Edmonton's premiere emerging artists' festival, in 2002. The show also enjoyed a sold-out run at the 2002 Edmonton Fringe, garnering multiple Sterling Awards.
"I think Edmonton is an amazing place for self-producing, self-creation," Elter says. "What (creating my own work) taught me at an early age is that (trying out different creative practices) will not only make you a more well-rounded artist, but more hireable — we need to remind ourselves that we create, and we create opportunities for ourselves."
Elter began touring the show to festivals nation-wide, as well as to Indigenous settlements and reserves. A little over a year ago, Ryan Cunningham, the former Artistic Director of Native Earth Performing Arts, approached Elter about reviving Metis Mutt in Toronto.
"It became more of a motivational speaking tool after (being adapted for Indigenous communities), just a chair and a guitar, telling stories," Elter says. "I said, 'If I'm gonna do it again, I want to make it more of a theatrical piece again, look at the writing and do some dramaturgical work.'"
To that end, Elter enlisted the aid of director Ron Jenkins and an all-star design team to restore the piece's theatrical sensibility, with dreamlike projections and sound reflecting the idea that the play functions as Elter's spirit quest, which an elder challenged him to take when he was a teenager.
"We wanted all these images to be evocative of (my spiritual experiences in a sweat lodge)," Elter says. "Doing this work allows me to face my own demons, remind myself that I've made progress. Hopefully, by discovering that through my own spirit quest onstage, the audience feels compelled to make positive change in their own lives."
Since the play relates Elter's memories of his father's violence against his mother, Elter approaches the writing and performance differently now at the age of 39 than when he first created the show at the age of 20. Speaking to family and friends, Elter found out that his father attended a Catholic day school for First Nations children. Elter learned of his father's triggers for trauma and now finds his fractious relationship with his father easier to face.
"Getting to understand (my dad's trauma) makes it even more easy to find that reconciliation, that counseling, and remind myself that he was a man," Elter says. "He was fallible, and I can still love him, even though he was complicated and constantly willing to torture himself."
While Metis Mutt has been an important part of his personal life and artistic career, Elter said he is eager to move on to other projects. Elter hopes that this latest rendition of the play will show audience members the power of acting and the special experience of seeing new work by an Edmontonian.
"I realized if I try to tell the truth as best I can, the story becomes less about being Metis and dealing with racism from both sides," Elter says. "(Instead) it becomes a story about human suffering, small human small victories, and pushing forward, and everybody can relate to these things."