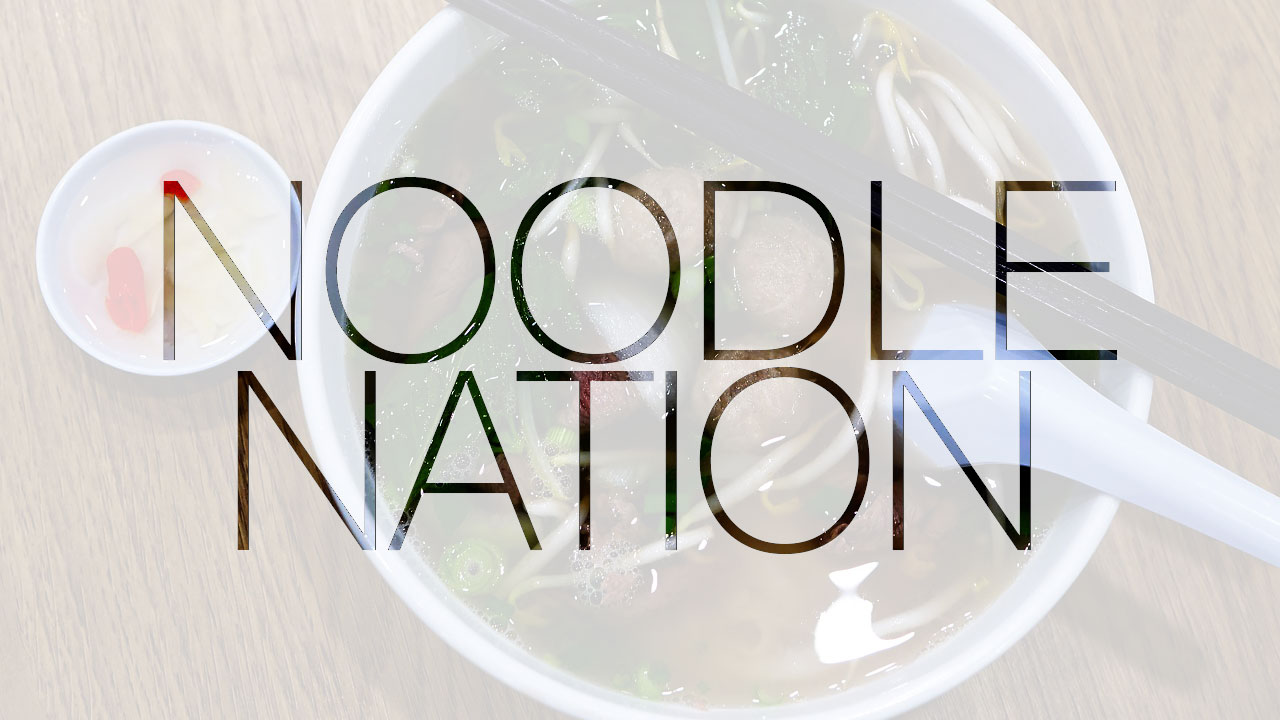 XO Bistro+Bar
10236 103 Street
Hours: 11 a.m. – 11 p.m. Monday to Thursday; 11 a.m. – 1 a.m. Friday; 12 p,m. – 1 a.m. Saturday; and 12 p.m. – 11 p.m. Sunday
Price: $$
http://xobistrobar.com/
---
Atmosphere
XO Bistro+Bar isn't my typical noodle hang spot. It's downtown, for one, and it's sleek and polished indoors in a way that I'm not accustomed to seeing at many places. Tokiwa Ramen is similarly minimal, but XO has a darker, more club-like feel than Tokiwa's light, airy environment. It's ideal for eating before an evening out on the town, but interestingly, I usually find myself going there for lunch before the noon rush hits. With its many high tables and stools and a full bar, it's a cool fusion between a noodle joint and a classy meeting spot.
The place has a Gong Cha right above it that can be accessed via a curving flight of stairs, and last time I checked you can either head on up yourself to order bubble tea or order at your XO Bistro table and have someone bring your drink to you. It's a pretty sweet arrangement and adds a nice touch to both establishments in the partnership.
The Noodles
The first thing I'll say about XO Bistro's noodles is this: vegan pho?! And the second thing I'll mention is their now-infamous Pho Challenge. I mean, in short, yeah, the noodles — in terms of quality and taste — are real great. One of the reasons I love noodle soup is that the lowest bar to which pho and other broth-noodle meals can fall to is still pretty high. XO exceeds that bar with its bun bo hue and traditional meat pho, but what makes this place so notable are the things I pointed out above. First: the vegan pho.
https://www.instagram.com/p/BPDZYpsjjQm/?taken-by=xobistrobar
Maybe I've been living under some noodle rock or something, and feel free to point out if I'm wrong, but I've never seen another noodle place in Edmonton offer vegan pho. Not just vegetables and tofu, but actually vegan: no animal products whatsoever.
Because of that I don't have much to compare XO's take on veganizing one of my favourite comfort foods to, but that said, I'm confident in saying that they make a mean green bowl of noodle soup. The bowl is light but tasty; broccoli, zucchini, carrots, onions, spongy tofu, and vegetable broth round out the typical rice noodles to fill you up without the heavy feeling that tends to accompany dense meat-based meals. It's healthy and delightful, and it's a nice way to feel full without immediately feeling as if you need to take a nap at your desk after coming back from lunch. The only downside is the price: at just over $15 for the large and topping $13 for a regular, it's one of those specialty soups that you treat yourself to occasionally but wish you could eat every day.
And then there's the infamous Pho Challenge: for $60, you can tackle 2 L of broth and 2 lbs of ingredients (that's a pound of noodles and a pound of other stuff — meat if you eat it or tofu and veggies if you don't) in 60 minutes. Complete the challenge and walk away with a free meal and a very, very full belly. Fail and cough up the cash, shamefully. It's a fun idea from which few have emerged victorious.
In terms of the rest of their noodles, XO's bun bo hue is beautiful, as evidenced by the amazing shots on the restaurant's Instagram:
And it wouldn't be Noodle Nation without a nice shot of the venue's traditional beef pho!
https://www.instagram.com/p/BcaiExIgSZf/?taken-by=xobistrobar
This is why sometimes reading about food is just as satisfying as actually eating it.
To take a leaf from the Opinion section: WORTH IT. 
Overall
XO Bistro+Bar is a fun place to meet friends for lunch, eat, laugh, and make plans. Though its prices run higher than what I'd expect from a "standard" noodle place (probably because of the downtown location, right across from The Bay at City Centre), the unique selection makes this restaurant worth your while, should you choose to check it out. If you choose to take the Pho Challenge, though, make sure you bring some friends to clean up your leftovers if you end up bowing out.