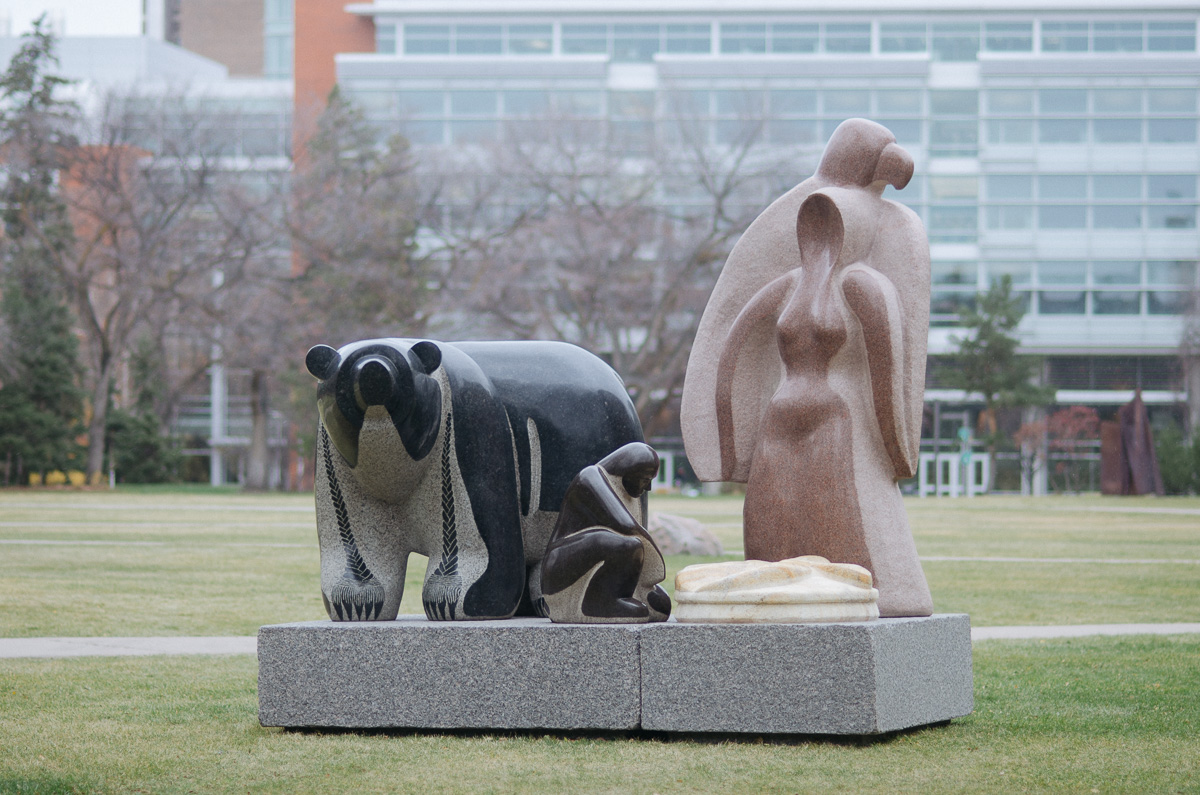 After spending eight months in Quad, three granite statues will be returned to sculptor Stewart Steinhauer as the loan on the carvings ends this June.
The three granite sculptures entitled The Hunter, Big Bear is Right, and The Eaglechild are part of the "Indigenous Methodology and the Rock Grandfather" exhibit loaned to the university in October. Jillian Horbay, a spokesperson for the University of Alberta museums said the loan was part of an initiative for Indigenous artists to showcase their work on campus and educate the community on Indigenous culture.  
"As we work towards [acquiring more Indigenous artwork], we're also working towards a better understanding of Indigenous culture and reconciliation," Horbay said.
Steinhauer is a self-taught Indigenous artist who specializes in granite carving and hails from Saddle Lake Cree Nation in northeast Alberta. He currently maintains several on-reserve studios in British Columbia and Alberta.
U of A museums has yet to determine a date for the removal of the sculptures, but Horbay said the team is working closely with Steinhauer to ensure the safe removal of each piece by the end of the month.
During the exhibition's time in Quad, Horbay said the museum received many positive messages from the campus community, many of which highlighted a sense of appreciation for the artwork.  
"I see a lot of people are out taking photos with them after convocation," Horbay said. "It's really good to see people appreciating them, respecting them, and reflecting on what they mean."  
Horbay said Steinhauer has yet to decide on the fate of his collection after their return. But to replace the loaned artwork, Horbay said the U of A museum will be connecting with other Indigenous artists interested in showcasing their work on campus.  
According to the artist's statements, each of the sculptures in Quad represents a different element of Indigenous culture. The Hunter features the Sweetgrass Bear and Thunderbird Grandmother standing protectively over The Hunter who's searching for a higher consciousness while examining the reflection of a full moon in still waters.
Big Bear is Right highlights Big Bear, a Cree Ojibwe man, and his attempt at convincing his fellow headmen to reject a treaty offered by the British Crown, which he saw as a trap.
In Eaglechild, Steinhauer depicts the story of the second major period of creation with the annihilation and re-building of human society under the guidance of the spirit world and Mother Earth.
In addition to the loaned statues, the university purchased three other sculptures from Steinhauer to include permanently in the U of A's art collection. These include two Sweetgrass Bear statues — one on display in Quad and the other at Enterprise Square — and a granite sculpture entitled Old Broken Number One, which is installed at Augustana.